With crisp, vibrant displays and a sleek industrial design, Dell monitors deliver the ultimate combination of form and function. And with a comprehensive range of analog and digital flat panel options for single or dual displays, Dell lets you tailor a solution that meets your specific needs for optimal comfort, efficiency, and enhanced productivity.
To have the capability to:

UltrasharpTM Wide Aspect Flat Panel

Ultrasharp Flat Panel

Analog Flat Panel

Picture In Picture (P-I-P) Capability
Widescreen Design for Viewing Multiple Applications and DVDs in Their Native Format
Height Adjustability
Rotating Screen (Portrait & Landscape)
Dual Input (DVI and VGA)
Built in USB ports
Slim Design to Maximize Work Space
All-In-One Solution (17" only)

Available Sizes

24", 20"
20", 19", 17"
17"
Widen Your Horizon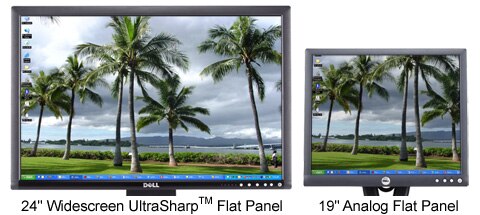 Flat-Out Cooler
All-In-One Solution
Ultra Small Form Factor Option available with a 17" Ultrasharp Flat Panel