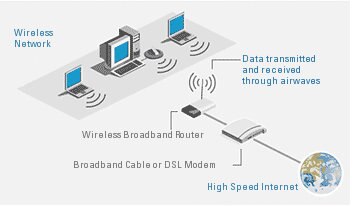 A wireless card is an internal or external networking component based on the Wi-Fi wireless standard that allows your notebook to connect to access points that provide internet access. A wireless card is necessary to access the Internet in a wireless enabled environment, including airports, coffee shops and even your home.
802.11g wireless cards are compatible with both 802.11b and 802.11g wireless networks and provide maximum data rates of 54 Mbps.*
802.11a/g wireless cards have the flexibility to connect to 802.11b, 802.11g and 802.11a networks at peak data rates of 54Mbps.*
802.11n (also called Wireless-N) is a next-generation wireless standard that uses the transmission and receipt of multiple simultaneous data streams (called MIMO for Multiple Input, Multiple Output) to enable data throughput and range that far exceeds the single-stream capabilities of today's 802.11a, 802.11b and 802.11g technologies. The final 802.11n standard is expected to be released sometime in 2008.
Wireless technology allows you to access high-speed Internet wirelessly from anywhere within range of your wireless router whether it's your office, your favorite couch or under a shade tree on your deck. You can also share high speed Internet access among multiple computers, share files and even print documents without the hassle and unsightly tangle of wires.
If you want to access the Internet wirelessly at home, you will need the following three items:
Broadband Internet access like DSL or cable (not dial-up)
Wireless router to connect to your cable or DSL modem
Wireless card for your computer such as an Intel PRO/Wireless or Dell Wireless internal card or external product such as a Wi-Fi ExpresscardTM or USB 2.0 Wi-Fi adapter.
Dell offers a convenient Wireless Installation service to help you set up your wireless home network. You can choose this wireless installation service in the wireless section of the Dell configurator for select Inspiron notebooks.