Alienware Graphics Amplifier




Upgrade is an understatement.

Plug in the Alienware Graphics Amplifier to unleash stunning, graphics-intensive 4K and virtual reality games on your notebook or small form factor.

Enhance the intensity: The Amplifier is now compatible with more graphics cards than any other competitor and is engineered to support future upgrades.
Unlock VR gaming: By increasing your graphics performance, the Alienware Graphics Amplifier can unlock the exhilarating world of VR gaming on your Alpha R2, X51 R3, 15 & 17 notebooks.*
Plug in to a battle station: It connects to your notebook with a single cable, enabling the PCI-Express graphics card connection as well as four USB 3.0 ports for less clutter and simple connectivity.
Hook up your favorite display: Enjoy the performance of a desktop graphics card on your Alienware 13, 15 and 17 R2 & R3 notebooks, LCD, Alpha R2 or on any external display connected to the amplifier.


Let true power transform you.
Fuel meets fire: Supercharge gaming with the Alienware Graphics Amplifier. Simply plug in and enjoy a premium desktop experience with VR, immersive 4K graphics and big performance.
Evolve in tandem: The Alienware Graphics Amplifier was designed with the future in mind. Easily upgrade your graphics cards with this accessible design – with support for full-length, double-wide, PCI-Express x16 graphics cards – so you can take advantage of the graphics performance increase without having to upgrade your entire system.
Gaming without sacrifice.

For years, gamers have been forced to compromise. They could choose a notebook for prioritized mobility, but miss out on some of the performance and graphics experience only a gaming desktop can provide. Alternatively, they could enjoy truly intense at-home play, but stay chained to the desk. Finally, we have a means to deliver desktop-class, high-performance gaming graphics even to our most mobile laptop .


Full Force: The graphics amplifier includes a 460 Watts internal power supply so you can run advanced graphics cards confidently. It's designed with a single cord (6ft) that connects exclusively to the Alienware 13, 15, 17 R2 notebooks, Alpha R2 and X51 R3.

Limitless Power: With the Graphics Amplifier, you can power as many additional screens as the graphics card within it can support. The performance from the Alienware Graphics Amplifier will be used on whichever screens the game or 3D application is running on.

Engage your senses: Set triggers, morph lights from one color to the next, and make your system glow and blink in tandem with the game – all made possible with ability to customize your lighting theme via Alienware Command Center.


True upgradeable graphics performance.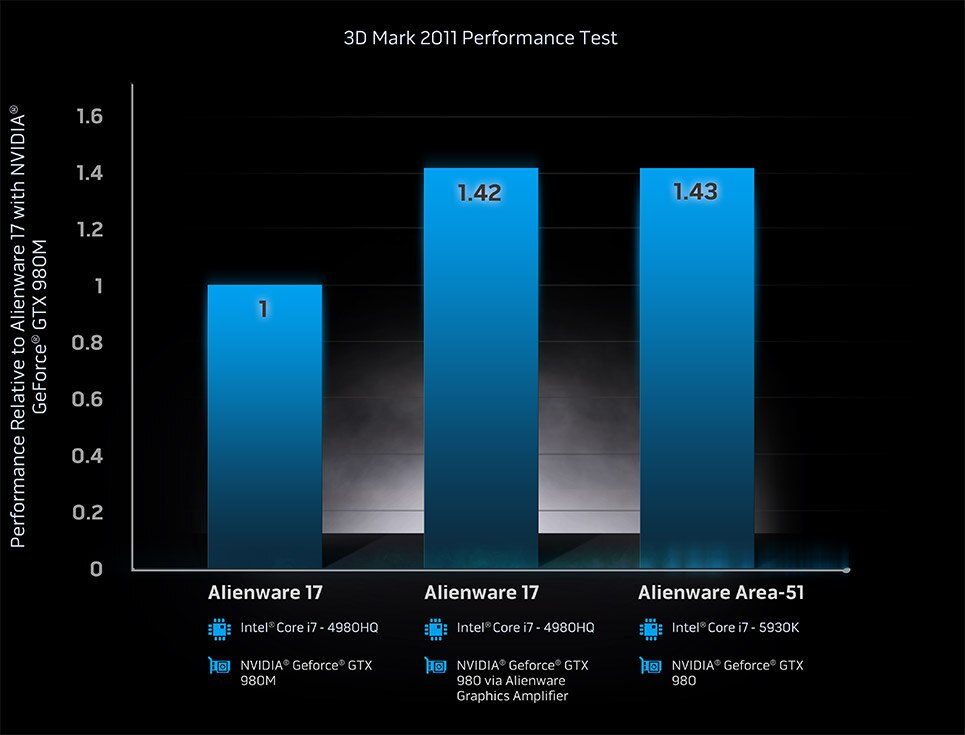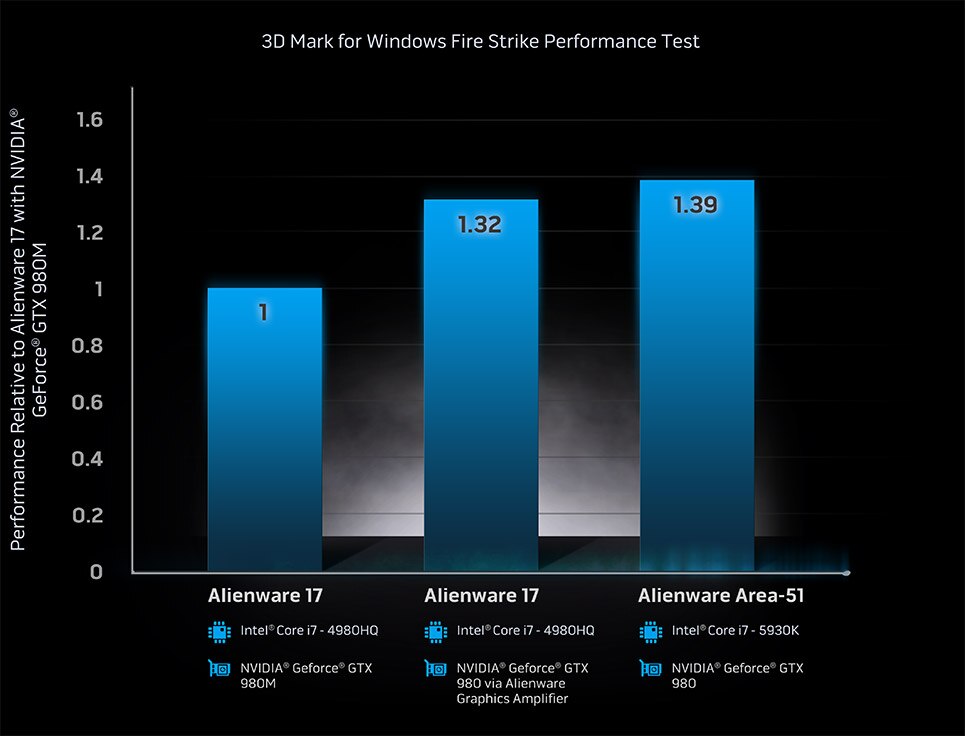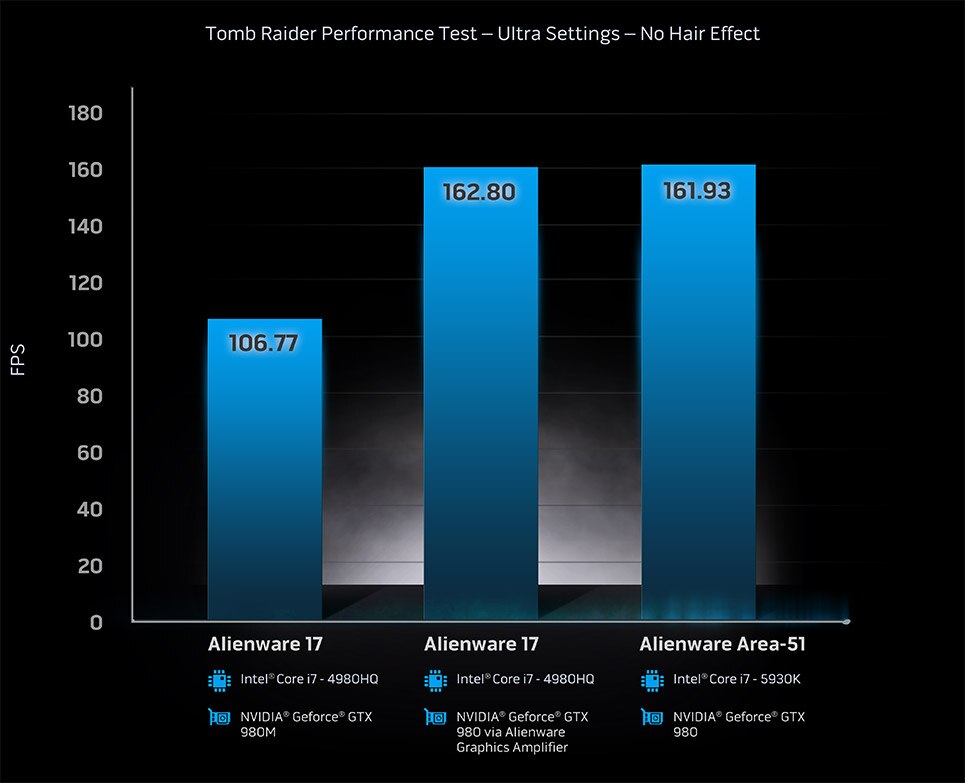 Alienware Graphics Amplifier frequently asked questions.
What systems are qualified?
Does this come with a GPU?
- No, unless otherwise noted.
Does it work in SLI/Crossfire?
- No, once plugged in, the internal Graphics card turns off
Which GPUs are qualified and which graphics cards are compatible?
We provide deeper backwards compatibility for available GPUs compared to TBT3 options and offer support for a single full-length, dual-wide, PCI-Express x16 graphics card. This system can support graphic cards of up to 375W and NVIDIA® GeForce® GTX 600 as well as AMD Radeon HD 5000 series and newer.
What is the difference between PCI Express Gen3X4 lanes and Intel Thunderbolt 3 Plug and Play?
The Alienware Graphics Amplifier's technology uses a direct hardware connection, while the Thunderbolt 3 technology is based on a platform with shared bandwidth. Alienware's amplifier will never share, or compromise, the bandwidth to your system's GPU. Instead, it provides reserved high bandwidth directly to your system's GPU with one unique cable connection. Alienware Graphics Amplifier utilizes four lanes of dedicated PCIe Gen 3. The Thunderbolt 3 specification is capable of either two or four lanes of PCIe depending on the OEM's implementation of Intel's technology. Alienware gains an advantage by having these lanes dedicated to graphics that are not shared by LAN, USB or display ports.
Can you run Virtual Reality through the Alienware Graphics Amp?
Yes, but it depends on the system specs of the computer and the graphics card in the Graphics amp. Follow the recommended specs for VR and check out the certified VR ready PC's as posted by HTC or Oculus. For VR through an Alienware Graphics Amplifier on Alienware notebooks, we would recommend using only the Alienware 15 and Alienware 17 with 8 GB of memory or higher and an Intel Core i7 or Core i7k processor in the system. For the Alienware X51 R3, we would recommend a Core i5 processor with 8 GB of memory or higher. VR setups using the Alienware Graphics Amplifier are not a supported configuration of either the Oculus Ready or HTC Vive Optimized programs and each setup will vary in the ease of use and compatibility. https://na.alienwarearena.com/groups/vr-alienware-graphics-amplifier/