حل قابل للتوسعة يمكن الاعتماد عليه مثالي للشركات الصغيرة
مثالي للشركات الصغيرة التي تسعى إلى اقتناء حل كمبيوتر مكتبي للمبتدئين متوفر بسعر مناسب وقابل للتوسعة يمكن الاعتماد عليه.
هذا المنتج غير متوفر حاليًا. يرجى الاطلاع على توصيتنا بشأن أحد الأنظمة المماثلة أدناه.
Vostro 230 المكتبي
Vostro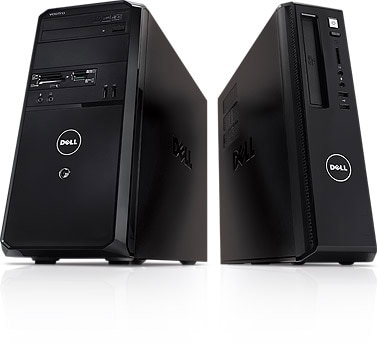 Vostro: Built for Small Business
The first family of Dell computers designed specifically for small business, Dell™ Vostro™ gives you the flexibility to choose exactly the PC you need—without cutting corners. Because when you're looking for the perfect small-business desktop, you should never have to sacrifice dependability just to stay on budget.
Affordable Solution for Smaller Offices
From its thoughtful design to its "plug-and-play" compatibility with the latest Dell printers and monitors, the Vostro 230 desktop enables you to build an affordable small-business solution right out of the box.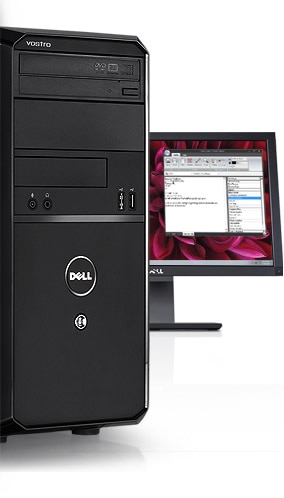 Operating system: Windows® 7 Professional


Just Your Size: Choose the form factor that fits your workspace: the expandable Vostro 230 mini tower or the compact Vostro 230s slim tower.


Room to Grow: Easily accessed expansion slots let you add hardware as you need it, while Serial, PS/2, VGA and 6 USB ports fit new and legacy peripherals alike.

Productivity You Can See: Choose up to 1GB NVIDIA® discrete graphics (integrated graphics options also available). With an optional DVI ADD2 card, you can also add a second, digital display to expand your visual workspace.

Print Smart with Dell: Get a reliable, low-cost printing solution when you add a Dell networked laser printer, which includes off-the-shelf compatibility with your Vostro 230.
Support that Stands Behind You
Running a small business is challenging enough without having to be your own IT department. With a suite of specialised small-business support options behind every Vostro desktop we sell, Dell has the resources to keep your business moving.

Support that Understands Small Business:
Stop paying for per-incident help-desk issues: Choose Dell ProSupport for End Users
*
to get specialised, 24/7 tech support that understands small business

Expert Help When You Need It:
With Dell ProSupport for End Users,
*
you get more of the "how-to-help" you need: from assistance with using popular small-business software like Microsoft
®
Office and QuickBooks,
®
to help with configuring simple networks.
The Security Small Business Needs
Dell understands that data security isn't just a big-business problem. We've designed the Vostro 230 with a range of options to help keep your small business protected every day.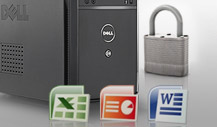 Proven Data Protection from Dell: Accidents happen, but that doesn't mean you can't plan for them. Choose Dell DataSafe Online Backup for a full-service 24/7 data backup and recovery solution—no extra hardware or IT staff required.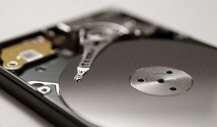 Advanced Security:
No matter how complex your data-security needs, Dell ProSupport
*
options like Keep Your Hard Drive, Hard Drive Data Recovery and Certified Data Destruction offer easy solutions for everything from data recovery to regulatory compliance.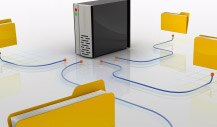 Easy Everyday Backups: Basic system backups don't have to be complicated. With Dell Backup and Recovery Manager software preinstalled on your Vostro 230, you get an easy-to-use backup solution that's always within reach.
المعالج
Intel® Core™2 Quad
Intel® Core™2 Duo
Intel® Pentium®
Intel® Celeron®
نظام التشغيل
Windows® 7 Home Premium 32-Bit
Windows® 7 Professional 32-Bit
Windows® 7 Home Premium 64-Bit
Windows® 7 Professional 64-Bit
Windows® 7 Professional 32-Bit

Up to 4GB 1333MHz Dual Channel DDR3 SDRAM
Note: Memory runs at maximum system supported speed of 1066 MHz
Two (2) DIMM slots
بطاقة الفيديو
Integrated:

Intel® GMA X4500

Discrete Graphics options from NVIDIA:

512MB NVIDIA® GeForce® G310*(DVI, VGA,HDMI) 1GB NVIDIA® GeForce® GT220*(DVI, VGA, HDMI)
الأبعاد
الوزن والأبعاد:
الارتفاع: 14.57 بوصة (370 ملم)
العرض: 6.69 بوصة (170 ملم)
العمق: 16.8 بوصات (427 ملم)
الوزن: 13.45 رطل (6.1 كجم) تقريبًا
محرك الأقراص الضوئية
16X DVD-ROM Drive
16X CD/DVD burner (DVD+/-RW) with double layer write capability
All drives include Cyberlink PowerDVD DX
All write drives include Roxio Creator 10.0 DE
Options available in single and dual drive configurations
الأمان
ميزة أمان الإنترنت من خلال برنامج Trend Micro PC-cillin Internet Security (اشتراك حتى 3 أعوام)
برنامج الحماية الكاملة McAfee® Total Protection للشركات الصغيرة (اشتراك حتى 3 أعوام)
برنامج McAfee® Security Center (اشتراك حتى 3 أعوام)
برنامج Norton Internet Security™ (اشتراك حتى 3 أعوام)
الأمان المادي – فتحة تأمين الهيكل بقفل الكابل وحلقة قفل

خيارات النسخ الاحتياطي

خدمة DataSafe للنسخ الاحتياطي عبر الإنترنت من Dell
Dell برنامج Backup and Recovery Manager للنسخ الاحتياطي للبيانات واستردادها من

المنافذ
Video: 1 15-pin VGA video connector
USB: 6 externally accessible USB Ports (2 front, 4 back); 2 internal USB ports
Audio: Three back-panel connectors for line-in, line-out, microphone-in, two front-panel connectors for headphone-output and microphone-in
Other: 1 Serial, 2 PS/2 for Keyboard and Mouse, 1 RJ-45 10/100/1000
مجموعة الشرائح
مجموعة الشرائح Intel® G41 Express المزودة بتقنية ICH7
الهيكل
Weight & Dimensions - Mini Tower:

Height: 14.57" (370mm)
Width: 6.69" (170mm)
Depth: 16.8" (427mm)
Weight: ~13.45lbs (6.1 kg)

Weight & Dimensions - Slim Tower:

Height: 14.69" (373mm)
Width: 4.17" (106mm)
Depth: 17.20" (437mm)
Weight: ~12.79lbs (5.8 kg)
الطاقة
التيار:مصادر
طراز ATX بقوة 300 وات، مصدر طاقة نشط يعمل على ضبط الطاقة (PFC) أو مصدر طاقة غير نشط يعمل على ضبط الطاقة (PFC) (يختلف باختلاف الدولة) مزود بمحول خط بقدرة من 115 إلى 230 فولت من التيار المتردد بسرعة من 50 إلى 60 هرتز
يمكن لشركة Dell عبر شركائها المحليين توفير مجموعة كبيرة من الخدمات التي تتناسب مع أعمالك واحتياجاتك. كما يمكن تمديد فترة الضمان الخاص بالأجزاء أو استبدالها وترقية مستوى الخدمة حسب الطلب، بالإضافة إلى الحصول على الضمان الدولي وتلقي خدمات التثبيت وكذلك الخدمات الإضافية الأخرى. كما يمكن لشركة Dell أن توفر عملية التجميع المخصص بالمصنع (CFI) لتخصيص إعدادات الأجهزة وإضافة خدمات تتسم بالجودة.

يُرجى الاتصال بالشريك المحلي للحصول على المزيد من المعلومات.