LIMITLESSLY THIN. REMARKABLY ENGINEERED.
The world's thinnest and lightest 17" high-performance gaming laptop.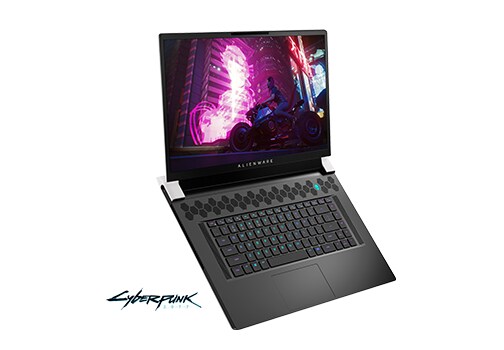 Alienware x17
Alienware
Operating system
Available with Windows 11.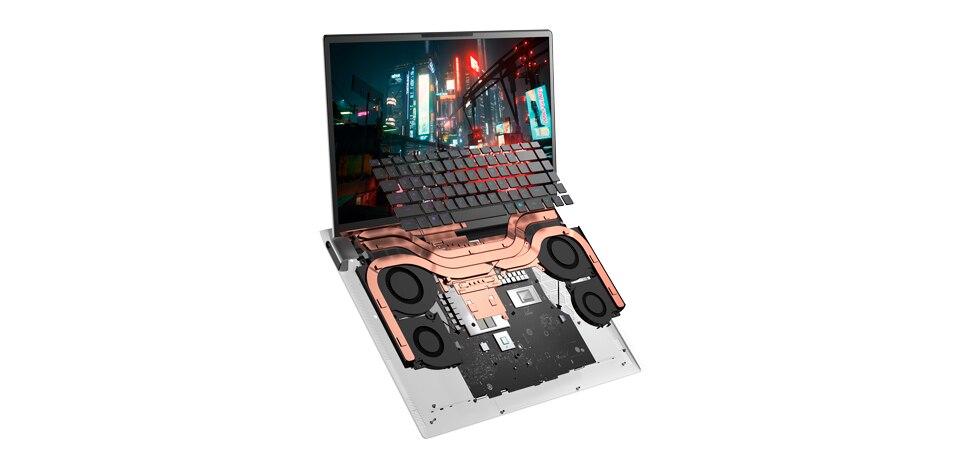 THE LATEST INNOVATIONS TO ALIENWARE CRYO-TECH™ TECHNOLOGY
Advanced Alienware Cryo-Tech™ is an electrical and mechanical engineering approach used to maintain system stability during the highest performance states. These approaches include creative thermal module designs, heat dissipation, advanced thermal and system control, fan and fan motor design, and even exhaust and intake layouts that determine overall airflow impedance. Our latest technologies bring you industry exclusives and patent-pending technologies that enable our thinnest 17-inch gaming laptop.
Killer cooling technology:
Game faster and for longer periods of time thanks to Element 31
*
, an industry-first and Alienware-exclusive encapsulated gallium-silicone thermal interface material. Offering a 25% improvement in thermal resistance
*
,  Element 31 works more efficiently than previous solutions pulling heat away from the CPU with double the energy storage capability over the previous generation
*
. Element 31 will slow down in double the time that it would normally take the CPU temperatures to increase by 45
o
C
*
.Indirectly, total system temperatures will benefit from this environment as well.
Four is better than one:
 Introducing Alienware's quad fan technology, a patent-pending industry exclusive included in our X-Series laptops. This new design includes a combination of standard evacuative fans which move air through the system as well as, patented, dual opposite outlet (DOO) fan which move air through the chassis and over various internal hotspots creating a pressurized environment that dissipates heat and reduces external temperatures. Each fan is intelligently controlled and uniquely programmed to function individually to meet the desired equilibrium of cooling. This helps your system maintain optimized airflow and internal chassis pressure for better performance.
Intelligent quad airflow:
Game with confidence and rest assured that your system is being intelligently cooled according to your type of gameplay and its thermal requirements. Each of the four fans independently functions to regulate and control system surface temperatures, CPU and GPU. Plus, each fan can independently spin-up, slow down, or remain steady according to your system's needs, prioritizing movement of the fans that are positioned to enable the best benefit for your system.
Tailored power:
 Like an engine's transmission, gamers can set, activate and manage five unique power states through the Alienware Command Center with this exclusive, patent-pending technology. These five power states are determined through a set of sensors and variables throughout your system's CPU and GPU circuits. Depending on your needs, you can choose from Performance Mode, Balanced Mode, Battery Saver Mode, Quiet Mode and Full Speed Mode, which can also be toggled outside of Alienware Command Center using FN+F1.
Total control:
The Thermal Control Circuit Offset is a feature that can be set within the BIOS if you choose to set a "cruise control" limit to your CPU temperature. This gives you the power and peace of mind to manage your CPU temperature within a safe limit you deem comfortable for everyday use. If you don't like to tinker with your system, then you can game with the default setting set by Intel.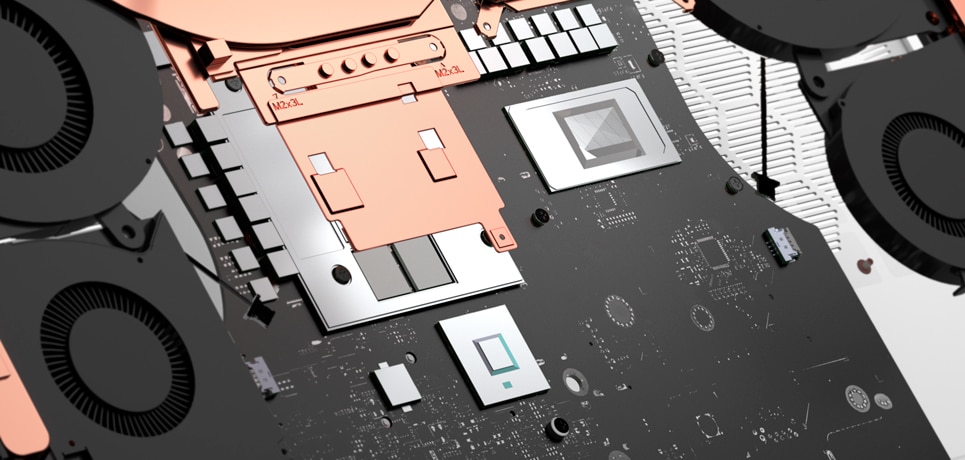 ALIENWARE'S COMMITMENT TO MARATHON GAMING
Game longer: For 25 years we've delivered technology no one else has. And we've done it again with Alienware's thinnest 17-inch laptop made for marathon gaming. The x17 offers HyperEfficient 12-phase graphics voltage regulation and 6-phase processor voltage regulation which means you'll be able to perform at your peak during CPU-dependent game play and for hours on end.

Prepared to game: The new Alienware x17 features NVIDIA® GeForce RTX™ graphics. Some of the amazing benefits that push performance from the new NVIDIA® series include Dynamic Boost 2.0 and Deep Learning Super Sampling (DLSS). New AI-powered Dynamic Boost 2.0 automatically delivers the needed power between the GPU, GPU memory, and CPU for a larger performance boost than ever before. The AI networks in Dynamic Boost 2.0 manage power on a per-frame basis, so your x17 is constantly optimizing for maximum performance while you're gaming and creating. NVIDIA® DLSS delivers a massive performance boost at the same power by using the Tensor Cores to do groundbreaking AI rendering.

Power of Dynamic Boost 2.0: Maximum graphics power on Alienware x17 delivers up to 165W with Dynamic Boost enabled and with configurations using the NVIDIA® GeForce RTX™ 3080. Configurations using the NVIDIA® GeForce RTX™ 3070 or 3060 have a maximum graphics power of up to 140W and 130W, respectively, with Dynamic Boost enabled.

Feel the power: With up to 8-core 11th Gen Intel® Core™ processors you'll experience high-performance action across your favorite games and applications. You'll also benefit from post-purchase user-upgradeable memory SO-DIMMs and up to 64GB of Dual-Channel XMP DDR4 memory.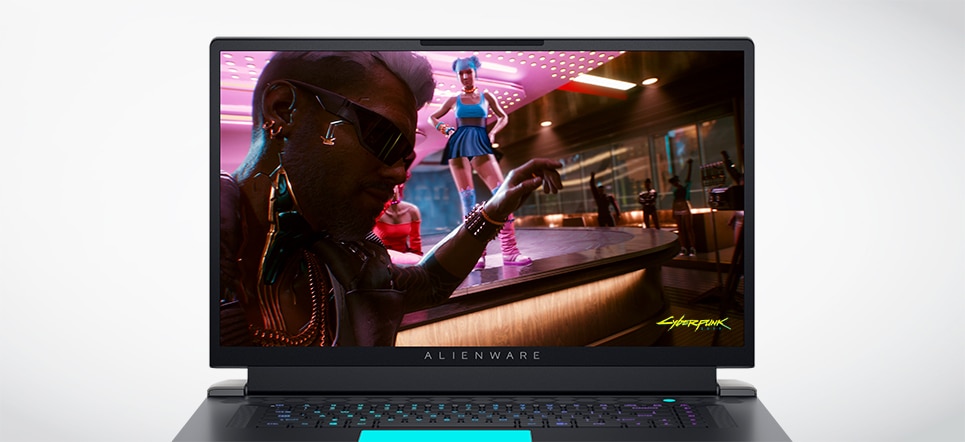 AN ELEVATED VISUAL EXPERIENCE
Optimize your view:
 With the goal of smooth gameplay in mind, the incredibly fast 165Hz through 360Hz
*
panel options have a response time rated at 3ms or less. For an improved visual experience, the 360Hz panel option supports NVIDIA
®
G-SYNC
®
technology which is intended for a better handshake between the refresh rate of your display and the refresh rate that your GPU can provide.
Easy on the eyes:
The FHD 165Hz and FHD 360Hz panel options on the x17 include low blue light technology that is hardware-based so you can game long, without any concerns or reduction in image quality. Our FHD panels also offer high-speed motion graphics and a sRGB 100% color gamut rating for a richer color range than most laptops.
Advanced Optimus:
Only available on the x17's FHD 360Hz panel option, Advanced Optimus enables the long battery life of Optimus, along with the immersive, tear-free, stutter-free gameplay of NVIDIA
®
G-SYNC
®
. Plus, it reduces system overhead to deliver optimal performance and reduced latency in your favorite game.
Bring the game to life:
Experience wide viewing angles on a 4K UHD 500-nits panel option with a color gamut equivalent to a 100% Adobe RGB spectrum, capable of producing an exceptionally wide range of high-contrast, vibrant colors. Featuring a 4ms response time and 120Hz refresh rate, it's ideal for gamers that prioritize high resolution and vibrant colors over speed.
Windows Hello:
Get your mission started sooner with a password that's as personal as it gets using the newly added, Windows Hello facial recognition—available on all x17 panel options.
*AlienFX touchpad requires optional NVIDIA
®
GeForce RTX™ 3080 graphics card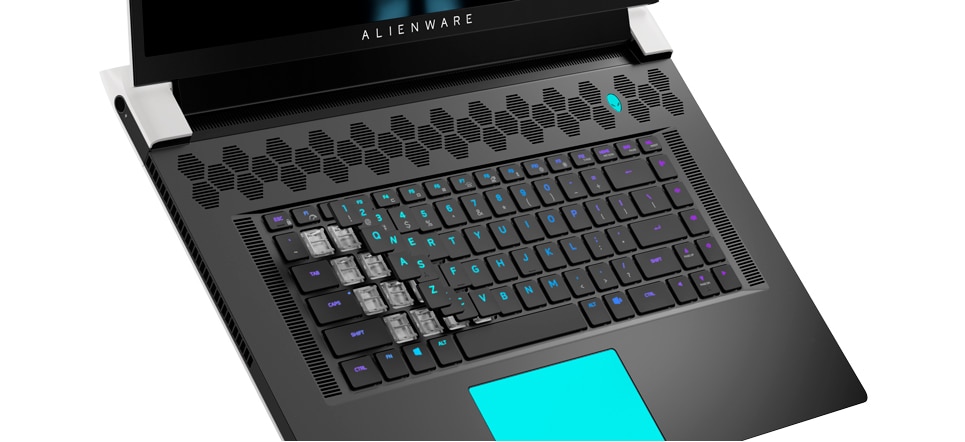 KEY INTO SUPERIOR GAMING
Premium AlienFX keyboard: The incredibly responsive keyboard features per-key RGB LED lighting, 1.5mm travel, N-key rollover technology and anti-ghosting technology.

More options, more wins: Alienware's exclusive ultra-low profile truly mechanical laptop keyboard offers the opportunity to extend your senses into next-level immersion. Experience real mechanical key switch design and architecture that's exceptionally tactile and audile.

*AlienFX touchpad requires optional NVIDIA® GeForce RTX™ 3080 graphics card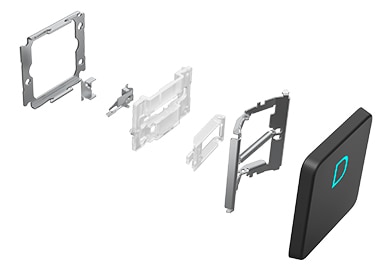 CODEVELOPED WITH CHERRY
Designed to be premium: This optional keyboard includes German engineered stainless-steel switches, constructed with a gold-plated electrical contact enclosure which ensures that keys* on the keyboard feel exactly the same. Additionally, you can type at your leisure with an assurance against failure and up to a 15 million keystroke lifecycle.

Feel the difference: Experience uniformly smooth travel no matter if you hit the key center or off center thanks to the mechanical design within the anatomy of each key's switch. This technology delivers an anti-wobble feel with an increased total key travel of 1.8mm.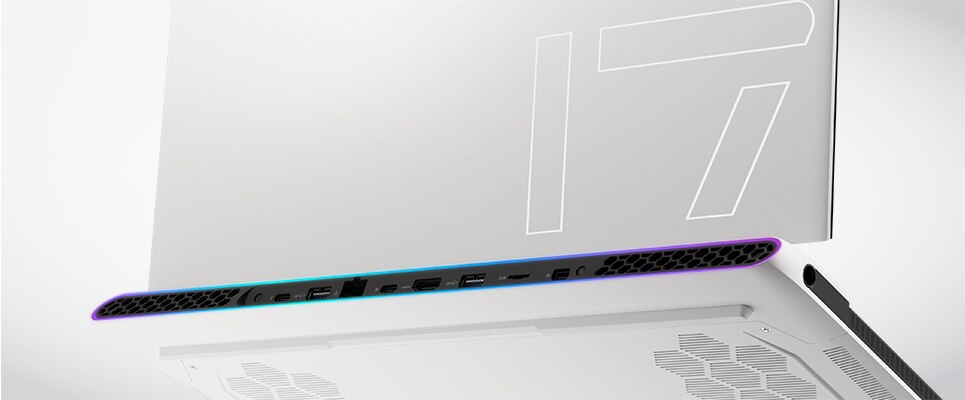 A LEGENDARY EVOLUTION
We built upon the purely geometric balance and blended bone lines of our iconic Legend industrial design and reached it to new heights. Experience a new dark core feature that removes distractions and provides an aesthetically pleasing side profile to hide all the ports and vents. Plus, an innovative, modified extrusion makes our design that much more seamless, and our stain-resistant paint design looks even cleaner with a new silky-smooth finish.

Enhanced AlienFX: Celebrate your thermals with lighting that makes heads turn, then spin with jealousy. The latest AlienFX hardware and software supports full RGB values with up to 16.8 million colors.

Light it up: Make your setup shine with new rear stadium and touchpad AlienFX lighting enhancements. You can customize the stadium AlienFX lighting colors to match your style, show off your steeze and revel in a new, independent and programmable lighting zone powered by 100 micro LEDS. For added customization, select X-Series laptops now have an exclusive AlienFX touchpad feature, which requires the optional NVIDIA® GeForce RTX™ 3080 graphics card, with an independent and programmable lighting zone.

Bespoke lighting: Easily manage your AlienFX lighting zones, edit peripheral settings, and save new themes you can then assign for each game in the Alienware Command Center. Then, before putting the competition to bed, try the "Go Dark" mode allowing you to turn off lights and go ninja stealthy without drawing attention.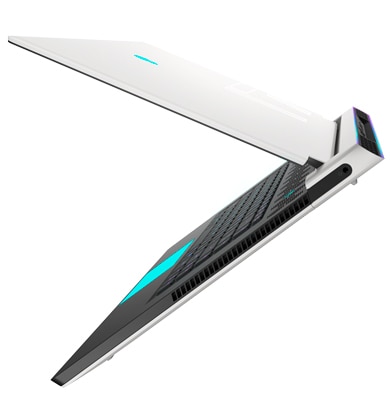 BOUNDARY-BREAKING CONNECTIVITY
Another Alienware first: We're bringing you the performance you expect from our systems in adapter form with Alienware's first small form factor power adapter. 46% smaller and 25% lighter than a traditional adapter, our Alienware-branded 240W adapter is 1.9% more efficient than the previous 240W adapter. Configurations using the NVIDIA® GeForce RTX™ 3080 will include a standard 330W adaptor.

More ports mean more fun: Let the lightning-fast games begin with two Type-C ports for up to 40Gbps data transfer connections. These ports can also serve as an additional display output for external monitors. Plus, with two USB 3.2 Gen 1 Type-A with PowerShare up to 10Gbps connection speeds you'll have all the quality connection options you could ever need.

Killer Wi-Fi: Intel's Killer Wi-Fi 6 technology delivers multiple high-speed channel wireless for improved performance and reliability.

Go Native: Every x17 looks great anywhere you game, as each comes with HDMI 2.1 for native 4K/120Hz output onto other displays.

*AlienFX touchpad requires optional NVIDIA® GeForce RTX™ 3080 graphics card
ALIENWARE COMMAND CENTER
The Alienware Command Center is continuously updated. Our latest version now includes features specifically desired by the gaming community with auto-tuned game profiles, a new responsive UI, intuitive overclocking options and all-new AlienFX settings.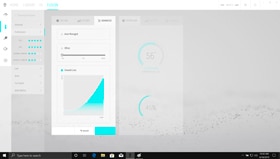 CREATIVE CONTROL
Create profiles designated for power, thermal management, sound, lighting, macros, and more. Link a profile to a game and its settings will automatically apply whenever the game is launched, no matter where it's launched from.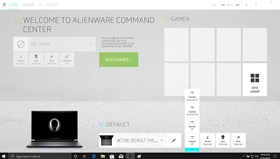 OPTIMAL OVERCLOCKING
The Alienware Command Center includes an easy and intuitive overclocking control module that allows the user to quickly and safely squeeze additional performance out of their system. Create your own system overclocking profiles, then easily control their system performance.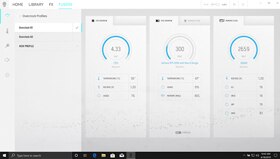 TAILORED POWER STATES
Access uniquely defined power management modes that are tailored for different games, such as a CPU prioritization, GPU prioritization, balance and even quiet operation. Like an engine's transmission, you can tailor your power state to your usage priorities.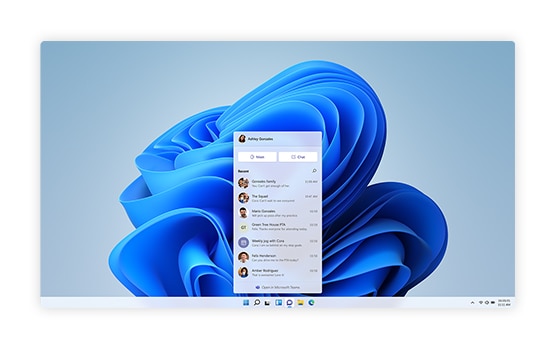 Their latest. Our greatest.
Dynamic doesn't begin to describe this duo. Together, Windows 11 and Dell PCs create a best-in-class experience*.

A fresh perspective
An inspiring new look and feel makes for a calmer experience.

Balance your life
Refocus your workflow with snap assistant. Or Switch between desktops for greater organization of open windows.

Life's better together
Call, chat, and make plans come to life with Teams on Windows 11* right from your PC regardless of what computer or phone or tablet they are on.*

Learn More

Ports & Slots:
1. Global headset jack| 2. Type-C Thunderbolt™ 4 / USB 3.2 Gen 2 Port, with Power Delivery (5V/3A) | 3. (2) USB 3.2 Gen 1 Type-A with Powershare | 4. Killer 3100 RJ-45 2.5G Ethernet | 5. Type-C USB 3.2 Gen 2 Port, with Power Delivery (5V/3A) | 6. HDMI 2.1 | 7. Micro SD | 8. Mini Display Port 1.4 | 9. Power/DC-in Port

Dimensions & Weight
With FHD 360Hz display:
1. Height : 20.9mm (0.823") | 2. Width: 399.23mm (15.718") | 3. Length: 299.49mm (11.791")
Starting weight: 3.02 kg (6.65 lb)
*
| Maximum weight: 3.2 kg (7.05 lb)
*
With FHD 165Hz or UHD 120Hz displays:

1. Height : 21.4mm (0.843") | 2. Width: 399.23mm (15.718") | 3. Length: 299.49mm (11.791")
Starting weight: 3.02 kg (6.65 lb)
*
| Maximum weight: 3.2 kg (7.05 lb)
*
HIGH-PERFORMANCE GAMING ACCESSORIES
Transform your gaming laptop into a desktop-class gaming rig with the superior graphics and performance you crave.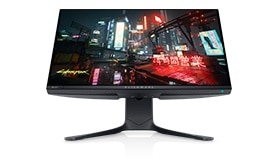 ALIENWARE 25 GAMING MONITOR | AW2521H
Experience high-speed action and fluid movement with our fastest display featuring up to a 360Hz refresh rate and NVIDIA® G-SYNC® on a 25-inch screen using Fast IPS technology.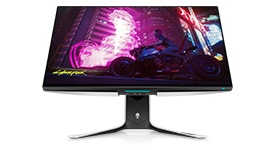 ALIENWARE 27 GAMING MONITOR | AW2721D
Custom AlienFX lighting stands out on this 27-inch monitor featuring a 240Hz refresh rate, 1ms response time and certified for NVIDIA® G-SYNC® ULTIMATE technology.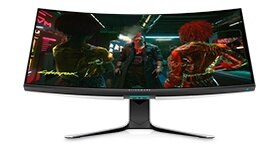 ALIENWARE 38 CURVED GAMING MONITOR | AW3821DW
Enhance all the action on this 38-inch curved monitor with WQHD resolution, customizable AlienFX lighting, and NVIDIA® G-SYNC® technology.
PERFORMANCE-ENHANCING PERIPHERALS
Introducing the latest Alienware gear featuring the iconic designs you trust for exhilarating, immersive gaming.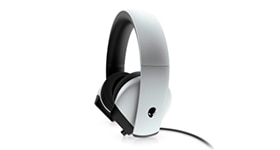 ALIENWARE 7.1 GAMING HEADSET | AW510H
Lose yourself in the game with virtual 7.1 surround sound, powerful high-fidelity 40mm drivers and low-latency performance – all highlighted by premium materials and iconic Alienware design.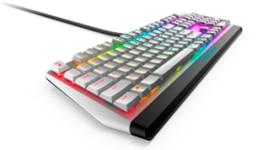 ALIENWARE LOW-PROFILE RGB MECHANICAL GAMING KEYBOARD | AW510K
A beautifully designed, full-featured gaming keyboard offering programmable keys and dedicated volume control. Made for ultimate performance.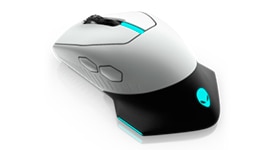 ALIENWARE WIRED/WIRELESS GAMING MOUSE|AW610M
Count on incredible speed and sensitivity control with a 12,000 DPI optical sensor, redesigned side wings for improved grip, and AlienFX RBG lighting.
Processor
11th Generation Intel® Core™ i5-11400H (12 MB Cache, 6 Core, up to 4.50 GHz)
11th Generation Intel® Core™ i7-11800H (24 MB Cache, 8 Core, up to 4.60 GHz)
11th Generation Intel® Core™ i9-11980HK (24 MB Cache, 8 Core, up to 5 GHz)
Operating System (Dell Technologies recommends Windows 11 Pro for business.)
Windows 11 Home (64-bit)
Windows 11 Pro (64-bit)
Video Card
Discrete:
NVIDIA® GeForce® RTX™ 3060, 6 GB GDDR6
NVIDIA® GeForce® RTX™ 3070, 8 GB GDDR6
NVIDIA® GeForce® RTX™ 3080, 16 GB GDDR6

Integrated:
Intel® UHD Graphics
Display
17.3-inch, UHD 3840 x 2160, 120 Hz, anti-glare, 100% Adobe, 500 nits, wide-viewing angle
17.3-inch, FHD 1920 x 1080, 165 Hz, anti-glare, 100% sRGB, 300 nits, wide-viewing angle
17.3-inch, FHD 1920 x 1080, 360 Hz, anti-glare, 100% sRGB, 300 nits, wide-viewing angle, G-SYNC®, Advanced Optimus
16 GB, 2 x 8 GB, DDR4, 3200 MHz, dual-channel, integrated
32 GB, 2 x 16 GB, DDR4, 3200 MHz, dual-channel, integrated
The following configurations are only supported on computers shipped with i7 or i9 processors:
32 GB, 2 x 16 GB, DDR4 XMP, 3466 MHz, dual-channel, integrated
64 GB, 2 x 32 GB, DDR4 XMP, 3466 MHz, dual-channel, integrated
Hard Drive
256 GB, M.2 2230, PCIe NVMe Gen3 x4, SSD
512 GB, M.2 2280, PCIe NVMe Gen3 x4, SSD
512 GB, M.2 2280, PCIe NVMe Gen4 x4, SSD
1 TB, M.2 2280, PCIe NVMe Gen3 x4, SSD
1 TB, M.2 2280, PCIe NVMe Gen4 x4, SSD
2 TB, M.2 2280, PCIe NVMe Gen4 x4, SSD
Microsoft Office
Alienware Command Center
Dell Digital Delivery
Dell Mobile Connect
Dell Update
Excalibur
Microsoft Office 30-Day Trial
My Alienware
SupportAssist
XBOX

Optional:
Foxit® PhantomPDF™ 30-Day Trial
Foxit® PhantomPDF™ Standard
Foxit® PhantomPDF™ Business
Adobe Acrobat Standard
Adobe Acrobat Pro DC
Adobe Acrobat Standard 2020
Adobe Acrobat Pro 2020
Adobe Photoshop Elements and Premier Elements 2020 Bundle
Adobe Photoshop Elements and Premier Elements 2021 Bundle
Microsoft 365 Business
Microsoft 365 Business Premium
Microsoft 365 Home
Microsoft 365 Personal
Microsoft Office 2019 Home & Student
Microsoft Office 2019 Home & Business
Microsoft Office 2019 Professional
CyberLink® PowerDirector® 17 Ultra
CyberLink® PhotoDirector® 10 Ultra
CyberLink® Media Player with PowerDVD® 19
Security Software
Trusted Platform Module (TPM) 2.0 Security
McAfee® LiveSafe™ 12 month subscription
McAfee® LiveSafe™ 24 month subscription
McAfee® LiveSafe™ 36 month subscription
Facial recognition
Support Services
1 year Basic Warranty
2 years Basic Warranty Extension
3 years Basic Warranty Extension
4 years Basic Warranty Extension
5 years Basic Warranty Extension
1 year Premium Support
2 years Premium Support
3 years Premium Support
4 years Premium Support
5 years Premium Support
1 year Premium Support Plus
2 years Premium Support Plus
3 years Premium Support Plus
4 years Premium Support Plus
5 years Premium Support Plus
1 year ProSupport with Next Business Day on-site service (US & Canada only)
2 years ProSupport with Next Business Day on-site service (US & Canada only)
3 years ProSupport with Next Business Day on-site service (US & Canada only)
4 years ProSupport with Next Business Day on-site service (US & Canada only)
5 years ProSupport with Next Business Day on-site service (US & Canada only)
1 year ProSupport Channel Extended SKU's (US & Canada only)
2 years ProSupport Channel Extended SKU's (US & Canada only)
3 years ProSupport Channel Extended SKU's (US & Canada only)
4 years ProSupport Channel Extended SKU's (US & Canada only)
5 years ProSupport Channel Extended SKU's (US & Canada only)
1 year ProSupport Plus for Client (US & Canada only)
2 years ProSupport Plus for Client (US & Canada only)
3 years ProSupport Plus for Client (US & Canada only)
4 years ProSupport Plus for Client (US & Canada only)
5 years ProSupport Plus for Client (US & Canada only)
Accidental Damage Protection
None
1 year accidental damage service
2 years accidental damage service
3 years accidental damage service
4 years accidental damage service
5 years accidental damage service
1 year accidental damage with theft service
2 years accidental damage with theft service
3 years accidental damage with theft service
4 years accidental damage with theft service
5 years accidental damage with theft service
1 year accidental damage protection
2 years accidental damage protection
3 years accidental damage protection
4 years accidental damage protection
5 years accidental damage protection
Keyboard
Black, Arabic, RGB per key backlit keyboard, 85 keys
Black, Canada Bilingual MUI, RGB per key backlit keyboard, 85 keys
Black, English International, RGB per key backlit keyboard, 85 keys
Black, English US, RGB per key backlit keyboard, 85 keys
Black, French European, RGB per key backlit keyboard, 86 keys
Black, German, RGB per key backlit keyboard, 86 keys
Black, Japanese, RGB per key backlit keyboard, 89 keys
Black, Korean, RGB per key backlit keyboard, 85 keys
Black, Nordic MUI, RGB per key backlit keyboard, 86 keys
Black, Russian, RGB per key backlit keyboard, 85 keys
Black, Spanish Latin America, RGB per key backlit keyboard, 86 keys
Black, UK English, RGB per key backlit keyboard, 86 keys
Black, English International, RGB per key backlit Cherry mechanical keyboard, 85 keys
Black, English US, RGB per key backlit Cherry mechanical keyboard, 85 keys
Mouse
Multi-touch gesture Premium Precision glass touchpad with integrated scrolling
Ports
2 USB 3.2 Gen 1 ports with PowerShare
1 USB 3.2 Gen 2 Type-C port with DisplayPort and Power Delivery
1 Thunderbolt™ 4 port with Power Delivery
1 headset (headphone and microphone combo) port
1 HDMI 2.1 port
1 Mini DisplayPort™ 1.4
1 RJ45 Ethernet port
1 power adapter port
Dimensions & Weight
Height with FHD 360Hz panel: 20.9 mm
Height with UHD 120Hz or FHD 165Hz panels: 21.4 mm
Length: 299.57 mm
Width: 399.23 mm
Starting Weight: 3.02 kg
Maximum Weight: 3.2 kg
Camera
720p at 30 fps HD RGB camera
Dual-array microphones
Audio and Speakers
4-way stereo speakers, 4 W x 2 = 8 W total
Realtek ALC3281
Chassis
AlienFX Lighting Zones
Programmable with up to 16.8 million distinct colors

Color Options
Lunar light

Customized Features
Alienware Command Center
AlienFX Lighting Technology
Game Library with auto-tune game profile functionality
Fusion (Includes support for Overclock, Thermal, Power, Audio, and Audio Recon profiles)

Keyboard
Alienware mSeries keyboard with four-zone RGB LED AlienFX lighting
Includes anti-ghosting technology
Alienware mSeries keyboard with per-key RGB LED AlienFX lighting (optional)
Includes N-key rollover technology (optional)

Touchpad
Multi-touch gesture Premium Precision glass touchpad with integrated scrolling
Intel® Killer™ AX1675w, 2x2, MIMO, 2.4 GHz/5 GHz/6 GHz, Wi-Fi 6 (WiFi 802.11ax), Bluetooth 5.2
Primary Battery
6-cell, 87 Wh, "smart" lithium-ion, Dell ExpressCharge Boost