2-socket high-memory rack server
With the PowerEdge™ C2100, you don't have to choose memory over disk capacity. You get both so you can get results fast.
Sorry, this item is not available anymore for purchase online. Please see our recommended replacement product.
PowerEdge C2100 Rack Server
PowerEdge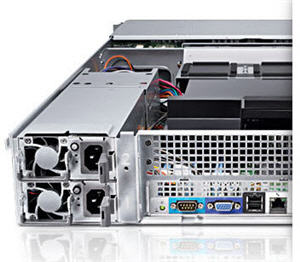 Maximum flexibility and throughput
The Dell™ PowerEdge C2100 gives you a purpose-built, cost-efficient solution for managing the volume and frequency of data generated in scale-out environments.

Choose from high-capacity 3.5" or 2.5" SATA, or high-performance serial attached SCSI (SAS), or solid-state drives (SSDs) on the front loaded drives and, 2.5" SATA or enterprise-class single-level cell (SLC) SSDs on the internal drives for the optimal storage solution (up to 38TB) to support your applications.
Drive configuration options include 12 hot-plug 3.5" or 24 hot-plug 2.5" front-loaded hard drive slots, plus two internal 2.5" hard disk (HDDs) for added storage.
Support for 6Gb/s SAS gives you the future-ready scalability and performance needed in high-performance file operations.
Increase your memory and save
The power-efficient Intel® Xeon® 5500/5600 series provides up to 18 DDR3 DIMM sockets for a maximum of 192GB.

In addition to supporting extremely large memory capacity, the PowerEdge C2100 supports a wide variety of memory configurations.


Everything you need, nothing you don't
With the PowerEdge C line of servers, Dell has leveraged its expertise in custom-built hyperscale computing and high-volume production to bring ultradense, high-performance, efficient solutions to high performance computing, web 2.0, big data, hosting and cloud builders.

We've designed PowerEdge C servers for rack deployments in large, homogenous cloud/cluster environments where the software stack predominantly provides platform availability and resiliency. We didn't add the extra features you don't need to get the job done, such as extensive systems management or broad enterprise storage.


Dell Services and Support
Dell is dedicated to simplifying IT, and Dell Services can help you manage the complexities of growing and maintaining your hyperscale, high-performance and cloud computing environments. Dell's broad portfolio of planning, implementation and maintenance services can help accelerate your IT initiatives and grow your business.

Dell Services can be tailored to complement how you manage your environment. Options include, but are not limited to, infrastructure consulting services to help you optimize your data center, custom rack integration to quickly add racks of compute capacity and expert level tech-to-tech phone support with fast-track dispatch. Whatever the situation, Dell can help you break through complexity with services and solutions tailored to your needs.
www.dell.com/services

Dell ProConsult Infrastructure Consulting Services
Dell global infrastructure consulting services utilize skilled solution architects, innovative tools, automated analysis and our own intellectual property to give you rapid insight into the root causes of unnecessary complexity. We seek better answers than traditional service models, based on our belief that solving problems should not need armies of people. Our strategy is to help customers quickly identify high-impact, short-duration projects that deliver ROI and free up resources to obtain competitive advantage. The result is practical, action-orientated plans with specific, predictable, measurable outcomes.

Suggested Dell ProConsult services for the PowerEdge C server line:

Cloud Workshop
Cloud Assessment
Cloud Enablement

Dell ProManage Managed Services

Dell ProManage services don't follow the traditional one-size-fits-all approach. They're modular so you get to choose what you need for your business. Through features like flexible deployment options and asset recovery services, we've got what you need, when you need it.

Our factory, remote and on-site installation services for servers make efficient use of your employees' time by helping to speed up activities like configuration and deployment, allowing them to focus more on improving your business.

Dell Asset Recovery and Recycling Services help you recover and dispose of owned or leased computer equipment, in a manner that follows Environmental Protection Agency (EPA) guidelines.

Dell ProSupport Services
Dell ProSupport is a comprehensive, configurable suite of support services designed to simplify and optimize your IT environment. From desktop to data center, ProSupport addresses everyday and unique IT challenges through options such as next-business-day support, asset and data protection, specialized on-site services, proactive maintenance and parts management, and remote advisory services — backed by global command centers and expert centers around the world.