Dell PowerEdge R910 4U rack server
The PowerEdge™ R910 is an Intel® processor-based 4-socket, 4U rack server for mission-critical applications in corporate data centers and workloads needing the highest performance, reliability and I/O scalability.
Sorry, this item is not available anymore for purchase online. Please see our recommended replacement product.
PowerEdge R910 Rack Server
PowerEdge

Purpose-Built with a Focus on Reliability
Dell™ customers have told us they need a server manufacturer that inspires confidence through its reliability, availability and quality of products. By listening to and focusing on what customers want, we've set a simple reliability goal: Deliver quality over time.

We've designed the Dell™ PowerEdge™ R910 for reliability, incorporating features such as Intel® advanced reliability, availability and serviceability (RAS) capabilities; redundant power supplies; remote IDRAC6 connectivity; and embedded diagnostics. Internal Dual SD Module provides failover at the hypervisor — a reliability feature designed with direct input from Dell™ customers.
Intelligent Platforms, Connected Foundations
By listening to and focusing on our customers, Dell delivers innovations that matters and values that last.
Virtualization, consolidation, unifying fabrics, networking and storage upgrades are driving the need for more robust network pipes, and servers have to be able to provide the connectivity to drive this need for bandwidth. The PowerEdge™ R910 is available with a 2x10GbB LOM option to meet these demands. This delivers the bandwidth for applications without limiting scalability by integrating 10Gb capabilities on a riser.
A Complete Management Portfolio
The PowerEdge R910 is simple to deploy, manage and maintain, saving you time and money to focus on what matters most — your people and business.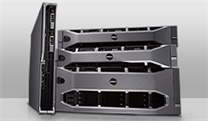 Dell™ systems-management solutions focus on simplicity, efficiency, cost containment and reduction, as well as an adherence to open standards. Our solutions are complemented by, connected to, and integrated with third-party offerings to provide a holistic focus across the solutions stack.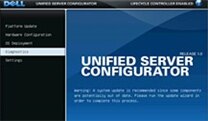 Integrated on the server, the Lifecycle Controller chip helps to simplify administrator tasks by performing a complete set of provisioning functions such as system deployment, system updates, hardware configuration, and diagnostics in a pre-OS environment — all from a single, intuitive interface called the Unified Server Configurator (USC). This eliminates the need to use and maintain multiple pieces of disparate CD/DVD media.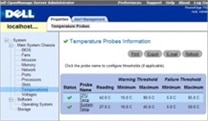 Also part of Dell's systems-management portfolio is the Dell Management Console, part of the OpenManage™ software that ships free with every Dell server and provides IT managers with a consolidated view of their entire IT infrastructure.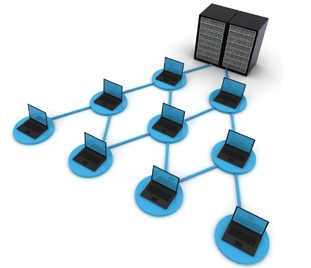 Efficient Infrastructure
Customers can build an efficient and scalable server infrastructure with standard x86 server technologies. The PowerEdge™ R910 is the building block for a standard efficient infrastructure.


Dell's focus is on helping customers reduce cost with a server created to help simplify daily operations, maximize infrastructure, and streamline deployment.
Dell™ LifeCycle Controller was developed to help customers implement an effective process for deployment and comprehensive server management.
This Dell innovation allows customers to simplify initial setup and configuration of new servers by auto-discovery and initial security configuration of system service processor with the already collected and available drivers, helping reduce time and potential error or disruption.
Dell provides choice with open standard server solutions based on Intel® Xeon® processor architecture combined with Linux® , and providing all the required characteristics — performance, scalability, reliability, security and support options to help reduce data center operations costs.

The PowerEdge™ R910 is in line with the 11th generation PowerEdge portfolio behavioral specifications featuring the same system design commonality and serviceability true to the entire portfolio. Dell™ PowerEdge servers are engineered with all external ports, power supplies and LED lights in the same location for familiar user experience, as well as easy installation and deployment.

Dell provides a server foundation giving customers the peace of mind and quiet confidence to run their businesses.
Dell EMC offers complete end-to-end services
Optimizing the IT lifecycle is vital. We have expert services
*
for all lifecycle phases that save you time and resources, reduce effort, and improve your IT experience.
ProSupport Enterprise Suite
Gain the freedom to focus on your business transformation with the support expertise and insights Dell EMC is known for across the globe. Choose the right support based on the criticality of specific systems with available automated predictive analysis, collaborative third-party assistance and service account management.
ProDeploy
ProDeploy Enterprise Suite helps you get more out of technology starting on day one. Trust our experts to lead deployments from basic hardware installations through planning, configuration and complex integrations. Our complete suite of deployment services and professional certifications helps you achieve business outcomes today and tomorrow.
Training & Certification
Education Services offers an expansive suite of training services with multiple delivery methods, including instructor-led, self-paced online and virtual instructor-led training. With comprehensive and flexible training programs, we make it easy to ensure your staff has the skills they need to successfully manage and utilize your new technology to its full potential.
Consulting
Consulting services give expert guidance to help you grow, optimize and transform your IT environment at your own pace and budget. We employ a broad range of certified consultants and engineers, backed by program management teams, who can deliver deep technical expertise. We give you the confidence that your project will be done right and on time.
Financing and leasing
Acquiring the latest IT solutions shouldn't be as complicated as running your business. With Dell Financial Services you can finance and purchase in the same place*. It's quick, it's easy and most important, it lets you keep the "flow" in your cash flow.