Data storage, simplified.
Store, manage, AND scale, block and file data with an affordable, dependable NAS appliance suitable for midsize and smaller deployments.
Sorry, this item is not available anymore for purchase online. Please see our recommended replacement product.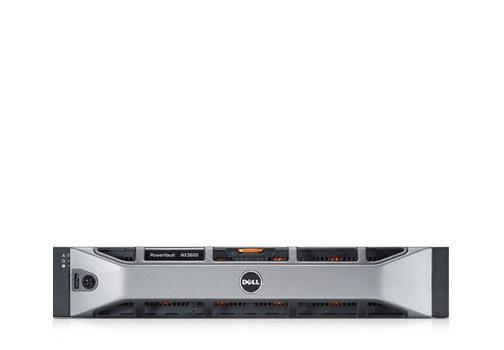 PowerVault NX3600 and NX3610 NAS Appliance
PowerVault
Expand block and file storage efficiently as your business grows

Easily scale to meet dynamic block and file storage requirements and gain quick access to your stored data with an affordable network attached storage (NAS) appliance.
Find Out More
Unify your NAS and storage area network (SAN).

Bring flexibility to your data storage environment and control the escalating costs of managing file data.
Find Out More
Manage file data growth efficiently with Dell Fluid File System.

Expand block and file storage efficiently as your business grows with Dell™ Fluid File System (FluidFS) v2, an enterprise-class distributed file system.
Find Out More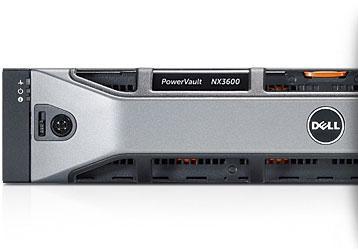 Protect mission-critical file data.
Several data protection features, including user-restorable snapshots, asynchronous replication, support for 3rd party anti-virus scanning of CIFS shares and NDMP backup capabilities are included at no additional cost.
Find Out More

Get big performance at a low cost.
With 1GbE and 10GbE models to choose from, the PowerVault NX3600-series appliances offer easy, cost-effective integration with PowerVault™ MD Series iSCSI storage arrays
Find Out More
Memory
NX3600: 12GB DDR3 1066 MHz per controller
NX3610: 24GB DDR3 1066 MHz per controller
Connectivity
Connectivity
Back-end (SAN) Connectivity
NX3600: 4 x 1GbE ports per appliance
NX3610: 4 x 10GbE ports per appliance

Front-end (Client Network) Connectivity
NX3600: 4 x 1GbE ports per appliance
NX3610: 4 x 10GbE ports per appliance

Protocol Support
CIFS/SMB v1.0, NFS v3, iSCSI, NDMP 4, Active Directory, LDAP, NIS (Network Information Service) (NIS), Network Time Protocol (NTP), Simple Network Time Protocol (SNTP), Simple Network Management Protocol (SNMP), Address Resolution Protocol (ARP), Link Aggregation (IEEE 802.3ad), Adaptive Load Balancing (ALB)
Environmental Operating Conditions
Environmental Operating Conditions

Temperature:
Operating: 10° to 40°C
Non-operating: -40°C to 70°C

Relative Humidity:
Operating: 8% to 85% non-condensing
Non-operating: 5% to 95% non-condensing

Maximum Vibration:
Operating: 0.26 GRMS (5-350Hz @ 0.0002G2/Hz for 5 minutes)
Non-operating: 1.88 GRMS @ 10-500 Hz

Maximum Shock:
Operating: 31G 2.6 ms ½ sine
Non-operating: 27g 235 in/sec square wave

Altitude:
Operating: -16 m to 3,028 m (Note: For altitudes above 2,950 feet, the maximum operating temperature is derated 1°F/550 feet)
Non-operating: -16 m to 10,600 m
Acoustics: Sound power operating: <7.2 LwA-UL3, bels @ 23±2°

Power
Wattage
717W output per appliance

Voltage
90 V AC to 264V AC, auto-ranging, 47 Hz/63 Hz. Note: This system is also designed to be connected to IT power systems with a phase to phase voltage not exceeding 230 V.

Heat dissipation
2446 BTU/hr. Note: The heat dissipation is calculated using the power supply wattage rating. The heat dissipation values are for the entire system which includes (chassis and two controllers).

Maximum inrush current
Under typical line conditions and over the entire system ambient operating range, the inrush current may reach 55 A per power supply for 10 ms or less
Storage
NAS appliance
Each 2U NX3600 (1 GbE) or NX3610 (10 GbE) appliance includes two NAS controllers that operate in an active-active environment with cache mirroring between controller pairs

Storage arrays supported
The NX3600 and NX3610 work with all Dell PowerVault MD 3200i and 3600i Series iSCSI arrays – MD3200i, MD3220i, MD3600i, MD3620i

Expansion capability
The capacity of an NX3600 system can be expanded by adding additional MD1200 Series expansion enclosures. The capacity of an NX3610 system can be expanded with one additional MD3200i or MD3600i Series iSCSI array and with MD 1200 Series expansion enclosures. An additional NX3610 can be added to an NX3610 configuration to increase performance.

Maximum File System Capacity 
½ PB raw capacity per appliance with 1 MD iSCSI array and multiple expansion enclosures. A system with 2 NX3610 appliances can support 1PB raw capacity with 2 MD iSCSI arrays and multiple expansion enclosures
Chassis
Chassis Physical Specifications (per dual controller appliance)

Height
2U / 86.4 mm (3.4 inches)

Width
481.50 mm (18.96 inch) with rack flange.
446.3 mm (17.6 inches)—Does not include rack flange.

Depth
741.0 mm (29.2 inches)—Without bezel and handle
813.0 mm (32.0 inches)—With bezel and handle

Weight (Maximum configuration)
30.5 kg (67 lbs)

Weight (empty)
12.86 kg (28.36 lbs)

Maximum weight
 69.5 lbs

Rack Support
ReadyRails II static rails for tool-less mounting in 4-post racks with square or unthreaded round holes or tooled mounting in 4-post threaded-hole racks

Technical Highlights
Min NAS Reserve size
512GB for single appliance cluster; 1024GB for two appliance system

Max NAS Reserve size 
½ PB per appliance, 1 PB per system with two NX3610 appliances

Maximum Share Size
½ PB per appliance, 1 PB per system with two NX3610 appliances

Files Maximum file size
4TB

Maximum number of files
64 billion with 2 NX3610 appliances (32 billion per appliance)

Maximum number of directories
68 billion with 2 NX36x0 appliances (34 billion per appliance)

Maximum directory depth
512

Maximum file name length
255 bytes

NAS Volumes
Maximum number of NAS volumes: 512 with 2 NX3610 appliances (256 per appliance)

Shares
Maximum number of NFS mounts/exports: 1,024
Maximum number of CIFS shares: 1,024

Clients
Maximum number of CIFS concurrent client connections:
NX3600: 200
NX3610: 1500 per appliance

Quotas
Maximum number of user quotas rules per NX36x0 system: 100,000
Maximum number of quota rules per volume: 512

Local users and groups
Maximum number of local users per NX36x0 system: 300
Maximum number of local groups per NX36x0 system: 300

Snapshots
Redirect-on-write, user-accessible over the network
Maximum number of snapshots per NAS volume: 512
Maximum number of snapshots per NX36x0 system: 10,000

Replication
Asynchronous to peer NX36x0 appliance
Like-to-like configurations only
1-to-1, 1-to-many, many-to-many
Maximum number of replication policies per system: 256

NDMP Support
Three-way via Ethernet ports
Certified with Dell NetVault Backup 8.6x and 9.0x, Symantec NetBackup 7.x, and Commvault Simpana 9.x and IBM Tivoli Storage Manager 6.3

Qualified Antivirus Software
3rd Party anti-virus applications are supported via ICAP: Symantec ScanEngine 5.2 , Symantec Protection Engine 7.0

Boot Options
Local boot
Product Configurations
Storage arrays supported
The NX3600 and NX3610 work with all Dell PowerVault MD 3200i and 3600i Series iSCSI arrays – MD3200i, MD3220i, MD3600i, MD3620i

Clustering
NX3600 and NX3610 appliances contain dual active-active controllers that manage the file workload in a single namespace for 1 NX3600 appliance (2 controllers) or 2 NX3610 appliances (4 controllers).
Hardware Support Service Plans

Dell IT Infrastructure Services
Dell brings pure execution to IT Services. The planning, implementation and maintenance of your IT infrastructure deserves nothing less. Variability in execution can compromise user productivity, IT resources and ultimately your reputation. By leveraging our heritage of process-driven excellence, Dell Services can deliver a smarter way. That's Pure Dell.

Deployment Services
New systems can be deployed to help improve performance and meet user demand. With Dell's deployment services, we help simplify and speed up the deployment and utilization of new systems to maximize uptime throughout your IT environment.

Asset Recovery and Recycling Services
Proper disposal, reselling and donation of computer equipment is a time-consuming task that typically falls to the bottom of many IT to-do lists. Dell helps simplify the end-of-life processes for IT equipment in a way that can maximize value for your organization.

Training Services
Arm your employees with the knowledge and skills they need to be as productive as possible. Dell offers comprehensive training services which include hardware and software training, as well as PC skills and professional development classes. With Dell training you can help improve system reliability, maximize productivity and reduce end-user requests and downtime.

Infrastructure Consulting Services
Key challenges facing IT departments today include simplifying operations, planning and building for scalability and improving utilization of their existing systems. Dell's Infrastructure Consulting Services suite is organized into focused practice areas that signify the intersection of these common customer challenges and our domain expertise — including Systems Management, Messaging, Databases, Virtualization/Consolidation and Storage.