Lo sentimos, pero ya no es posible adquirir este artículo en el sitio web. Por favor vea nuestro producto de reemplazo recomendado.
Help and for your Area-51
Alienware Area-51 Desktop
Alienware
Control Your Own Destiny
The new Alienware® Area-51® brings you explosive firepower in the most upgradeable Alienware desktop ever — the ideal platform for high-end PC gaming. With its mind-blowing graphics, liquid-cooled processors and new aggressive design, you'll have the edge before the game even starts. Your destiny is now under your control.

Lightning-Fast, Everywhere It Counts

Accelerate your games and digital media applications with Intel® Core™ i7 processors, featuring multi-core performance and support for overclocking up to an incredible 3.6GHz. With Intel® Turbo Boost technology, hyper-threading and an 8MB cache, you'll be amazed by what you can do.

The Ultimate Visual Experience™
Crank up your gaming, movies and multimedia with the most powerful graphics in the world. ATI CrossFireX™ and NVIDIA® SLI® graphics deliver higher frame rates at HD resolutions, all while maxing out game settings. Choose the GPU brand that best fits your needs. Then add a second graphics card to experience a new level of spectacular performance. You'll wish everything could look this good.

ATI CrossFireX - Dominate any game with the ultimate multi-GPU performance gaming platform, enhanced by the latest Microsoft® DirectX® technology.

View Details

NVIDIA SLI - Don't dial back game settings; crank 'em up. With NVIDIA SLI graphics and Microsoft DirectX technology, you will experience your digital media like never before.

View Details

Multi-GPU Support - Add a second graphics card to increase your gaming performance by up to 100%, while enjoying more vivid images and faster transitions. With dual graphics cards, you can power up to four independent digital displays. Stay deep within your game on a main monitor and still keep up with your other tasks.

Unmatched Visual Immersion - Build your system with the best gaming GPUs and still have room for the other essentials of an immersive experience, including crystal clear sound and optimised networking.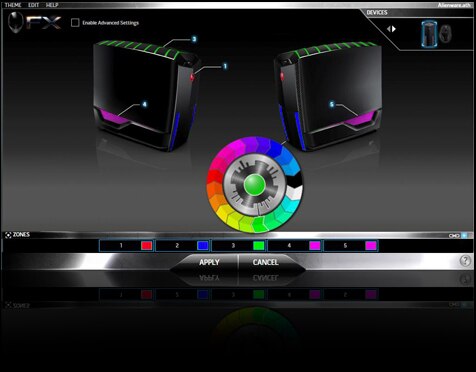 Your Command Center
Alienware Command Center provides intuitive, user-friendly access to exclusive applications, including AlienFX® lighting effects, Alienware thermal controls and AlienFusion power management. Updates and new releases download directly into Command Center, creating a constantly evolving tool for personalizing your system.

AlienFX Lighting — Choose from an array of 20 colors — up to an amazing 64 million lighting color combinations — to customize the effects across several distinct zones.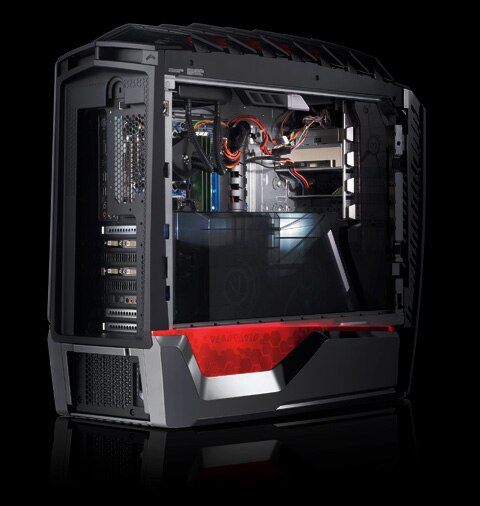 Designed for Total Domination
The power of the Alienware Area-51 is undeniable — inside and out. Take command immediately with Alienware's all-new, aggressive case design that includes motorised vents for managing your thermals and intimidating the competition. Available in Cosmic Black or Lunar Shadow, this sturdy desktop also offers easy access for faster upgrades.

Active Venting — This Alienware-exclusive feature helps your system stay cooler in the heat of battle. Controlled through Alienware's Command Center, the series of motorised vents can be programmed to allow greater airflow in high-performance situations.

Easy, Lighted Access - Look inside the Alienware Area-51, and you'll see why it's easier than ever to make this desktop your own. You can access most of the core components without any tools for faster upgrades. And the chassis includes two-zone, internal theater lighting — powered by rechargeable batteries — so you can service the system even when the A/C cord is unplugged.

View Details

Liquid Cooling - Eliminate distractions with high-performance CPU liquid cooling, which is more than twice as quiet as the standard heatsink and fans on other PCs. The efficient cooling also increases the reliability of your overclocked settings.

View Details