Dell QLE2462
Lo sentimos, pero ya no es posible adquirir este artículo en el sitio web. Por favor vea nuestro producto de reemplazo recomendado.
El HBA Dell QLE2462 es un adaptador de bus de host de doble puerto creado para clientes empresariales y diseñado para satisfacer las necesidades de redes de almacenamiento más exigentes.

El modelo QLE2462 se encuentra entre los HBA más confiables y de mayor rendimiento de la industria, y es compatible con las interfaces de alto rendimiento más recientes del sector (canal de fibra y PCI Express de 4 Gb/s).

Puede ofrecer un rendimiento excelente al aprovechar un solo diseño de ASIC y al combinar una arquitectura de hardware única para proporcionar hasta 100.000 IOP por puerto y un rendimiento de 750 MB en dúplex completo, siendo a la vez compatible con PCI Express x4 original.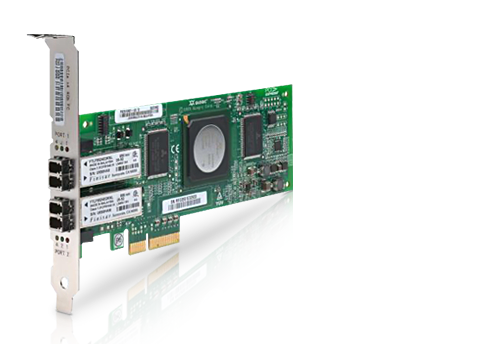 QLogic QLE2462 adaptador de bus de host
Q Logic
QLE2462 Dual-Port, 4-Gb PCI-E Host Bus Adapter
 

4-Gb/s Fibre Channel data rate, offering up to 750 MB/s at full duplex/port
4/2/1 Gb/s auto speed negotiation for backward compatibility with 2/1 Gb/s Fibre Channel systems
Native x4 PCI Express host bus interface
100,000 IOPs performance per port, delivering outstanding I/O transfer rates
Two independent 4-Gbps Fibre Channel ports designed to protect against port failures
No reboot for driver and firmware upgrades, allowing driver and firmware to be upgraded without rebooting the server
HBA and target level failover, helping to protect the entire link against failures
QLogic SANsurfer Management Suite for centralized management
Enterprise Support Services
Dell™ offers a broad portfolio of services designed to help organizations optimize their use of Dell/EMC® technology, deploy systems rapidly and attain the highest possible levels of system uptime. With the Dell/EMC partnership, customers can benefit from the synergy of Dell's award-winning server services now enhanced with EMC's best practice methodologies, tools and customer training for storage systems.
Standard Support
Note: The following services are required to ensure the best possible customer experience. Hardware installation and Gold-level support are included in the hardware systems price. Implementation is also a mandatory service.
Consulting and Deployment Services (Required)

Presales Design and Site Readiness Assessment (Gratis)
Hardware Installation — On-site installation of Dell/EMC systems, rack mounting of systems, connection to power sources and power-on of devices.
Implementation — System planning, design documentation, select software installation, configuration of switches, cabling, host connectivity, creation of storage groups, product orientation session and extensive custom options.

Standard Support Services for Dell/EMC Systems (Required)
Dell Gold-Level Enterprise Support Service for Dell/EMC Storage features the following:
7x24 high-level engineer to engineer support with direct access to Gold Queue
Technical Account Management Team
7x24 4-hour On-site Support
Remote Software and Storage Support — Unlimited Resolutions
Storage System Remote Monitoring
Prefailure Alert Program
Seamless support between Dell and key 3rd-party providers
Change notification/Software Subscription
Optional Services
Dell/EMC support
Customer training
Backup and recovery design and implementation
Cluster implementation for Microsoft® Exchange and SQL Server®
SnapView and MirrorView installation and configuration
On-site troubleshooting
On-site engineers
On-site parts
Platinum-level support