Seamlessly integrate your M-series blade servers
NPIV standards-based solution ensures connectivity into the SAN infrastructure of your choice.
Sorry, this item is not available anymore for purchase online. Please see our recommended replacement product.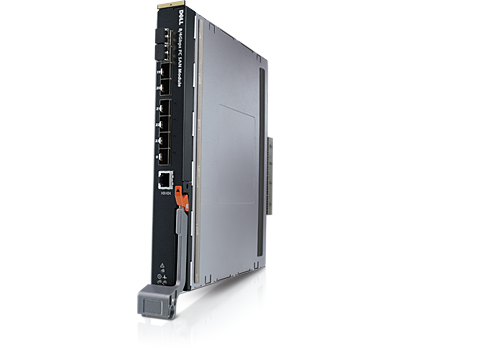 Dell 8-4Gbps FC SAN Module
Dell
Fibre Channel ports
Up to 16 internal (server) ports and 8 external (SAN) ports. Model ships with 12 active ports enabled (2 external ports with 8Gbps SFP+ modules and 10 anywhere ports) for flexibility and growth based on your fibre channel needs. Port upgrade licenses and SFP+ optics available to utilize remaining 12 ports.
Connects to any T11 standards-based NPIV FC SAN using 8/4 Gbps HBA mezzanine cards
Flexible connections to multiple SANs through external SAN ports
External Auto-sensing of 8, 4, and 2 Gbit/sec port speeds
Internal speed matching between 8 and 4 Gbit/sec ports
8.5 Gbit/sec line speed, full duplex;
4.25 Gbit/sec line speed, full duplex;
2.125 Gbit/sec line speed, full duplex
Aggregate bandwidth
384 Gbit/sec end-to-end (full duplex)
Fabric latency
700 ns with no contention, cut through routing at 8 Gbit/sec
F_Port and NPIV-enabled N_Port
Options
8Gb SFP+ optical transceivers (single pack)
Port upgrade license (enables additional 12 ports)
Supported Mgmt Software
Telnet, HTTP, SNMP v1/v3 (FE MIB, FC Management MIB); Auditing, Syslog

Security
SSL, SSH v2, HTTPS, LDAP, RADIUS, Role-Based Access Control (RBAC), DH-CHAP (between switches and end devices), Port Binding, Switch Binding, Secure RPC, Secure Copy (SCP), Trusted Switch, IPSec, IP Filtering

Management access
Serial port (RJ-45)
M1000e Chassis Management Controller (CMC)

Diagnostics
POST and embedded online/offline diagnostics, including RAStrace logging, environmental monitoring, non-disruptive daemon restart, FCping and Pathinfo (FC traceroute), port mirroring (SPAN port)
Chassis
Enclosure
Width: 272.75 mm
Height: 32.48 mm
Depth: 307.24 mm
Weight: 4.65 Pounds— without media
Environmental Operating Conditions
Temperature
Operating: 0°C to 40°C(32°F to 104°F)
Non-operating: -20°C to 70°C(-4°F to 158°F)

Humidity
Operating: 10% to 90%, non-condensing at 29°C
Non-operating: 5% to 95%, non-condensing at 38°C

Operating altitude
Up to 3,048 m (10,000 ft)

Storage altitude
Up to 10.668km (35,000ft)
 
Operating Shock
20G for 6ms
 
Non-operating Shock
50G with a velocity change of 4216 mm/sec squared
 
Vibration
Operating: 0.4G at 5 Hz to 500 Hz for 60 minutes
Non-operating: 0.5G at 2 Hz to 200 Hz for 15 minutes; 1.04 grams random for 15 minutes
DC Input
12V and 3.3V from M1000e blade chassis (shared power supplies)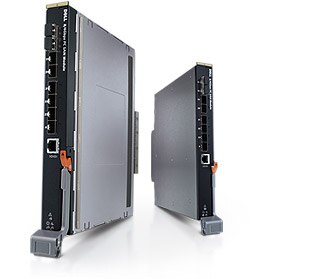 Simplified networking for your data center
Connect to the FC SAN of your choice while still providing failover and port aggregation benefits that high-density, high-performance data centers require. The Dell 8/4Gbps FC SAN Module, when combined with an NPIV-enabled FC SAN and any of the Fibre Channel HBA mezzanine cards available for M-Series blades, leverages your SAN fabric management infrastructure and simplifies blade deployment.
Connect without the headaches
Experience plug-and-play simplicity with enterprise-class FC port aggregation
Minimize the number of touches required by storage and networking administrators in blade deployments
Easily integrate Dell M-Series blades into any NPIV-enabled FC SAN infrastructure
Get the best of all worlds with simplified I/O management and beneficial port aggregation
Simple and scalable
Scale as needed from 12 to 24 ports to meet the changing demands of your data center
Multiple fabric support allows you to isolate servers with special bandwidth requirements and connect to several fabrics using a single module
Enjoy peace of mind with automatic failover and failback
Ensure data security by employing device-based authorization and policy-based control of SAN connections all the way to individual servers and virtual machines

Dell ProSupport —* Fast, reliable support services designed to address the technology challenges you face today. This support portfolio is focused on your needs, time demands and budgets.

Need professional support services that take care of both you and your employees' IT needs 7x24? Choose Dell ProSupport to get access to a certified technician.

Got an IT staff? Choose Dell ProSupport for IT and get tech-to-tech support with Fast-Track Dispatch, along with 7x24 access to Dell-certified technicians.



Dell ProSupport Service Model 


Dell ProSupport for End Users
Designed for organizations with limited or no dedicated IT staff.
Includes:

7x24 direct break-fix hardware support for your employees
"How-to" support on popular software applications such as Norton AntiVirus, Microsoft Office, Microsoft Small Business Server, Intuit QuickBooks, Adobe Photoshop and Adobe Acrobat.

Dell ProSupport for IT
Includes:


7x24 Direct access to Dell Expert Centers
Fast-track dispatch for Dell-certified technicians
Escalation management through Dell's Global Command Centers

Next, add Same-Day Response for faster resolution:

Same-Day Response — Ideal for customers using their Dell systems for time-sensitive operations or critical business functions. A Dell-trained technician will arrive onsite within 4 hours* after problem determination, depending on location, to help get your system back in operation as rapidly as possible. Limited Hardware Warranty



 
One year unit exchange Limited Hardware Warranty supplemented with one year of Next Business Day Onsite Service part or unit hardware replacement
7-day/24-hour Telephone Technical Support for troubleshooting and diagnosis of Dell hardware
Customization and Set-Up
Installation – Dell provides streamlined standard installation services so you can easily choose the specific package that quickly gets new systems into the workspace and old systems out.
You can upgrade to three years of part or unit hardware replacement, with either Same Day, 4 Hour response or Next Business Day Onsite Service response.