Versatile value in a compact 1U chassis
The PowerEdge R415 is an AMD processor-based two-socket, 1U rack server for small and medium business and data center functions
Sorry, this item is not available anymore for purchase online. Please see our recommended replacement product.
PowerEdge R415 Rack Server
PowerEdge
Processor
AMD Opteron™ 4100, 4200 and 4300 series processors
Operating System
Microsoft® Windows Server® 2012
Microsoft Windows® Small Business Server 2011
Microsoft Windows Server 2008 SP2, x86/x64 (x64 includes Hyper-V®)
Microsoft Windows Server 2008 R2 SP1, x64 (includes Hyper-V)
Microsoft Windows HPC Server 2008
Novell® SUSE® Linux Enterprise Server
Red Hat® Enterprise Linux®
Virtualization options:
Citrix® XenServer®
Microsoft Hyper-V, a server role in Microsoft Windows Server operating systems
VMware® vSphere® ESXi™
Red Hat Enterprise Virtualization®
Up to 256GB (8 DIMM slots): 1GB/2GB/4GB/8GB/16GB/32GB DDR3 up to 1600MT/s
Drive Bays
Cabled or Hot-Swap options available:

Cabled HD options:
Up to four 3.5" SAS or SATA drives

Hot-Swap HD options:
Up to four 3.5" SAS or SATA or 2.5" SAS or SSD drives
Chassis
1.69 H x 17.09 W x 24.69 D (in)
43.0 H x 434.0 W x 627.1 D (mm- w/o ear, w/o bezel)

Rack Support

ReadyRails™ sliding rails with optional cable management arm for 4-post racks (optional adapter brackets required for threaded hole racks)
ReadyRails™ static rails for 2-post and 4-post racks

Availability
Hot-plug hard drives, Hot-plug redundant power, ECC memory, and Quad-pack LED diagnostic or interactive LCD only with hot-swap HDD chassis
Power
Non-Redundant, 480W (80+ BRONZE)
Optional Redundant, 500W (80+ SILVER)
RAID Controllers
Internal Controllers:
PERC H200 (6Gb/s)
PERC H700 (6Gb/s); Non-Volatile battery-backed cache: 512MB, 1G
PERC S300 (software based)
SAS 6/iR

External Controllers:
PERC H800 (6Gb/s); Non-Volatile battery-backed cache: 512MB, 1G

External HBAs (non-RAID)
6GB/s SAS HBA
Storage
Hot-plug Hard Drive Options:
2.5" SATA SSD, SAS (10K)
3.5" SAS (15K), nearline SAS (7.2K), SATA (7.2K)

Cabled Hard Drive Options:
3.5" SAS (15K), nearline SAS (7.2K), SATA (7.2K)

Maximum Internal Storage:
Up to 8TB*

External Storage:
For information about Dell external storage options, visit Dell.com/Storage.
Slots
1 PCIe G2 slot + 1 storage slot:

One x16 slot
One Storage x4 slot
Network Controller
One Dual-Port Broadcom 5716 Gigabit NIC (total of two 1x GB ports)
Management
Dell™ OpenManage™
BMC, IPMI 2.0 compliant
Lifecycle Controller enabled via optional: iDRAC6 Express, or iDRAC6 Enterprise and vFlash
Unified Server Configurator
Communications
Intel® 10GBase-T Copper Single Port NIC, PCI-E x8
Intel PRO 1000 PT Single Port Adapter, Gigabit Ethernet NIC, PCI-E x1
Intel® Gigabit ET Dual Port Server Adapter, PCI-E x4
Intel® Gigabit ET Quad Port Server Adapter, PCI-E x4
Intel® Ethernet X520 DA2 Dual-Port 10 Gigabit Server Adapter
Intel® X520-T2 Dual-Port 10 Gigabit Ethernet Server Adapter
Broadcom® BCM5709C IPV6 Gigabit Copper Dual Port NIC with TOE and iSCSI Offload, PCI-E x4
Broadcom® BCM5709C IPV6 Gigabit Copper Dual Port NIC with TOE, PCI-E x4
Broadcom® BCM5709C 10/100/1000BASET Quad Port NIC
Broadcom® NetXtreme™ II 57711 Dual-Port SFP+/Direct Attach 10Gb Ethernet PCI-Express Network Interface Card with TOE and iSCSI Offload

Optional add-in CNA or FC HBAs:
BR1020 10G Converged Network Adapter (CNA) – dual port
Emulex LPe11002 FC4 HBA, Dual Port
Emulex LPe1150 FC4 HBA, Single Port
Emulex LPe12000 8Gbps FC HBA, Single Port
Emulex LPe12002 8Gbps FC HBA, Dual Port
Emulex OCE10102FXD, 10G PCI-e FCoE CNA, Dual Port
Qlogic QLE220 FC4 HBA, Single Port
Qlogic QLE2460 FC4 HBA, Single Port
Qlogic QLE2462 FC4 HBA, Dual Port
Qlogic QLE2560 8Gbps FC HBA, Single Port
Qlogic QLE2562 8Gbps FC HBA, Dual Port
Qlogic QLE8152 8Gbps FC HBA, Dual Port
Brocade FC HBA BR815
Brocade FC HBA BR825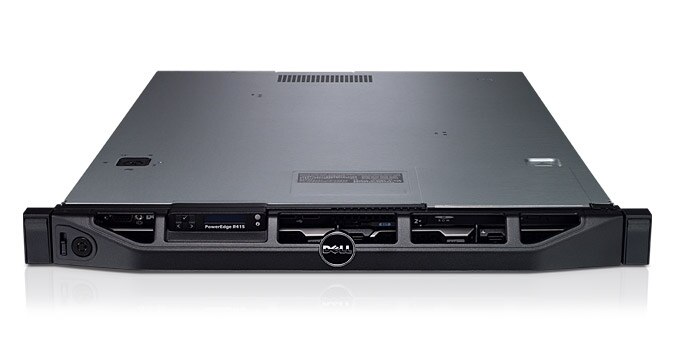 Business value built in
Featuring AMD Opteron™ processor technology, the PowerEdge™ R415 offers outstanding value with optional enterprise-class features for small to midsized infrastructures, as well as entry-level high-performance computing (HPC) implementations.
AMD Opteron processors are built-in for a great blend of price and performance.
Optional hot-swap hard drives and redundant power supplies help protect business data by providing added redundancy.
Available advanced systems management capabilities and an optional interactive LCD screen are designed to ease system monitoring.
These features help small and midsized businesses to larger data centers meet workload demands with superb stability, efficiency and long-term business value.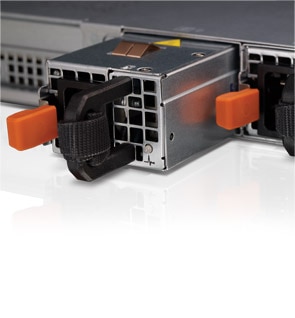 Efficient from the inside out
We've designed the PowerEdge™ R415 to provide you with a number of time- and energy-saving features.

Inside

Energy Smart technologies — including low-wattage processors, low-voltage dual in-line memory modules (DIMMs) and high-efficiency fans that adjust spin rates according to server workload demands — help you manage power in your specific environment.
Internal server shrouding and logical component layouts optimize the airflow direction to help cool the server.
Energy-efficient power supplies use power effectively without compromising business productivity.
Outside
All external ports, power supplies, and LED lights or LCD screens are located in the same area across the PowerEdge™ portfolio to ease usability, installation and administration.
Compact chassis design helps you utilize space efficiently in your environment.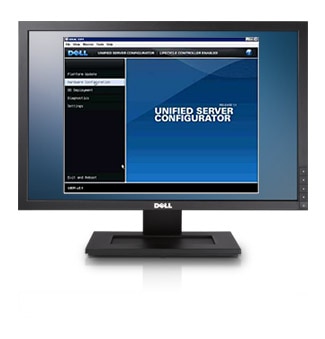 Easy to manage
As an IT professional, you don't have extra time to spend on routine management and maintenance tasks. That's why the Dell™ systems management portfolio focuses on two core principles to make your life easier: simplicity and cost-effectiveness.


Lifecycle Controller — integrated on the server, the optional Lifecycle Controller helps administrators perform provisioning functions, such as diagnostics, hardware configuration and system deployment in a pre-OS environment — all from a single interface called the Unified Server Configurator (USC). This helps eliminate excess CD/DVD media and helps get your server up and running fast.
Dell™ Management Console — enjoy a consolidated view of your IT infrastructure through the Dell™ Management Console, part of the Dell™ OpenManage™ portfolio and included with every Dell™ server.
Optional interactive LCD screen — the PowerEdge™ R415 features an optional interactive LCD screen at the front of the server to ease setup, monitoring and maintenance. Plain-language diagnosis and a programmable messaging system can help you address issues quickly to simplify day-to-day monitoring.
Automated updates — to help ensure your systems stay running at their best, automatic update notifications from Support.Dell.com provide you the latest updates for firmware, drivers and BIOS.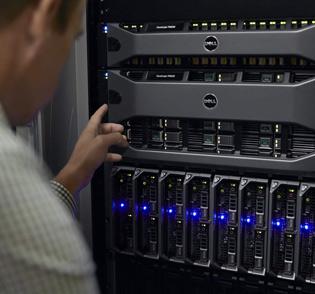 Global Services and Support
Dell offers a wide range of professional services to simplify the assessment, design, implementation, management and maintenance of your IT environment to help you transition from platform to platform.

Dell Support Services
Dell ProSupport offers a suite of support services that enable you to choose support models based on how you use technology and where you want to allocate resources. We recommend Dell ProSupport Plus with SupportAssist for mission-critical systems or Dell ProSupport for premium hardware and software support for your PowerEdge solution. For hyper-scale data centers, we also offer ProSupport Flex for Data Center.

Dell Enterprise Deployment Services
ProDeploy Enterprise Suite* offers a full range of deployment services and professional certifications to help you get more out of your technology starting on day one. Choose ProDeploy Plus for the most complete deployment offer available in the market, ProDeploy for expert configuration and installations, or Basic Deployment for worry-free hardware installations.
Dell Training Services
Dell Education Services aims to complement your relationship with Dell as a trusted partner by offering Education Services for our own products, for industry leading infrastructure solutions and for the ongoing development of your organization. It is a global organization with local representation, classrooms and web-based training available worldwide.

Contact your Dell representative today for more information or click here.