Helping Extend Virtualization Efficiently Throughout Data Centers
Converged 10GbE Switch Module for the Dell™ PowerEdge™ M1000e Modular Blade Enclosure
Sorry, this item is not available anymore for purchase online. Please see our recommended replacement product.
Dell M8428-K SAN Switch
Dell
Performance
272GB full duplex bandwidth across 28 ports 
Low latency: 600 nano second
Scalability
Highly scalable with features including
VLANs: 3583
MAC addresses: 32,000 MAC address table entries
ACLs: 5000
2112-byte Fibre Channel payload; 9048-byte Ethernet frame
Data Traffic Types
Fabric switches supporting unicast, multicast, and broadcast
Operating Modes
Fibre Channel and NPIV mode for SAN agnostic connectivity
10Gb Ethernet and FCoE
External ports
8 ports of 10 Gigabit Ethernet (GbE) speed and DCB support 4 Fibre Channel ports: Channel universal (E, F, M, N and FL) ports with 2, 4, and 8 Gbps full duplex

Internal Backplane ports
16 auto negotiated 1G or 10GbE ports
Wake on LAN (WoL) support

Supported NICs / CNAs
Brocade BR1741M-k Converged Network Adapter (product details available here)

Fibre Channel port types
F_Port (Fabric Ports), FL_Port (Fabric Loop Ports), M_Port (Mirror Port), N_Port (For NPIV uplinks) or E_Port (Expansion Ports)



Classes of Service
Class 2, Class 3, Class F (inter-switch frames)
Fabric Services
A rich and comprehensive Fibre Channel services set including 255 NPIV (N_Port ID Virtualization), Simple Name Server (SNS)
Optional services available on FC ports including, ISL Trunking, Advanced Performance Monitoring and Fabric Watch
Management
Supported Mgmt Software
Command-line interface (CLI), Switch's SNMP agent, EZ Switch Wizard, Brocade Network Advisor (BNA), Data Center Fabric Manager (DCFM) Professional, DCFM Professional Plus and DCFM Enterprise

Security
Industry-common Command Line Interface (CLI), Security Shell (SSH) v2, Authentication, Authorization, and Accounting (AAA), Simple Network Management Protocol (SNMP) v1, v2, and v3, Unified username and passwords across CLI and SNMP, Syslog, Microsoft Challenge Handshake Authentication Protocol (MS-CHAP), Remote Monitoring (RMON), Per-port ingress and egress counters, Role-Based Access Control (RBAC), Power-On Self-Test (POST), Comprehensive bootup diagnostics, Ethernet-like Interface MIB, RFC 1643, RFC 1213 MIB-II, RADIUS, RFC 2865

Management access
One external RJ45 serial console port for debugging and field support

Diagnostics
Power-On Self-Test (POST) diagnostics and status reporting
POST and embedded online/offline diagnostics, including FCping and Pathinfo (FCtraceroute)
Chassis
Enclosure
Approximate width: 27.27 cm (10.74 inches)
Approximate height: 3.25 cm (1.27 inches)
Approximate depth: 30.72 cm (12.09 inches)
Approximate weight: 2.1 kg (4.65 lb) without media
Environmental Operating Conditions
Temperature
Operating: 0° to 40° C (32° to 104° F)
Non-operating: -20° to 70° C (-4°F to 158° F)

Humidity
Operating: 10% to 90% (non-condensing) at 29° C
Non-operating: 5% to 95% (non-condensing) at 38° C

Operating altitude
Up to 3,048 meters (10,000 feet)

Storage altitude
Up to 10,688 kilometers (35,000 feet)

Operating Shock
20G for 6ms half-sine

Non-operating Shock
50G with a velocity change of 4216 mm/sec squared

Vibration
Operating: 0.4G, 5-500 Hz, 60 minutes
Non-operating: 0.5G, 2-200 Hz, 15 minutes; 1.04 GRMS Random for 15 minutes

Extend Server Virtualization to the Network and Storage
Meet the high-bandwidth demands of multicore CPUs and server virtualization with the 10GbE Dell M8428-k, and help extend the benefits of server virtualization to the network. With N_Port ID Virtualization (NPIV)-capable converged network adapters (CNAs), such as BR1741M-k, the M8428-k switch module helps enable virtual machine (VM) awareness inside the storage area network (SAN) fabric for rapid workload mobility and quality of service (QoS).
For more information on the BR1741M-k CNA that provides FCoE functionality with this switch, click
here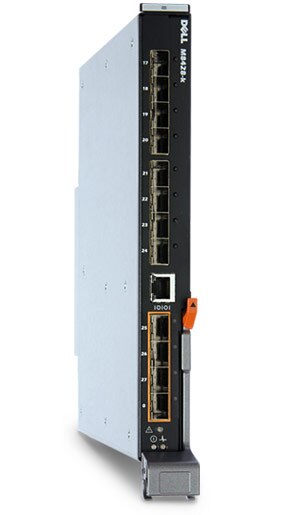 Do More With Less
Optimize your data center infrastructure for outstanding efficiency. Dell M8428-k features help reduce data center complexity and operating costs:
Reduce your infrastructure up to two times, including adapters, switches, cables and management ports.
Help improve availability, identify potential points of failure, and help reduce overall data center capital and operational costs by consolidating server access network elements.
Address Today's Infrastructure Investment Challenges
You can help protect your existing data center investments, because unlike most other convergent technologies, Dell M8428-k does not require a forklift upgrade of existing data center infrastructure. Dell M8428-k harnesses industry standards and technologies to seamlessly integrate with any existing Fibre Channel storage, switches and management utilities.

Dell M8428-k delivers high-performance, 600 ns low-latency wire-speed 10GbE, FCoE switching and 8 Gb FC switching. In addition, the switch module enables Fibre Channel SAN-to-Internet SCSI (iSCSI) storage network migration. 

Set Up Without Delay
The Dell M8428-k switch module is delivered installation-ready, right out of the box, with all ports active and four cable-ready FC ports. It also supports no-strings-attached port upgrades with Fibre Channel- and NPIV-enabled default configuration.
Support and Education
Dell offers a variety of on-site and remote support options that can be added at time of purchase. Dell ProSupport ensures problems are diagnosed and resolved by experts.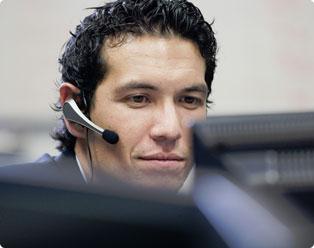 On-site and Remote Assistance

Get immediate access to Dell ProSupport professionals who can help you troubleshoot and diagnose issues that may arise in your network.

 
 
 
   
Managed Services

Free yourself to focus on the business and allow Dell to manage your network with dedicated professional support.
 
 
 
 
Education Services

Learn practical knowledge and operational techniques.
Assessments
Network assessments offer a holistic view of your multivendor environment and a reference point for how your infrastructure is performing. Our experts can pinpoint and expose issues in your network using specialized software and diagnostic tools. These unbiased and insightful analytics are aggregated into comprehensive reports that can include recommendations on how to improve performance, optimize devices and remediate problems.
Network Topology Assessment

Is your network complex and coiled? Dell can perform a detailed audit and inventory of all multivendor devices in the network to provide visibility and identify configuration issues.


Network Optimization Assessment

Many networks are a multivendor patchwork of devices not running at their optimal state. We can analyze devices from all leading vendors and make recommendations to optimize the entire multivendor design, fine-tune devices and maximize performance of the holistic environment.


Application Performance Assessment

When business applications and databases begin to show signs of latency or completely shut down, we can conduct a comprehensive analysis to uncover performance issues, isolate problems and accelerate troubleshooting of the enterprise infrastructure and software applications.


VoIP Assessment

Moving to a Voice-over-IP (VoIP) solution requires the right network infrastructure to support real-time voice protocols. Simulated load testing, analysis and review can identify the next steps to building a VoIP platform or fixing issues of an existing one.


Network Security Assessment

Safeguard your network from constant attack. Let our experts examine and uncover potential vulnerabilities and provide a comprehensive security design assessment.


Wireless Site Survey

Great wireless connectivity starts with a detailed site survey. Dell can analyze existing infrastructure, identify RF interference and recommend the best design and optimal placement of new devices.
Deployment
The Dell standardized deployment service guarantees that setup and optimization are done correctly so that you can launch faster and focus on daily business.
 
ProDeploy Plus

Expert planning and execution seamlessly weaves Dell's open systems architecture with existing network infrastructure from Cisco, HP, Juniper and others. Choose ProDeploy Plus, the most complete deployment offer on the market for complex environments.

 



ProDeploy





Setting up network protocols, and policies can be tricky. Dell certified network engineers can configure and optimize your new hardware remotely or on-site and get new technology up and running fast .

 



Basic Deployment



Mounting and cabling of wired and wireless devices can be tedious and time-consuming. Get worry-free hardware installations with experienced Dell technicians who do deployments every day .

Consulting
Dell network consulting provides on-site or remote access to highly skilled professionals who provide project assistance and guidance across a variety of technologies for a specific project or timeframe.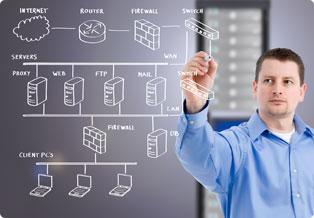 Networking Workshop

Get professional insight with a half-day collaborative whiteboard session to discuss potential improvements.


 
Time-Based Consulting



For those times when you need a little extra technical guidance, certified experts are available to discuss system design or help resolve complex issues that can be billed by the day, week or by the phone call. Time-based consulting is as flexible as you are.
Available Remote Consulting Services
Access Distribution Networking
Virtualization
Gateway and Security
Microsoft Exchange
Wireless Networking
Systems Management
Core Layer/MPLS Networking
Data Protection and Recovery
Storage Area Networking (SAN)
Storage Technologies