Affordably deploy enterprise-class GbE iSCSI arrays
Empower your small or midsize business with storage capacity and performance in the cost-effective EqualLogic™ PS4100E next-generation GbE iSCSI SAN arrays.
Sorry, this item is not available anymore for purchase online. Please see our recommended replacement product.
Dell EqualLogic PS4100E Array
EqualLogic
Environmental Operating Conditions
Temperature range: 5° to 40°C (41° to 104°F)
Storage temperature: –40° to 65°C (–40° to 149°F)
Altitude: For altitudes above 2950 feet, the maximum operating temperature is derated 1ºF/550 ft.
Relative humidity: 20% to 80% (noncondensing) with a maximum humidity gradation of 10% per hour
Shock: Half-sine shock 31G +/- 5% with a pulse duration of 2.6ms +/- 10% in operational orientations only
Vibration: 0.26 Grms (5 to 350 Hz) for 5 minutes in operational orientations
Acoustics Category 4: <=7.2 bels at 23C +/- 2C
Air Quality: Airborne contaminant level of G1 or lower as defined by ISA-S71.04-1985
Power
AC voltage: 100-240 VAC ±10% single phase
700 W (max, total), +5V up to 155W; +12V up to 624W; +5Vsb up to 10W
Frequency: 50/60 Hz
Power factor: 0.98 (minimum)
Power supplies: Dual 700 W
Management
Dell Storage Manager (DSM): Allows you to perform day-to-day tasks across SC and PS Series arrays from a single management interface*
PS Series Group Manager
SAN Headquarters multi-group performance and event monitoring tool
Serial console
Ability to configure a separate management network
SNMP, telnet, SSH, HTTP, Web (SSL), host scripting
Multi-administrator support
Chassis
Height: 2U / 87 mm (3.42 inches)
Width: 446 mm (17.57 inches)
Depth: 600 mm (23.62 inches)
Weight: 29.3 kg (64.6 lbs)


Packaged physical: Length: 851 mm (33.50 inches) Width: 629 mm (24.75 inches) Depth: 395 mm (15.56 inches)
Packaged weight: 39.54 kg (87.17 lbs)

Rack Support
ReadyRails™ II static rails for tool-less mounting in 4-post racks with square or unthreaded round holes or tooled mounting in 4-post threaded-hole racks
Reliability
Redundant hot-swappable controllers with vertical port sharing
Hot-swappable disks and power supplies
Notification Methods
SNMP traps, e-mail, syslog
Technical Highlights
Volumes
Up to 256

Snapshots
128 per volume / up to 2,048 total per group

Volume Connections
Up to 512 per pool / 1024 per group

Host Protocol
Any standards-compliant iSCSI initiator

Operating Systems Supported


Microsoft® Windows Server® including Hyper-V®
VMware® ESX Server™
Red Hat® Enterprise Linux® (RHEL)
SUSE® Enterprise Linux® (SLES)
Oracle® Linux
Citrix® XenServer®

For a complete list of supported OS versions including software initiators, NICs/CNAs, and HBAs, see the Dell Storage Compatibility Matrix on //en.community.dell.com/dell-groups/dtcmedia/m/mediagallery/20438558.

RAID Support
RAID 5, RAID 6, RAID 10, and RAID 50*

GbE Network Interfaces
Management network: One 100BASE-TX per controller
Interface ports: Two 1000BASE-T ports per controller

TCP Network Support
IPv4, IPv6 compliant. USGv6 certified.

Expansion Option
Can be combined with other PS Series arrays in the same SAN group, online. A maximum of two (2) PS4x00 arrays can be in a group. Additionally, PS and SC Series offer common management and cross-platform replication capabilities between arrays, providing PS Series customers the flexibility to add SC Series arrays to their environment, if and when they choose.*
Product Configurations
Storage Controllers

Hard Disk Drives
Twelve (12) NL-SAS hot-pluggable hard drives.

Drive Capacities
3.5" 7.2K RPM NL-SAS drives available in 1TB, 2TB, 3TB, 4TB 

System Capacities
12TB* using twelve (12) 1TB NL-SAS disk drives
24TB using twelve (12) 2TB NL-SAS disk drives
36TB using twelve (12) 3TB NL-SAS disk drives
48TB using twelve (12) 4TB NL-SAS disk drives
Enclosure Monitoring System
Automatic spare configuration and utilization
SMART
Automatic bad block replacement
Auto-Stat Disk Monitoring System (ADMS) to monitor health of data on disk drives
Master your data-hungry tasks with EqualLogic PS4100E — powerful performance with easy, flexible management for small or midsize companies and enterprise branch offices.

Enterprise features for smaller deployments
Ideal for your growing storage needs, the PS4100E GbE iSCSI array is a Dell™ Storage solution that offers a virtualized architecture, enterprise software and easy administration at an affordable price.
Take advantage of a data-center class IT solution in small and midsize businesses as well as enterprise branch offices.
Integrate full snapshot, replication and application integration for data protection and disaster recovery.
Cut management time and costs with self-optimizing performance and automation.
Manage your enterprise-wide EqualLogic™ SAN, including PS4100 remote-site arrays, with EqualLogic SAN Headquarters.
Expand easily into a larger EqualLogic SAN by adding PS4100 (maximum two per group) and PS6100 arrays to scale capacity and performance.
Whether you're consolidating a direct-attached storage (DAS) infrastructure, migrating data from an existing SAN or NAS system, streamlining data protection processes, or simply adding storage capacity, the Dell EqualLogic PS4100 series offers a solution. The proven, high-performance, self-managing storage arrays are designed to meet the requirements of your growing business.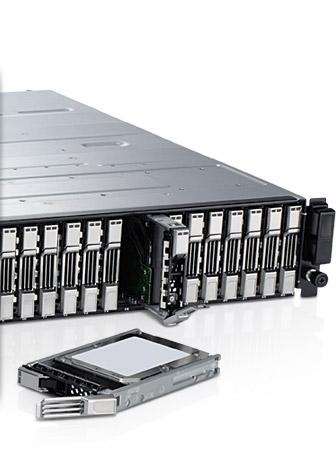 Choose your array
Build capacity for your data center using PS4100E arrays. With 12 NL-SAS 3.5" HDDs and up to 48TB of capacity, the PS4100E has the lowest cost per terabyte in the PS4100 line.
The Dell EqualLogic™ PS4100 series enables you to choose the storage solution that best suits your small or midsize business or enterprise branch office. The PS4100 series family features:
Dual controllers designed for built-in redundancy
Two GbE ports per controller
Dedicated 10/100 management port per controller
6G SAS backplane
Options for 12 or 24 hot-swappable drives
7.2K NL-SAS, 10K SAS or 15K SAS drives
Cache-to-flash memory destaging
Peer-scaling architecture that scales performance linearly
Vertical port failover, designed to enable you to maintain full bandwidth if a networking port fails
Group manager, which integrates all management into one console for both file and block storage protocols
Array firmware and host software with no additional licenses or fees
Enterprise power with everyday simplicity
Dell Storage PS Series software helps you store and manage your data more efficiently and cost-effectively. PS Series array, host and management software are included in your storage array purchase — virtually all the tools your organization needs for a complete solution. PS Series software virtualizes and simplifies your environment to help protect business-critical data, optimize storage performance and streamline operations. Additionally, the latest SC and PS Series software releases offer common management and cross-platform replication capabilities between SC and PS Series storage arrays, allowing you to take advantage of new functionality while leveraging existing investments.
Simplified management and data protection deliver lasting value
Dell Storage PS Series Array Software, including PS Series Firmware, Group Manager and the Manual Transfer Utility, delivers advanced Storage Area Network (SAN) functions that automatically virtualize and optimize storage resources while providing advanced data protection and SAN management. Integrated across the entire family of PS Series arrays, the PS Series Firmware is a SAN operating system based on a unique peer storage architecture that automatically adjusts system resources. In addition, Dell Storage Update Manager simplifies the firmware upgrade process.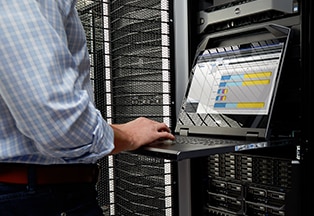 Advanced cross-platform capabilities and streamlined management
If you are adding an SC Series array to your environment, Dell Storage Manager (DSM) provides a common management tool for PS and SC Series day-to-day activities. You can also initiate volume replication between PS and SC Series with DSM, and easily configure and monitor replication task. To simplify migration, you can import data from PS to SC Series using the Thin Import feature.*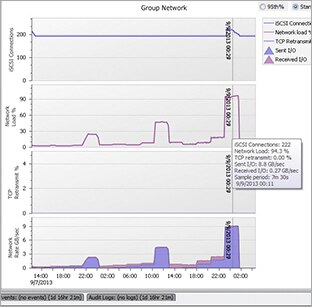 Data center automation with integration and monitoring tools
This family of host-based software provides tight integration between the PS Series array and the host. Dell Storage PS Series Host Integration Tools (HIT) for Microsoft®, VMware® and Linux® environments offer comprehensive data protection and reliable performance.

Dell Storage PS Series SAN Headquarters (SAN HQ) is a centralized monitoring and reporting tool that gathers and provides in-depth performance and capacity information and provides alerts across multiple groups of PS Series arrays. SAN HQ with SupportAssist further streamlines management and improves productivity with automatic case creation and case tracking.
End-to-end services
Dell offers a wide range of professional services and tools to simplify the assessment, design, implementation, management and maintenance of your PS Series environment, including Dell ProSupport and SupportAssist.

Dell Services storage experts go beyond everyday administration to help you improve the performance and utilization of your Dell Storage systems. The Dell Storage Services portfolio provides system installation and implementation as well as training. From disaster recovery planning to physical relocation, the Dell Services team is available to provide professional assistance when you need it.
Comprehensive, proactive support
With Dell ProSupport, you get the most out of your investment with the support expertise and insights Dell is known for across the globe. Dell ProSupport doesn't just extend your IT team, it offers a single point of contact for all your hardware and software issues. Innovative tools like SupportAssist offer proactive issue notification and automated case creation to help streamline your support experience.

We recommend Dell ProSupport Plus with SupportAssist for mission-critical systems or Dell ProSupport for comprehensive hardware and software support for your Dell Storage PS Series solution. Contact your Dell representative today for more information*.
Implement fast. Implement correctly. Implement once.
Dell ProDeploy Enterprise Suite* can reduce costs and relieve your IT department of time-consuming implementation tasks that otherwise divert valuable IT resources from business-critical activities. We bring two unmatched values to every Dell Storage implementation: deep knowledge of our products and broad experience from performing thousands of deployments every year, in just about every type of customer environment. Choose ProDeploy Plus for the most complete deployment offer available in the market, ProDeploy for expert configuration and installations, or Basic Deployment for worry-free hardware installations.
Start on the right path with Dell Education Services
Gain the skills and knowledge necessary to simplify administration, optimize resources and improve disaster recovery with Dell Storage training. Choose from online courses designed to introduce Dell Storage to hands-on training that dive into the advanced features and best practices to prepare for a successful implementation right from the start. Learn more about the right classes for your organization.
Transform your data center
Dell Storage Consulting Services can help you meet your complex storage infrastructure and data management needs while optimizing resources and budgets. Consulting services can help with:

 • Storage infrastructure consolidation and risk-managed migration for both PS and SC Series systems
 • Storage infrastructure optimization for virtual environments
 • Data protection process development and backup/restore policies
 • Data archiving to address long-term data retention, access and regulatory compliance
 • Classification and categorization of data for storage tiering and archival
 • Storage high availability and disaster recovery planning, design and implementation