Connectivity, flexibility and scalability
Administrators needing a 16-port solution for controlling up to 128 servers over a single connection.
Sorry, this item is not available anymore for purchase online. Please see our recommended replacement product.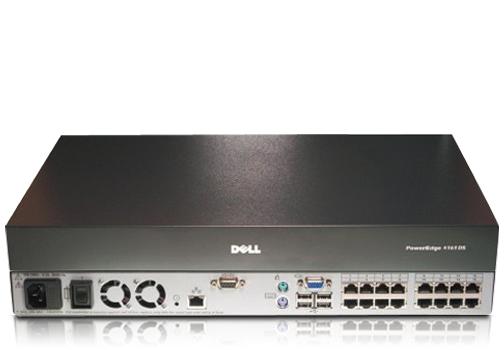 PowerEdge 2161DS-2 Console Switch
PowerEdge
Highlighted Features
The PowerEdge 2161DS-2 comes with a choice of two server interface pods (SIPs) — PS/2 or USB — to fit a variety of server needs. A SIP replaces a bulky keyboard-video-mouse (KVM) cable by converting the keyboard, monitor and mouse signals from a server and driving them up to 10 meters (32.8 feet) through a single Category 5 cable. The SIP cable draws its power from the server and has keep-alive functionality that is designed to keep the server working properly with or without connectivity to the PowerEdge 2161DS-2 unit.

The 2161DS-2 console switch comes with the field-proven Dell Remote Console Software (RCS), a cross-platform management application that provides a single point of access for your entire system. This easy-to-use, Java-based software can be used locally or remotely over an IP connection. With RCS, administrators can easily configure the switch system and select different servers. In addition, the switch includes the On-Screen Configuration and Activity Reporting (OSCAR®) interface for analog control from the local workstation.

An optional accessory to this switch is the Dell Port Expansion Module (PEM), which is a passive device that can be mounted next to the railing of the rack. A PEM connects to one system port on the PowerEdge 2161DS-2 and then to eight servers. With a PEM connected to each of the 16 ports on the 2161DS-2, the total system capacity expands to 128 servers.

Other highlights include:
Connectivity - features digital and analog paths
Flash upgradeable design - for future hardware compatibility
Flexibility - provides access and control of multiple servers from a single screen with the RCS Java-based software
Scalability - provides control for up to 128 servers over a single network connection
Space-efficient design - occupies 0U in a Dell Rack
Category 5 Cabling - reduces cable bulk
Share Mode - allows multiple remote users to share a remote session onto the same server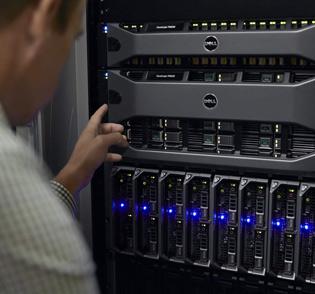 Global Services and Support
Dell offers a wide range of professional services to simplify the assessment, design, implementation, management and maintenance of your IT environment to help you transition from platform to platform.

Dell Support Services
Dell ProSupport offers a suite of support services that enable you to choose support models based on how you use technology and where you want to allocate resources. We recommend Dell ProSupport Plus with SupportAssist for mission-critical systems or Dell ProSupport for premium hardware and software support for your PowerEdge solution. For hyper-scale data centers, we also offer ProSupport Flex for Data Center.

Dell Enterprise Deployment Services
ProDeploy Enterprise Suite* offers a full range of deployment services and professional certifications to help you get more out of your technology starting on day one. Choose ProDeploy Plus for the most complete deployment offer available in the market, ProDeploy for expert configuration and installations, or Basic Deployment for worry-free hardware installations.
Dell Training Services
Dell Education Services aims to complement your relationship with Dell as a trusted partner by offering Education Services for our own products, for industry leading infrastructure solutions and for the ongoing development of your organization. It is a global organization with local representation, classrooms and web-based training available worldwide.

Contact your Dell representative today for more information or click here.