Efficient visibility and control.
View, manage and update systems across the enterprise with affordable, full-featured KVM and KMM solutions.
Dell KVM and KMM Solutions
PowerEdge
Extend your view across the infrastructure
Simplify administration, reduce cable clutter and minimize server downtime with Dell keyboard, video, mouse (KVM) and keyboard, monitor, mouse (KMM) solutions. From a single console, you can perform large-scale updates and manage up to 1,024 local and remote servers running various operating systems. And with compact designs, you can conserve valuable rack space in your data center.
Dell KVM and KMM solutions are designed to give you maximum flexibility and control with:
Your choice of analog and digital KVM models with multiple connectivity options
KVM tiering support for managing 8 to 1,024 servers
Space-saving 1U KVM and KMM designs

Dell Digital KVMs
Maximize system control and productivity across the enterprise with Dell Digital KVMs offering KVM over IP management with full remote functionality and extensive connectivity. Available in 8-port, 16-port and 32-port models, Dell Digital KVMs offer:
Scalability with tiering support: Connect multiple KVMs and manage 8 to 1,024 servers.
Single-console management: Configure and access KVMs and SIPs through the local interface or using the onboard web interface (OBWI) in a browser-based session.
Full remote functionality: Control servers and serial-attached devices at near-local performance.
Multiple connectivity options: Support various server connections through server interface pods (SIPs), connect local USB devices and have true serial support to connect with Secure Shell (SSH) or Telnet-compliant software.
Space efficiency: Save space with two installation options including zero-U side mount and 1U rackmount for easy installation with toolless rails.
DSView software: Remotely access, monitor and control devices on multiple platforms at numerous locations. DSView software works with Dell Digital KVM appliances, Avocent serial console appliances, service processor gateways and power distribution units (PDUs). 
Password protection: Provide two-factor authentication of local and remote users with Common Access Card (CAC) support.
High availability: Provide failover redundancy with dual power supplies in 16-port and 32-port models and with dual Gigabit Ethernet support.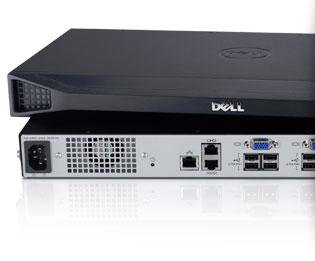 Dell Analog KVMs
Manage your servers, PDUs and serial devices through a single management console with Dell Analog KVMs. These space-saving solutions can help you simplify server management with features including:


Extensive connectivity: Get 8 or 16 analog rack interface (ARI) ports for connecting to SIPs attached to servers, plus four USB 2.0 ports.
Easy upgrade option: Manage KVMs and servers using the local user interface, or upgrade to KVM over IP functionality with the Dell Remote Access Key enabling the OBWI for browser-based management. 
KVM tiering: Connect multiple KVM switches to manage up to 256 servers.
Local management options: Use two local paths — video port and analog console interface (ACI).
Strong security: Ensure multi-factor authentication over USB and Ethernet with CAC support and provide encrypted remote access through the OBWI.
Easy installation: Quickly mount the KVM in a rack using Dell ReadyRails offering toolless installation.
Streamlined upgrades: Easily upgrade your KVM's remote server management capabilities using the optional remote access key.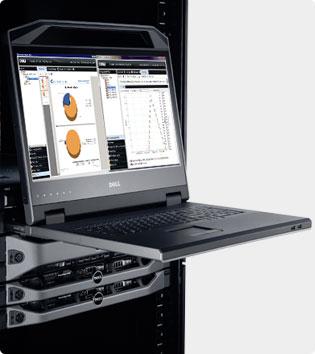 Dell KMM
Save valuable rack space and manage servers from a single, integrated console with the Dell KMM. The keyboard, monitor, mouse (KMM) solution from Dell includes a large 18.5-inch flat panel LED screen, a keyboard and a touchpad mouse, all contained in a space-saving 1U package. Key features include:


Superb usability: View multiple windows at once using the large 18.5-inch display with widescreen resolution support, connect devices using two USB 3.0 pass-through ports and work comfortably using the touchpad with palm-rejection technology.
Space-saving 1U console: Install in the same 1U space as a Dell KVM to enable high-density deployments.
Easy deployment: Simplify installation with toolless mounting in racks.
Eco-conscious design: Help save energy with an efficient LED-backlit display console that is free of mercury vapor, is RoHS compliant and is easier to recycle than LCD consoles.
Grow with our portfolio
In addition to Dell KVM and KMM solutions, the new Data Center Infrastructure (DCI) portfolio from Dell includes rack enclosures, power distribution units (PDU) and uninterrupted power supplies (UPS) and offers multiple support options
*
. Whether you're supporting a single server or an entire data center, Dell has the infrastructure and accessories you need to complement your IT installation.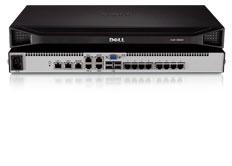 Dell Digital KVM, 8-port
Get full remote functionality and manage servers across the enterprise while saving rack space using a compact, full-featured digital keyboard, video mouse (KVM) solution that offers:


8 analog rack interface (ARI) ports to connect server interface pods (SIPs)
Support for up to one remote and one local user simultaneously
Remote server management with near-local performance
Space-saving design with 1U rackmount and zero-U sidemount options
Multi-factor authentication, Common Access Card (CAC) support and encrypted remote access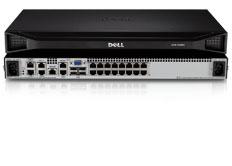 Dell Digital KVM, 16-port
Get full remote functionality and manage servers across the enterprise while saving rack space using a compact, full-featured digital KVM that offers:


16 ARI ports to connect SIPs 
Support for up to two remote users and one local user simultaneously
High availability with dual power supplies and dual Gigabit Ethernet support
Remote server management with near-local performance
Space-saving design with 1U rackmount and zero-U sidemount options
Multi-factor authentication, CAC support and encrypted remote access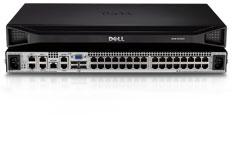 Dell Digital KVM, 32-port
Get full remote functionality and manage servers across the enterprise while saving rack space using a compact, full-featured digital KVM that offers:


32 ARI ports to connect SIPs 
Support for up to four remote and two local users simultaneously
High availability with dual power supplies and dual Gigabit Ethernet support
Remote server management with near-local performance
Space-saving design with 1U rackmount and zero-U sidemount options
Multi-factor authentication, CAC support and encrypted remote access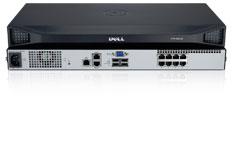 Dell Analog KVM, 8-port
Simplify management of servers and other devices and save space with a compact analog KVM featuring:


8 ARI ports for connecting SIPs
Local user interface through the video port or the analog console interface (ACI) for tiering
Easy upgrade to KVM over IP functionality with Dell Remote Access Key enabling the onboard web interface (OBWI)
Multi-factor authentication, CAC support and encrypted remote access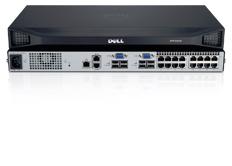 Dell Analog KVM, 16-port
Simplify management of servers and other devices and save space with a compact analog KVM featuring:


16 ARI ports for connecting SIPs
Two local user interfaces through the video port and ACI
Easy upgrade to KVM over IP functionality with Dell Remote Access Key enabling the OBWI 
Multi-factor authentication, CAC support and encrypted remote access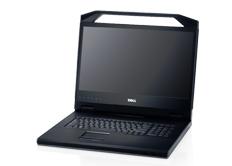 Dell 18.5in LED KMM, 1U
Manage servers from a single, integrated console and work conveniently using a large screen with a space-saving keyboard, monitor, mouse (KMM) solution that features:


18.5" LED-backlit display with widescreen resolution support
Space-saving 1U design that can share same rack space with Dell KVMs
Two USB 3.0 pass-through ports
Touchpad with palm-rejection technology
Easy deployment with toolless mounting