Dell PowerEdge 2321DS Console Switch
Sorry, this item is not available anymore for purchase online. Please see our recommended replacement product.
The Dell™ PowerEdge™ 2321DS console switch allows administrators to easily monitor and control multiple servers locally or remotely.


Control up to 256 servers over a single connection
Protected by the latest security standards
Efficient design enables 0U mounting in a Dell rack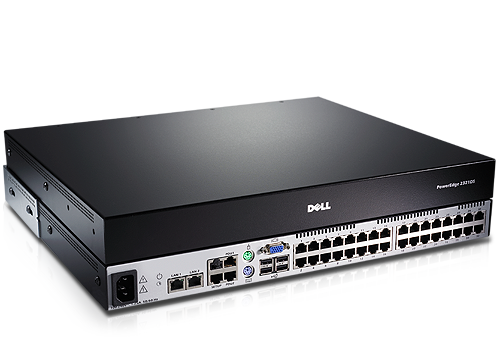 Poweredge 2321DS Console Switch
PowerEdge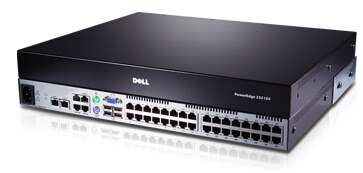 At a Glance
Flexibility — Access and control multiple servers from a single screen with Java-based software

Extensive connectivity — 32 CAT 5/RJ-45 ports

Ethernet or analog — With 10/100/1000T Ethernet or the integrated analog port

Powerful access — BIOS level control regardless of server OS functionality

Real convenience — One number to call for warranty and service support for entire infrastructures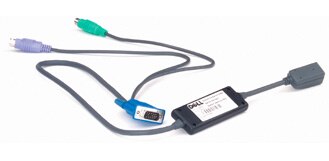 A Convenient Alternative to KVM Cables
Three Server Interface Pods (SIPs) — PS/2, USB or USB2 virtual media — are available to address a variety of connectivity needs. One SIP can replace a bulky KVM (keyboard video mouse) cable by converting the signals and driving them up to 50 feet through a single CAT 5 cable.

SIP cable draws power from the server
Designed to keep the server working properly even if the Dell 2321DS connection goes down
Resolution up to 1024 x 768 locally or remotely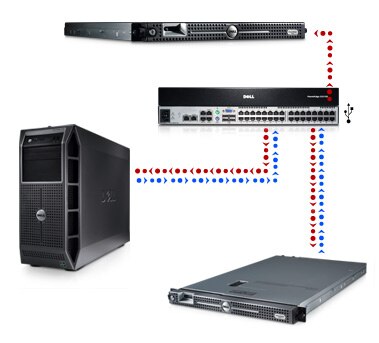 Convenient Cross-Platform Management
Dell Remote Console Software (RCS), a cross-platform management application, provides a single point of access for the entire system.
With RCS, administrators can easily configure the system and select servers to monitor.
The onboard Web interface offers management functions similar to the RCS. It's launched directly from the switch and automatically detects connected servers. With the Web interface viewer, administrators can establish KVM control and virtual media sessions on selected devices.


Easy-to-use, Java™ -based software
Used remotely over an IP connection
On-Screen Configuration and Activity Reporting (OSCAR) interface provides local (analog) control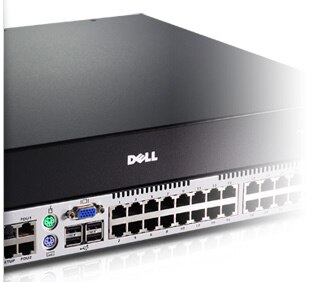 Enterprise Management Compatible
Optional Avocent® DSView® 3 management software can increase the capabilities of the Dell 2321DS. With DSView 3, the Dell 2321DS can manage multi-vendor servers and devices to provide fault management, sessions management and firmware upgrades.


Powerful Virtual Media Capabilities
Virtual media capabilities allow data to be viewed, moved or copied to any connected server. Virtual media can be connected directly to the USB ports on the switch or on the server hosting the onboard Web interface browser session. The server must be connected to a Dell 2321DS using a USB2 virtual media SIP to open a virtual media session. Virtual media sessions are opened from the viewer, which can be opened from the RCS or onboard Web interface.