Sorry, this item is not available anymore for purchase online. Please see our recommended replacement product.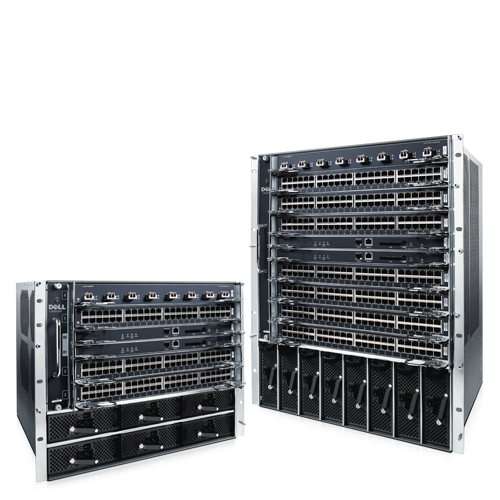 Dell Networking C-Series chassis-based switches
PowerEdge
Processor
Intel® Xeon® processor 5500 and 5600 series
Six-core Intel® Xeon®
Quad-core Intel® Xeon®
Operating System
Microsoft® Windows Server® 2012
Microsoft Windows Server 2012 Essentials
Microsoft Windows® Small Business Server 2011
Microsoft Windows Small Business Server 2008
Microsoft Windows Server 2008 SP2, x86/x64 (x64 includes Hyper-V®)
Microsoft Windows Server 2008 R2 SP1, x64 (includes Hyper-V v2)
Microsoft Windows HPC Server 2008 R2
Novell® SUSE® Linux Enterprise Server
Red Hat® Enterprise Linux®
Virtualization options:
Citrix® XenServer®
Microsoft Hyper-V through Microsoft Windows Server 2008
VMware® vSphere® ESX™ and ESXi™
Red Hat Enterprise Virtualization®
Up to 288GB (18 DIMM slots): 1GB/2GB/4GB/8GB/16GB DDR3
Up to 1333MHz
Drive Bays
Hot-Swap options available:

8 x 2.5" Hard Drive Option or 6 x 3.5" Hard Drive Option; Optional flex bay expansion to support half-height TBU
Up to six 3.5" drives without optional flex bay OR
Up to eight 2.5" SAS or SATA drives with optional flex bay

Peripheral bay options:

Slim optical drive bay with choice of DVD-ROM, Combo CD-RW/DVD-ROM, or DVD + RW
Chassis
R710 physical dimensions:

2U
Height: 8.64cm (3.40")
Width: 44.31cm (17.44")
Depth: 68.07cm (26.80")
Weight (maximum config): 26.1kg (57.54lb)

Fans
Optional redundant cooling

Rack Support:

ReadyRails™ sliding rails for 4-post Racks:
Support tool-less installation in 19" EIA-310-E compliant square or unthreaded round hole 4-post racks including all Dell 42xx & 24xx racks NOTE: Threaded 4-post racks require the static ReadyRails™ kit or 3rd party conversion kits available through Dell Software & Peripherals

Support full extension of the system out of the rack to allow serviceability of key internal components
Support optional cable management arm (CMA)
Rail depth without the CMA: 751 mm
Rail depth with the CMA: 840 mm
Square-hole rack adjustment range: 692-756 mm
Round-hole rack adjustment range: 678-749 mm

ReadyRails™ static rails for 4-post & 2-post Racks:
Support tool-less installation in 19" EIA-310-E compliant square or unthreaded round hole 4-post racks including all Dell 42xx & 24xx racks

Support tooled installation in 19" EIA-310-E compliant threaded hole 4-post and 2-post racks
Rail depth: 608 mm
Square-hole rack adjustment range: 588-828 mm
Round-hole rack adjustment range: 574-821 mm
Threaded-hole rack adjustment range: 592-846 mm
Availability
Hot-plug hard drives
Hot-plug redundant power
Hot-plug redundant cooling
ECC memory
Spare Row
Single Device Data Correction (SDDC)
iDRAC6
Tool-less chassis
Cluster support
Storage
Hot-plug Hard Drive Options:

2.5" SAS SSD, SATA SSD, SAS (10K, 15K), nearline SAS (7.2K), SATA (7.2K)

Maximum Internal Storage:

Up to 18TB*

External Storage:

For information about Dell external storage options, visit  Dell.com/Storage.
Slots
4 PCIe G2 slots + 1 storage slot:

Two x8 slots
Two x4 slots
One x4 Storage slot
Management
Dell™ OpenManage™
Lifecycle Controller
iDRAC6 Enterprise (Optional)
vFlash (Optional)
Microsoft® System Center Essential (SCE) 2010 v2
Embedded Hypervisor (Optional)
Citrix® XenServer®
Microsoft® Windows Server® 2008, with Hyper-V™
VMware® vSphere™ 4.1 (including VMware ESX® 4.1 or VMware ESXi™ 4.1)"
Communications
Optional add-in NICs:

Dual Port 10GB Enhanced Intel Ethernet Server Adapter X520-DA2 (FcoE Ready for Future Enablement)
Intel PRO/1000 PT Dual Port Server Adapter, Gigabit, Copper, PCI-E x4
Intel PRO/1000 VT Quad Port Server Adapter, Gigabit, Copper, PCI-E x4
Intel 10GBase-T Copper Single Port NIC, PCI-E x8
Intel Single Port Server Adapter, 10Gigabit, SR Optical, PCI-E x8
Broadcom® BMC57710 10Base-T Cooper Single Port NIC, PCI-E x8
Broadcom® BMC5709C IPV6 Gigabit Copper Dual Port NIC with TOE and iSCSI Offload, PCI-E x4
Broadcom® BMC5709C IPV6 Gigabit Copper Dual Port NIC with TOE, PCI-E x4
Broadcom® NetXtreme® II 57711 Dual Port Direct Attach 10Gb Ethernet PCI-Express Network Interface Card with TOE and iSCSI Offload
Intel® Gigabit ET Dual Port Server Adapter
Intel® Gigabit ET Quad Port Server Adapter
Broadcom 10GbE NIC, Broadcom Dual Port 10GbE SFP+
Brocade® CNA Dual-port adapter
Emulex® CNA iSCSI HBA stand up adapter OCE10102-IX-D
Emulex® CNA iSCSI HBA stand up adapter OCE10102-FX-D
Brocade® CNA (1020) Dual Port Server Adapter

Optional add in HBAs:

Qlogic® QLE 2462 FC4 Dual Port 4 Gbps Fiber Channel HBA
Qlogic® QLE 220 FC4 Single Port 4 Gbps Fiber Channel HBA
Qlogic® QLE 2460 FC4 Single Port 4 Gbps Fiber Channel HBA
Qlogic® QLE2562 FC8 Dual-channel HBA, PCI-E Gen 2 x4
Qlogic® QLE2560 FC8 Single-channel HBA, PCI-E Gen 2 x4
Emulex® LPe-1150 FC4 Single Port 4 Gbps Fiber Channel HBA, PCI-E x4
Emulex® LPe-11002 FC4 Dual Port 4 Gbps Fiber Channel HBA, PCI-E x4
Emulex® LPe-12000, FC8 Single Port 4 Gbps Fiber Channel HBA, PCI-E Gen 2 x4
Emulex® LPe-12002, FC8 Dual Port 4 Gbps Fiber Channel HBA, PCI-E Gen 2 x4
Brocade® FC4 and 8 GB HBAs
Emulex® OCE10102-IX-DCNA iSCSI HBA stand-up adapter
Environmental Operating Conditions
Acoustics:

Typically configured 2.5" chassis in 23 ± 2 C ambient
Idle: LwA-UL = 5.5 bels, LpAm = 39 dBA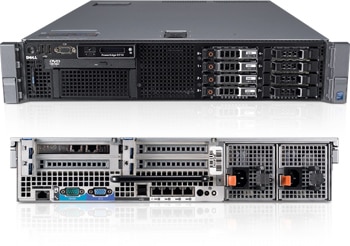 Purposeful, Customer-Inspired Design
The next generation Dell™ PowerEdge™ R710 is customer inspired. By listening and focusing on the details, we have delivered on your inspiration with simplicity of operation and innovative features.

In addition, Dell's latest PowerEdge servers provide a graphical and interactive LCD for system health monitoring, alerting and control of basic management configuration right in the front of the server. Customers have an AC power meter and ambient temperature thermometer built into the server which they can monitor on this display without any software tools

The new design features robust industrial materials including improved chassis, rails, cable management arms, hard drive carriers and latches. With the new PowerEdge R710 you get incredible system management from the aisle with enhanced multi-layer LCD and KVM access.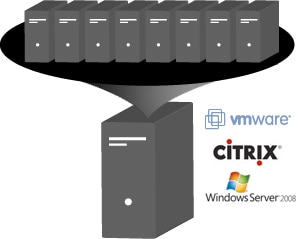 Increased Virtualization Performance
The PowerEdge™ R710 is designed with 125 percent more memory capacity and more integrated I/O than the previous generation PowerEdge™ 2950 III. This increased capacity is crucial for virtualization performance and scalability. The R710 allows for quick virtualization deployment with embedded hypervisors from leading vendors using a secure digital (SD) card or internal USB.

Intel® VT FlexMigration integrates multiple generations of Intel Xeon processor-based servers, improving flexibility and investment protection.

New Double Data Rate 3 (DDR3) memory offers higher bandwidth and lower power consumption than previous FBD or Double Data Rate (DDR2) technologies. Increased memory slots allow you to use smaller, less expensive dual in-line memory modules (DIMMs) to meet computing needs and balance cost.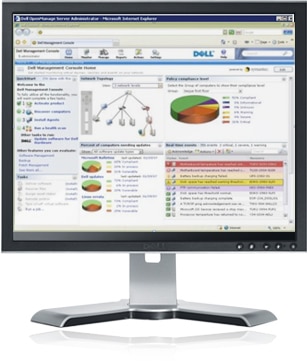 Simplified Systems Management
The next generation Dell OpenManage™ suite offers enhanced operations and standards-based commands designed to integrate with existing systems for effective control.

The new Dell Management Console delivers a single view and a common data source into the entire infrastructure. Dell Management Console is built on Symantec™ Management Platform (formerly Altiris® Notification Server platform), an easily extensible, modular foundation that can provide basic hardware management or more advanced functions such as asset and security management. Dell Management Console helps reduce or eliminate manual processes so less time and money is spent keeping the lights on and more time can be spent on strategic uses of technology.

The Dell Unified Server Configurator delivers a single access point for secure, efficient and user-friendly infrastructure management. Embedded and integrated into the system, it provides quick and consistent access, excellent flexibility and advanced capabilities. With built-in driver installations, firmware updates, hardware configuration and diagnostics, the USC tool is a one-stop shop for operating system deployment.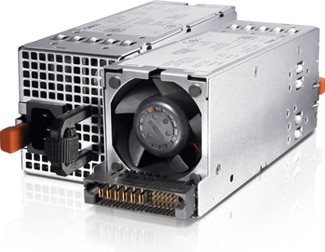 Energy-Efficient Design
The PowerEdge™ R710 features Energy Smart™ technologies that are designed to reduce power consumption while increasing performance capacity. Energy efficient design features include efficient power supply units right-sized for system requirements, innovative system-level design efficiency, policy-driven power and thermal management, and highly efficient standards-based Energy Smart components. All these elements are designed to increase energy efficiency across our latest core data center servers while delivering the performance your business requires.
Tests by Dell engineers have shown that the processors in the comparable HP DL380 can run 17% hotter than the PowerEdge™ R710 due to lower airflow, far exceeding Intel® design specifications at any room temperature.
Learn about the storage technology Dell offers that can enable you to derive maximum value from your information infrastructure.

No other company knows more about storing and protecting information on Dell servers and storage arrays—than Dell. Direct feedback from customers--fueled by the Dell direct model--drives the design and development of a broad range of storage products for organizations of all sizes. Upon consulting with you to understand your operational objectives, Dell can design and deploy a custom storage solution and become a primary contact to assist you with your enterprise applications and information.


Storage Area Network (SAN):
A network of shared storage resources
Learn More

 
---
Network Attached Storage (NAS):
A storage server that connects to a network
Learn More

 
---
Disk Storage Arrays:
Disk enclosures that connect to a server or network
Learn More

 
---
Disk Backup :
Disk Based Backup and data protection
Learn More

 
---
Tape Automation:
Automated tape systems for consolidated backup
Learn More

 
---
Tape Drives and Removable Disk Drives:
Tape and Removable Disk Drive devices used to back up and restore information
Learn More
Dell Services and Support
By integrating our hardware, software and services, we can minimize your transition time and costs, help you improve your business productivity, and more quickly realize the return on your investment. Our new 11G servers have embedded diagnostics and a Lifecycle Controller that helps speed up problem isolation and recovery in the event of a failure—sometimes before you're even aware an issue exists. And during the transition to a new platform or operating system, the embedded OS Lifecycle Controller is designed to direct the transition of your OS/server images in the most customized and cost-effective method possible. 

Dell ProConsult Infrastructure Consulting Services
Dell global infrastructure consulting services utilize skilled solution architects, innovative tools, automated analysis and our own intellectual property to give customers rapid insight into the root causes of unnecessary complexity. We seek better answers than traditional service models, based on our belief that solving problems should not need armies of people. Our strategy is to help customers quickly identify high-impact, short-duration projects that deliver ROI and free up resources to obtain competitive advantage. The result is practical, action-orientated plans with specific, predictable, measurable outcomes.

Learn More

Dell ProManage Managed Services
Dell ProManage services don't follow the traditional one-size-fits-all approach. They're modular so you get to choose what you need for your business. Through features like ImageDirect, hardware customization and asset recovery, we've got what you need, when you need it.

Our factory, remote and onsite installation services for servers make efficient use of your employees' time by helping to speed up activities like configuration and deployment, allowing them to focus more on improving your business.

Hardware customization services can eliminate installation hassles by delivering systems that are ready to work right out of the box.

Dell Asset Recovery and Recycling Services help you recover and dispose of owned or leased computer equipment, in a manner that follows EPA guidelines.

Learn More

Dell ProSupport Services
Dell ProSupport is a comprehensive, configurable suite of support services designed to simplify and optimize your IT environment. From desktop to datacenter, Dell ProSupport addresses everyday and unique IT challenges through options such as same-day, next-business-day and mission critical response services, asset and data protection, specialized onsite services, proactive maintenance and parts management, and remote advisory services—backed by global command centers and expert centers around the world.

Learn More
Dell Business Solutions
Make the most of your technology with innovative and progressive software solutions available from Dell, a single source for complete end-to-end IT needs.
 

Embedded Management

With the introduction of the latest PowerEdge™ Servers, Dell now offers Embedded Management. Embedded Management houses the tools and enablement pieces directly on the server, allowing administrators to perform a complete set of provisioning functions such as operating system deployment, system updates, hardware configuration and diagnostics from a single intuitive interface. This can eliminate the need to use and maintain multiple pieces of disparate media. Embedded Management is designed to deliver zero media "Instant On" integrated manageability through a single access point for infrastructure management functions that is secure, efficient and user-friendly for IT administrators.

Learn More

 

 

Integrated Management

Open, flexible, integrated - manage your infrastructure, not your management consoles. With the introduction of Dell™ Management Console powered by Altiris® from Symantec™ , Dell is doing for systems management what we did for computer hardware, taking a complex, proprietary industry technology and transforming it by delivering a simple, streamlined, modular solution best adapted to your specific management needs.

Learn More

 
Optimize for Microsoft SQL Server 2005

Dell can provide a complete, integrated and supported solution for SQL Server 2005. Solutions include servers, storage, operating systems, and systems management, all geared toward delivering the performance, manageability, and value required in a database environment.

Learn More

 
Optimize for Oracle Database 11g

Dell works in hand-in-hand with Oracle engineers to help ensure compliance with IT best practices. We provide solutions that integrate software, systems management, services, and storage from leaders in the industry: Dell, Oracle® and EMC® . The entire solution stack is pre-engineered, tested and validated. Oracle database solutions are available with Red Hat Linux® and Microsoft® Windows® Server 2003 operating systems.

Learn More

 
Virtualization Solutions

Dell and VMware have collaborated to test and certify VMware Infrastructure 3 virtualization software on Dell PowerEdge™ server and Dell/EMC storage products to provide a comprehensive virtualization solution. Built with leading technologies, the PowerEdge R900 delivers the performance required to efficiently host multiple virtualized workloads.

Learn More