Simplify data center server access.
The B22DELL Blade Fabric Extender extends the Cisco Nexus® switch fabric to the Dell™ M1000e blade enclosure for a scalable, unified server access platform.
Cisco Nexus Blade B22DELL
Dell
Chassis
Single-wide I/O module for M1000e blade enclosure
Performance
Hardware forwarding at 400 Gbps or 297 mpps
Fabric speed: 80 Gbps in each direction (160-Gbps full duplex)
Oversubscription: 2:1

Port Attributes
Fabric extender host interfaces: 16 1/10GBASE-KR internal midplane connections
Fabric extender fabric interfaces: 8
Fabric extender fabric interface types: Fiber: SFP+ optics; Copper: 10 Gigabit Ethernet SFP+ passive Twinax copper cables; Copper breakout cables
ENTITY-MIB
IF-MIB
FABRIC-EXTENDER MIB
CISCO-ENTITY-EXT-MIB
CISCO-ENTITY-FRU-CONTROL-MIB
CISCO-ENTITY-SENSOR-MIB
CISCO-ETHERNET-FABRIC-EXTENDER-MIB
RMON-MIB
Environmental Operating Conditions
Power supply: Provided by blade chassis
Fan tray: Provided by blade chassis
Typical operating power: 56W
Maximum input power: 70W
Power specifications: 12V @ 6A
Heat dissipation: 239 BTU/hour
Operating temperature: 50 to 104°F (10 to 40°C)
Storage temperature: -40 to 140°F (-40 to 60°C)
Humidity: 10 to 95 percent (noncondensing)
Altitude: 0 to 10,000 ft (0 to 3000m)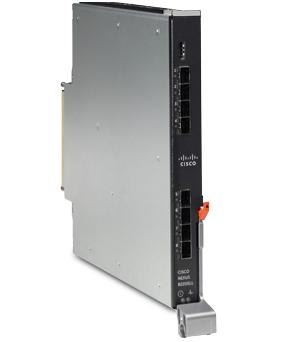 Scalable, consistent server access
The Cisco Nexus® B22DELL Fabric Extenders behave as remote line cards for a parent Cisco Nexus® 5000 switch. The Fabric Extenders are essentially extensions of the parent Cisco Nexus switch fabric, with the Fabric Extenders and the parent Cisco Nexus switch together forming a distributed modular system.

Simplified operations
Ease the commissioning and decommissioning of blades through a single point of management, zero-touch installation and automatic configuration of fabric extenders. Implement upstream policy enforcement with Cisco Nexus switches.

Reduced power and cooling
Ensure optimal cabling, device consolidation and efficient bandwidth utilization with the M1000e Blade System for a significant reduction in data center power and cooling needs.

Increased business benefits
The Cisco Nexus B22DELL Fabric Extender is an excellent platform for migration from 1GbE to 10GbE. Scalable 10GbE provides 10 times the bandwith for only about double the cost of GbE.

Cost-effective consolidation and migration
Help protect your investment into the future by providing an easy migration path to low-latency 10GbE, high-performance computing (HPC) and virtual machine-aware networks.
Navigate network complexity with Dell EMC Services
Our global team of network experts understands the complexities of IT ecosystems, including multi-vendor environments. We have the skillset and experience to not only quickly resolve performance issues but also transform your network to meet the demands of your business.
Consulting
Dell EMC network consultants provide expert guidance to help you optimize and transform the network environment for the demands of today's multi-cloud infrastructures. Our deep infrastructure and application expertise combined with sophisticated network analysis toolsets address a wide range of network technology and process challenges.
Deployment
Leverage the Dell EMC ProDeploy Enterprise Suite to get your network installed and configured. Our experts can free your IT staff to focus on your core business, minimize downtime and give you the confidence that the job will be done right, the first time.
Support
Gain access to ProSupport technical experts who can assist with your most complex networking challenges. The Dell EMC ProSupport Enterprise Suite provides networking support around the clock and around the globe, helping your team maintain a high level of productivity.
Education
Dell EMC offers flexible training programs so your staff can build the right skills to successfully manage and utilize your network to its full potential. Through our personalized approach, your staff gets the exact training they need to improve productivity and adoption, decrease downtime, and reduce end-user support calls.