Fully extensible and comprehensive network management.
Sorry, this item is not available anymore for purchase online. Please see our recommended replacement product.
Help deliver comprehensive, centralized management for Dell™ Force10™ networks with FTMS, which communicates network fault, configuration, accounting, performance and security operations for optimal network efficiency.


Centralized FCAPS management tool for Dell™ Force10™ products: Integrated and consistent management system
Highly customizable, flexible and extensible: Support a variety of interfaces for standalone operations, or ease of integration into existing network management infrastructures
Proactively monitor network indicators: Flexible network management access with web-based Java applet or with a standalone Java application client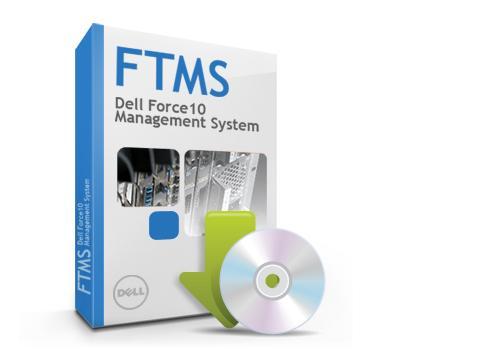 Dell Force10 Management System
Force10
FTMS Platform architecture
The Dell Force10 Management System (FTMS) is a highly customizable, flexible and extensible, management system designed to deliver Fault, Configuration, Accounting, Performance and Security (FCAPS) management of Dell Force10 products.

The FTMS platform uses standards-based technologies that support a variety of interfaces for standalone operations or ease of integration into existing network management infrastructure.  


Comprehensive functionality

Unify management and configuration tasks of your Dell Force10 environments with a user-friendly application interface and powerful tools to streamline network efficiency.  
Device Auto Discovery provides auto-discovery of Dell Force10 devices and discovery of all key system components
Node Manager enables network administrators to manage devices at the port level , supporting fault, configuration and performance monitoring functions for each node
Fault management collects, stores and displays management information related to network health
Configuration Management enables batch configuration with templates, scheduled backups, and other key configuration functions
Accounting/Inventory Management maintains a comprehensive database of discovered devices with serial number tracking, as well as software and firmware revisions
Performance management supports highly flexible and customizable data collection, threshold configuration and performance reporting mechanisms
Secure management enables secure administration of FTMS and secure access to devices
Supported Deployments

FTMS delivers management for a growing family of Dell Force10 switches, including the Dell Force10 Z-Series, E-Series, C-Series and S-Series.

FTMS is based on Java and is supported on Windows operating systems (Windows XP Professional Server 2003, Windows NT), Linux (CentOS) and Solaris.

FTMS can give you the power to easily manage your Dell Force10 deployments with a single management application.