Simplify network management and increase server bandwidth with the PowerEdge™ M I/O Aggregator, enabling easy, plug-and-play data center convergence.
Dell PowerEdge M I/O Aggregator
PowerEdge
Chassis
Single-wide I/O module for M1000e blade enclosure
Performance
MAC addresses: 128K
IPv4 routes: 16K
Switch fabric capacity: 1.28 Tbps (full-duplex)
Forwarding capacity: 960 Mpps
Link aggregation: Up to 16 members per group, 128 LAG groups
Queues per port: 4 queues
VLANs: 4094
Line-rate Layer 2 switching: All protocols, including IPv4
Packet buffer memory: 9MB
CPU memory: 2GB

Stacking

Stacked units: Up to 6 IOAs (using fixed 40GbE ports only and deployed via CLI)
Stacking bandwidth: Up to 160Gbps (using 1 x 40GbE ring)
Stacking topology: Ring and daisy chain

 

Virtual Link Trunking (VLT): mVLT and L2 over VLT (deployed via CLI)

IEEE compliance

802.1AB LLDP
802.1p L2 Prioritization
802.3ab Gigabit Ethernet (1000Base-T)
802.3ad Link Aggregation with LACP
802.3ae 10GbE (10GBase-X)
802.3ba 40GbE (40GBase-SR4, 40GBase-CR4) on optical ports in manual mode
802.3u Fast Ethernet (100Base-TX)
802.3x Flow Control
802.3z Gigabit Ethernet (1000Base-X)
ANSI/TIA-1057 LLDP-MED
MTU 12KB
Security
854 Telnet
959 FTP
1350 TFTP
2856 RADIUS
3164 Syslog
4254 SSHv2
TACACS+

 

General IPv4 protocols

768 UDP
791 IPv4
792 ICMP
793 TCP
826 ARP
1042 Ethernet Transmission
1305 NTPv3
1519 CIDR
2131 DHCP (client)
3021 31-bit Prefixes
3128 Tiny Fragment Attack Protection

General IPv6 protocols

4861 IPv6 Host for management port

Multicast

4541 IGMPv1/v2 Snooping
Regulatory
UL/CSA 60950-1, Second Edition
EN 60950-1, Second Edition
IEC 60950-1, Second Edition Including all National Deviations and Group Differences
EN 60825-1 Safety of Laser Products Part 1:
Equipment Classification Requirements and
User's Guide Optical Fibre Communication Systems
FDA Regulation 21 CFR 1040.10 and 1040.11 Emissions
Australia/New Zealand: AS/NZS CISPR 22: 2006, Class A
Canada: ICES-003, Issue-4, Class A
Europe: EN 55022: 2006+A1:2007 (CISPR 22: 2006), Class A
Japan: VCCI V3/2009 Class A
USA: FCC CFR 47 Part 15, Subpart B:2009, Class A
EN 300 386 V1.4.1:2008 EMC for Network Equipment
EN 55024: 1998 + A1: 2001 + A2: 2003
EN 61000-3-2: Harmonic Current Emissions
EN 61000-3-3: Voltage Fluctuations and Flicker
EN 61000-4-2: ESD
EN 61000-4-3: Radiated Immunity
EN 61000-4-4: EFT
EN 61000-4-5: Surge
EN 61000-4-6: Low Frequency Conducted Immunity
All components are RoHS compliant

Product Safety, EMC and Environmental Datasheets
Dell Regulatory Compliance Home Page
Dell and the Environment
 

Management
1155 SMIv1
1156 Internet MIB
1157 SNMPv1
1212 Concise MIB Definitions
1493 Bridges MIB
1901 Community-based SNMPv2 (read only)
2011 IP MIB
2012 TCP MIB
2013 UDP MIB
2571 Management Frameworks
2572 Message Processing and Dispatching
2576 Coexistence Between SNMPv1/v2
2578 SMIv2
2579 Textual Conventions for SMIv2
2580 Conformance Statements for SMIv2
2665 Ethernet-like Interfaces MIB
2863 Interfaces MIB
3416 SNMPv2
3418 SNMP MIB
ANSI/TIA-1057 LLDP-MED MIB
IEEE 802.1AB LLDP MIB
IEEE 802.1AB LLDP DOT1 MIB
IEEE 802.1AB LLDP DOT3 MIB
FORCE10-IF-EXTENSION-MIB
FORCE10-LINKAGG-MIB
FORCE10-COPY-CONFIG-MIB
FORCE10-PRODUCTS-MIB
FORCE10-MS-CHASSIS-MIB
FORCE10-SMI
FORCE10-SYSTEM-COMPONEN-MIB
FORCE10-TC-MIB

FORCE10-FIPSNOOPING-MIB
FORCE10-DCB-MIB
LLDP-EXT-DOT1-DCBX-MIB
IEEE8021-PFC-MIB
DELLl_ITA.REV_1_1.MIB
VLAN
802.1Q VLAN Tagging
802.3ac Frame Extensions for VLAN Tagging
Native VLAN

Data center bridging

IEEE 802.1Qbb Priority-Based Flow Contrl (PFC)
IEEE 802.1Qaz Enhanced Transmission Selection (ETS)
Data Center Bridging eXchange (DCBx)
DCBx Application TLV (iSCSI, FCoE)

Fiber channel

NPIV Proxy Gateway (NPG)
Fiber Channel port types : N
Bridging to FC SAN
1 FCoE_Maps per IOM
FCoE features
Native FCoE forwarding
FCoE Initialization Protocol (FIP) v1
FCoE Transit (FIP Snooping Bridge)
FCoE to FC Forwarding
Dynamic FCoE to FC Load Balancing
Environmental Operating Conditions
Power supply: 100–240 VAC 50/60 Hz
Max. thermal output: 955.36 BTU/h
Max. current draw per system: 2 A at 100/120 VAC, 1 A at 200/240 VAC
Max. power consumption: 123 Watts
ISO 7779 A-weighted sound pressure level: 59.6 dBA at 73.4°F (23°C)  

Operating temperature:
32° to 104°F (0° to 40°C)

Operating humidity:
10 to 85% (RH), non-condensing

Max. non-operating specifications:
Storage temperature:
–40° to 158°F (–40° to 70°C)

Storage humidity:
5 to 95% (RH), non-condensing
Build your ideal data center.
Optimize network performance and maximize the benefits of convergence with the Dell™ PowerEdge™ M I/O Aggregator, part of a complete Active data center solution.
Find Out More

Consolidate through virtualization.
PowerEdge M I/O Aggregator extends the consolidation benefits of virtualization by replacing multiple GbE NICs, mezzanine cards, and switches with fewer, higher-bandwidth 10GbE NICs and I/O modules per blade chassis.

Maximize your bandwidth.
Take advantage of 10GbE capability to meet the bandwidth demands of multi-core CPUs and to build your server capacity without overprovisioning your data center.
Find Out More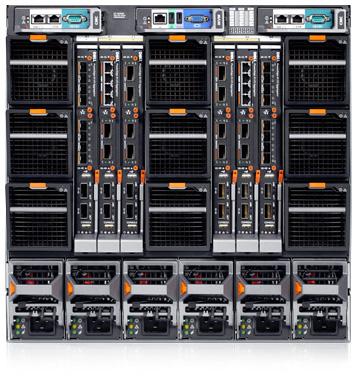 Offers efficient installation and easy expandability.
With no-fuss installation and simple network integration, the Dell PowerEdge™ I/O Aggregator is ready to work right out of the box.
Find Out More

Enables flexible connectivity for maximum versatility.
Optimize your IT schedule with an aggregator that offers simple deployment and plug-and-play connectivity, creating a nimble and flexible data center.
Find Out More

Helps conserve space and reduce power consumption.
Consolidate space and help improve power efficiency with the PowerEdge M I/O Aggregator, offering exceptional performance at an outstanding value.
Find Out More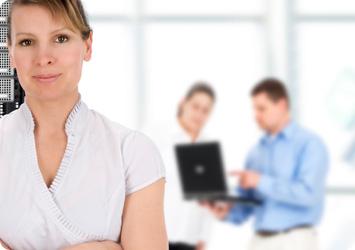 Global services and support

Dell Services can help reduce IT complexity, lower costs and eliminate inefficiencies by making IT and business solutions work harder for you. The Dell Services team delivers distinctive capabilities, including full data migration solutions to facilitate consolidation from multiple file systems. Dell takes a holistic view of your needs and designs solutions for your environment and business objectives, and uses established delivery methods, local talent and in-depth domain knowledge to help lower your total cost of ownership.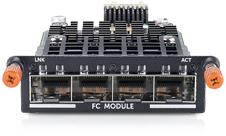 4-port FC Flex IO module
2/4/8Gb FC SFP+ optics
4 ports of 8Gb FC offering up to 32Gb FC traffic per module (max 64Gb of FC throughput per MXL)
NPIV Proxy Gateway (NPG)*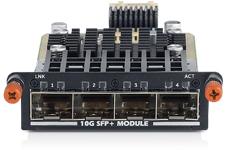 4-port SFP+ module
1GbE and 10GbE ports
10GbE optical and DAC copper twinax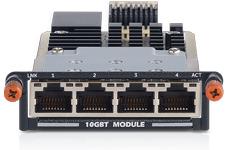 4-port 10GBASE-T module
1GbE and 10GbE ports
Supports auto-negotiation
RJ45/Cat6a copper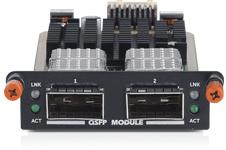 2-port QSFP+ module
2 x 40GbE ports
10GbE support using breakout cables
Navigate network complexity with Dell EMC Services
Our global team of network experts understands the complexities of IT ecosystems, including multi-vendor environments. We have the skillset and experience to not only quickly resolve performance issues but also transform your network to meet the demands of your business.
Consulting
Dell EMC network consultants provide expert guidance to help you optimize and transform the network environment for the demands of today's multi-cloud infrastructures. Our deep infrastructure and application expertise combined with sophisticated network analysis toolsets address a wide range of network technology and process challenges.
Deployment
Leverage the Dell EMC ProDeploy Enterprise Suite to get your network installed and configured. Our experts can free your IT staff to focus on your core business, minimize downtime and give you the confidence that the job will be done right, the first time.
Support
Gain access to ProSupport technical experts who can assist with your most complex networking challenges. The Dell EMC ProSupport Enterprise Suite provides networking support around the clock and around the globe, helping your team maintain a high level of productivity.
Education
Dell EMC offers flexible training programs so your staff can build the right skills to successfully manage and utilize your network to its full potential. Through our personalized approach, your staff gets the exact training they need to improve productivity and adoption, decrease downtime, and reduce end-user support calls.