Boîtier 24U pour datacenters compacts
Nous sommes désolés, cet article ne peut plus être acheté en ligne. Veuillez consulter le produit de remplacement que nous vous recommandons.
PowerEdge 2420 Rack Enclosure
PowerEdge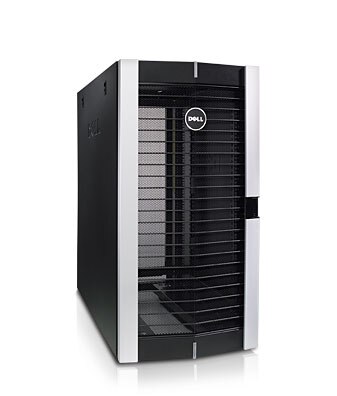 Exceedingly strong and secure
With a static load rating of 1,500 lbs and a standard 600 mm wide x 1070 mm deep form factor, the Dell PowerEdge 2420 rack enclosure can provide the necessary capacity to hold a variety of data center equipment in a compact configuration.

Stabilizer feet, included with the rack, attach to the front and sides of each 2420 rack enclosure for increased stability. Interconnect kits are available to link adjacent rack enclosures

Lockable side panels and front and rear doors provide security for data centers, remote offices, wiring closets, factory floors and other server environments.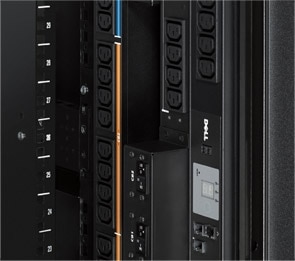 Important PDU mounting features
In addition to U-space power distribution unit (PDU) mounting, the PowerEdge 2420 rack enclosure has specially designed trays inside the rear doors to easily mount vertical PDUs, without using any tools, so they won't interfere with air circulation.

Dell vertical-mount PDUs are available in a number of sizes and can be combined within a rack. The trays in the standard 2420 rack can hold up to four half-height units.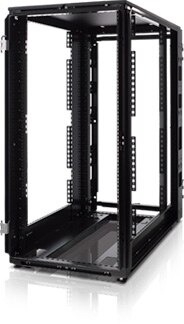 Made to Stay Cool
The 2420 rack is deeper than the previous generation of Dell racks (1071mm vs. 1000mm), so there's more space for hot air to move outside. Flexible air dams help keep hot air from moving from the back to the front, a problem common in many racks.



For hot-aisle/cold-aisle thermally efficient datacenter topologies, its footprint matches standard 2-foot floor tile placement to optimise access to cold air.
A Bundle of Cable Management Options
The increase in size to 1071mm helps the 2420 rack accommodate servers with deeper dimensions, while still providing space for cable ma nagement. The large open base and dual side panels with removable sections on both sides provide more options for cable access.

Removable "tail bars" at the top and bottom of the back frame eliminate a common obstacle to power and cable routing. The bars can be reattached after the cables are in place.
Other access features include:

Dual rear doors
Reversible front door
Removable front and rear door
Rotating rear castors
Easily accessible leveling feet