Service Plans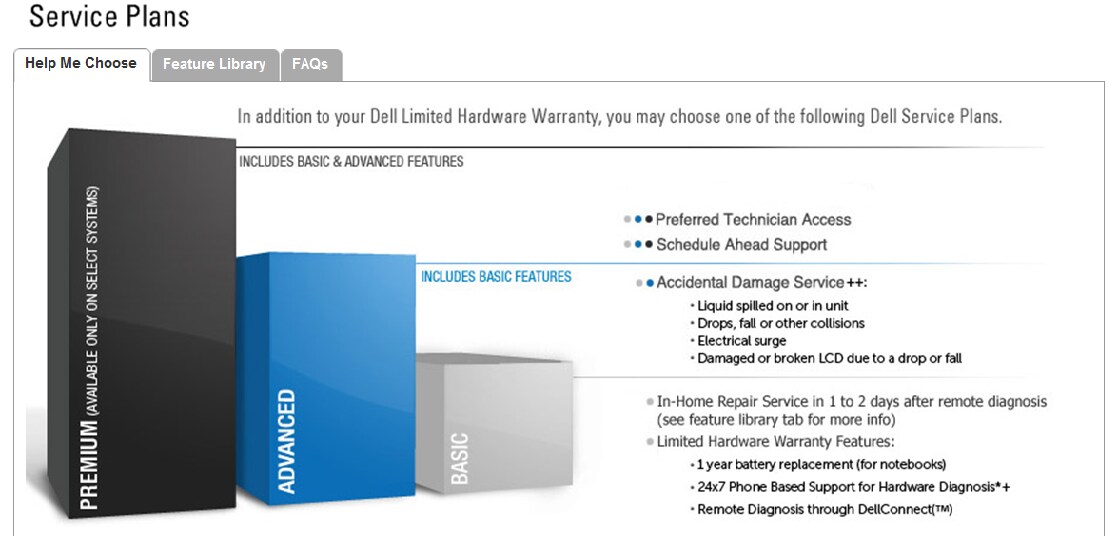 ---
Which Service Duration Is Right For You?



It's always good to know you have the protection you want when you need it the most. Dell recommends extending your service plan to protect your investment.

All Dell Service Plans can be extended for up to 3 years**.

Customer Reviews



"We have had Dell computers for a very longtime for personal use and have had great experience not only with the computers themselves but also with the customer service department."

- Dell Customer

"I've always had good quality and workmanship with Dell computers and excellent response to service calls. Customer service was great with patient people walking me through situations to fix/solve problems. (Not that there were many!)"

- Dell Customer
---
** Specific prices available upon configuration. Please call a Dell sales representative to purchase 4 years of protection.
+ Dell service plans do not provide support beyond hardware issues. (Excludes: software support, virus repair, home networking, how-to, data back-up, etc.)
++ Service excludes theft, loss, and damage due to fire, flood or other acts of nature, or intentional damage. Customer may be required to return unit to Dell. For complete details, visit www.dell.com/servicecontracts.





BASIC



Every new Dell laptop comes with a Limited Hardware Warranty* that's included for the first 12 months.
For an additional fee, you may extend the length of this protection for up to three years.


---
In-Home Service After Remote Diagnosis*
With no service plan you can mail your computer to one of Dell's depot repair centers for an average 10-14 day repair turnaround
For an average 1-2 day repair turnaround, select one of Dell's service plans to enjoy the convenience of having a service technician sent to your home.

DellConnect™


Allows you to grant access to a Dell professional to remotely control and resolve your computer problems.



Battery Replacement


In the event your battery fails within the first year of your plan, we will provide a single new or refurbished replacement battery.
Minimum 12 Months of Coverage by Dell's Limited Hardware Warranty*
Limited hardware coverage includes, but is not limited to, motherboards, hard drives, LCD displays, memory, optical drives, graphics cards, processors, keyboards, touch pads, power supplies and fan assemblies.





ADVANCED



To protect your investment against real-world hazards such as drops, spills, power surges and other accidents, Dell recommends purchasing the Advanced Service Plan which includes Accidental Damage Service*. Repairs can be expensive and this plan is designed to help you avoid those expenses.


---
Liquid Spills


Repair or replacement of your computer in the event of liquid spilled on or in unit.

Accidental Drops & Falls


Repair or replacement of your computer in the event of drop, fail or other accidental collision.

Surges & Screen Breaks


Repair or replacement of your computer in the event of an unforeseen electrical surge or screen or original monitor damage. (LCD, Flat Panel, etc.) breaks.





PREMIUM



If your time is precious, then upgrade to the superior quality, service and protection of our Premium Service Plan. This service allows you to create a personal relationship with North American based technicians who are familiar with your system and any past issues you may have experienced.


---
Schedule-Ahead Support


If you're going to need telephone support on a specific date and time, you can schedule it in advance via e-mail.

Preferred Technician Support


Speak with your favorite technician over the phone anytime you need support.