Versatile density and performance.
Meet your storage density and performance requirements with simple, cost-effective 12Gb JBOD expansion for the latest generation of PowerEdge servers.
PowerVault MD1400 and MD1420
PowerVault
Dell EMC offers complete end-to-end services
Optimizing the IT lifecycle is vital. Dell EMC has expert services
*
for all lifecycle phases that save you time and resources, reduce effort, and improve your IT experience.
ProSupport Enterprise Suite
Gain the freedom to focus on your business transformation with the support expertise and insights Dell EMC is known for across the globe. Choose the right support based on the criticality of specific systems with available automated predictive analysis, collaborative third-party assistance and service account management.
ProDeploy
ProDeploy Enterprise Suite helps you get more out of technology starting on day one. Trust Dell EMC experts to lead deployments from basic hardware installations through planning, configuration and complex integrations. Our complete suite of deployment services and professional certifications helps you achieve business outcomes today and tomorrow.
Training
Education Services offers an expansive suite of training services with multiple delivery methods, including instructor-led, self-paced online and virtual instructor-led training. With comprehensive and flexible training programs, we make it easy to ensure your staff has the skills they need to successfully manage and utilize your new technology to its full potential.
Consulting
Consulting services give expert guidance to help you grow, optimize and transform your IT environment at your own pace and budget. We employ a broad range of certified consultants and engineers, backed by program management teams, who can deliver deep technical expertise. We give you the confidence that your project will be done right and on time.

Expand and accelerate data access
PowerVault MD1400 and MD1420 Direct-Attached Storage (DAS) enclosures with 12Gb SAS throughput have been specifically engineered to work with the 13th and 14th generation of PowerEdge servers using the newest line of PowerEdge RAID Controller (PERC H830/H840) and 12Gb SAS cards. Scaling capacity behind innovative next-generation servers enables end-to-end 12Gb solutions with exceptional storage flexibility and IO performance for such applications as:

 - High-performance databases
 - Streaming digital media
 - Storage-intensive applications
Match your data requirements
With twice the data throughput as previous generation enclosures and flexibility to mix and match NL-SAS, SAS and SSD drives, the MD1400 and MD1420 offer you a wide variety of options that can fit your exact specifications. From the high-density MD1400 with up to 12 x 10TB 12Gb HDDs to the performance –optimized MD1420 with up to 24 x 12Gb 2.5" SSDs, whatever configuration you choose provides a viable storage solution for your particular workload.

Directly connect up to eight MD enclosures behind your PowerEdge server using a 12Gb SAS host bus adapter (HBA) or the PERC H830/H840 card. Provide up to 960TB maximum capacity (eight MD1400 enclosures, each with 12 x 10TB 7200 rpm 3.5" SAS HDDs) or up to 192 high-speed SSDs (eight MD1420 enclosures, each with 24 x 12Gb SAS 2.5" SSDs) for each server.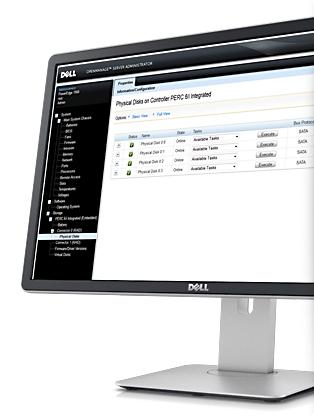 Manage and secure with ease
Dell OpenManage storage manager software allows you to manage both the in-server storage and external DAS as a single interface, optimizing with the end-to-end 12Gb connectivity. If drive security is a priority, the option to include self-encrypted drives (SEDs) with drive-level encryption ensures your data is secure, even when the drive is removed. What's more, the SEDs support instant Secure Erase, which permanently removes data when repurposing or decommissioning drives.

The MD series complements the existing Microsoft® Windows Server® software currently operating on the PowerEdge servers, allowing users who are familiar with, or have standardized on, the Windows OS management tool to take advantage of their tightly integrated management tools.
Keep your budget low
Both PowerVault MD1400 and MD1420 use the same hot-swappable drives, fan, and power supplies to help you simplify and minimize the cost of replacements. The simple design, multiple configurations and shared technology with the host servers helps make the MD1400 and MD1420 reliable, cost-effective DAS for virtually any data center need, including critical applications such as backup and disaster recovery storage.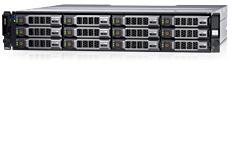 PowerVault MD1400 Direct-Attached Storage

High-density direct-attached storage (DAS) designed to work with the latest generation of PowerEdge servers. Offers exceptional storage flexibility and IO performance and includes support for:

Up to 12 x 12Gb HDDs or SSDs
Up to 960TB maximum capacity with eight MD1400 enclosures (each with 12 x 10TB 7200 rpm 3.5" SAS HDDs) per server
PowerVault MD1420 Direct-Attached Storage

Performance-optimized direct-attached storage (DAS) designed to work with the latest generation of PowerEdge servers. Offers exceptional storage flexibility and IO performance and includes support for:

Up to 24 x 6Gb or 12Gb 2.5" HDDs or SSDs
Up to 192 high-speed HDDs or SSDs with eight MD1420 enclosures (each with 24 SAS 2.5" HDDs or SSDs) per server