Smart Value PowerEdge R7425 Server Basic
Klar til dataintensive workloads
Opnå utroligt lave samlede ejeromkostninger med denne 2U-rackserver med to sokler, som effektivt udfører dataanalyse, HPC samt hukommelsesbundne og opskalerbare software-definerede implementeringer.
Fri fragt!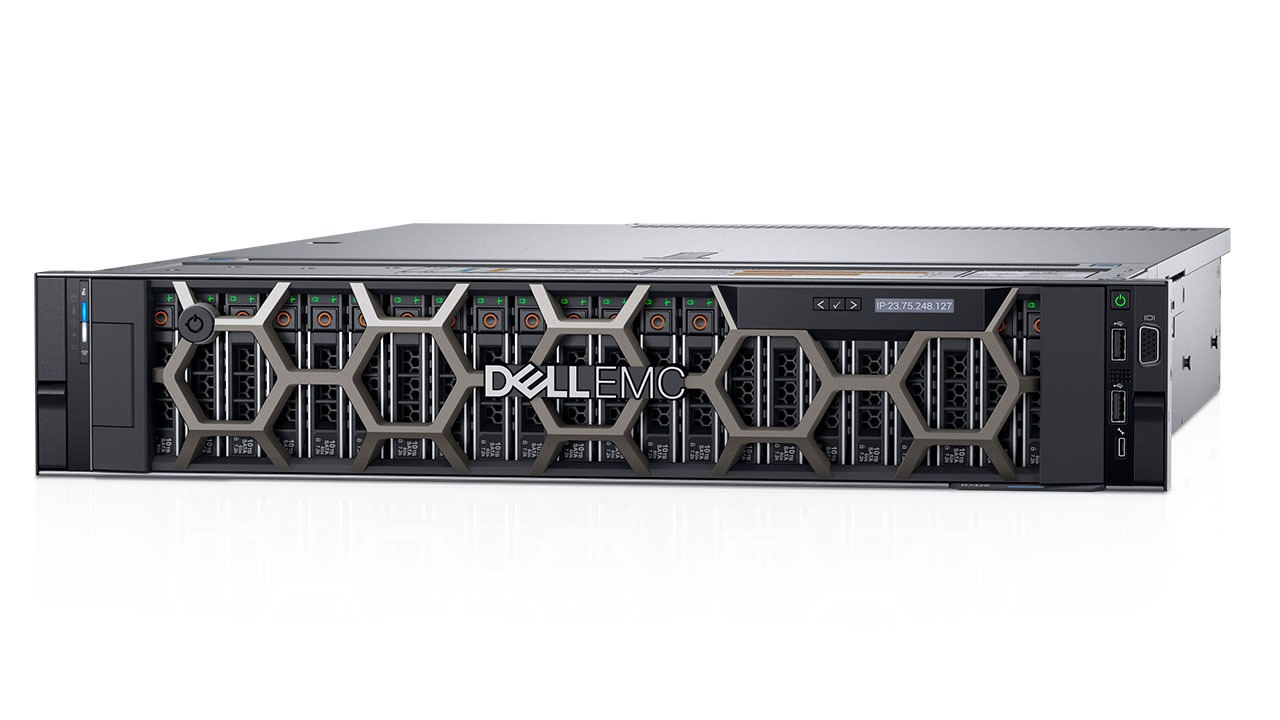 Video: PowerEdge R7425-rackserveren 1:19
Tekniske specifikationer og tilpasning Smart Value PowerEdge R7425 Server Basic
Fri fragt!
Smart Value PowerEdge R7425 Server Basic
Start ved pris
31.366,10 kr.
Tilbudspris
21.015,29 kr.
Priser på support er afhængige af omkostninger til hardware og operativsystem
Sendes inden for 12-14 arbejdsdage
Ordrekode per742501_vsp
Funktioner

Opskalerbar ydeevne til ekstrem databehandling
PowerEdge R7425-platformen leverer fremragende TCO til dataanalyse, hybridcloud og opskalerbare, software-definerede implementeringer. Tilføj nemt ekstreme mængder hukommelse og storagekapacitet, der lader dig arbejde med dataintensive workloads med lav responstid. Med op til 64 kerner, 128 PCIe-baner og op til 32 DIMM-moduler leverer R7425 en perfekt balance mellem databehandling og I/O, der giver dig friheden til at kunne håndtere udfordrende, dataintensive projekter.

Optimeret til:

HPC

VDI cloud-klientdatabehandling

Database-/inline-analyse

Opskaler softwaredefinerede miljøer

Fremragende konfigurationsfleksibilitet
Rackserveren Dell PowerEdge R7425 giver hurtig arbejdsydeevne til effektiv håndtering af avancerede programmer. Med op til to AMD EPYC™-processorer i virksomhedsklassen får du med R7425 en fleksibel arkitektur til forskellige workloads og miljøer.
Optimer hukommelse og I/O-fleksibilitet med op til 3 DDR4 DIMM-moduler og 128 PCIe-baner
Få lynhurtig, omfattende storage med op til 24 NVMe SSD-drev
Øg hukommelseskapaciteten helt op til 2 TB til databaseanalyse
Maksimer VDI-forekomster med op til 64 processorkerner

Automatiser produktiviteten med intelligent, integreret administration
Med intelligent automatisering i Dell EMC OpenManage sparer du tid på rutinemæssig vedligeholdelse, som du i stedet kan bruge på at fokusere på virksomhedskritiske prioriteter.
Med ProSupport Plus og SupportAssist kan du maksimere oppetiden og reducere den tid, du bruger på at løse IT-problemer, med op til 72 %*
Udnyt eksisterende administrationskonsoller med nem integration af VMware® vSphere®, Microsoft® System Center og Nagios®
Øg produktiviteten med agentfri Dell EMC iDRAC9 til automatiseret administration
Gør implementering nemmere med den avancerede OpenManage-konsol og -serverprofiler til hurtigt at konfigurere og klargøre skalerbare servere

Forstærk dit datacenter med omfattende beskyttelse
En omfattende cyberrobust arkitektur med integreret sikkerhed i hver server beskytter dine data.


Beskyt serverkonfiguration og firmware mod skadelige ændringer med ny konfigurationsaflåsning

Brug systemsletning af lokal storage for at sikre databeskyttelse, når du skal genanvende eller bortskaffe servere

Automatiser opdateringer, der kontrollerer filafhængigheder og korrekt opdateringssekvens, før du installerer dem uafhængigt af OS/hypervisor

Få fuld kontrol over dine firmwarekonsoller med indbygget godkendelse, der er udviklet til kun at tillade opdateringer med korrekt signering
Drivere, manualer og support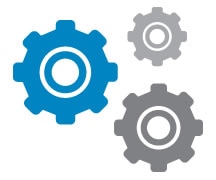 Dell Support
Dells produktsupport dækker det hele, lige fra drivere og manualer til diagnosticeringsværktøjer og reservedele.