PowerEdge R840 - Full Configuration
Sæt turbo på din dataanalyse
Få hurtigere indsigt med fire sokler i et kompakt 2U-design. Reducer responstiden med op til 24 direkte tilsluttede NVMe-drev.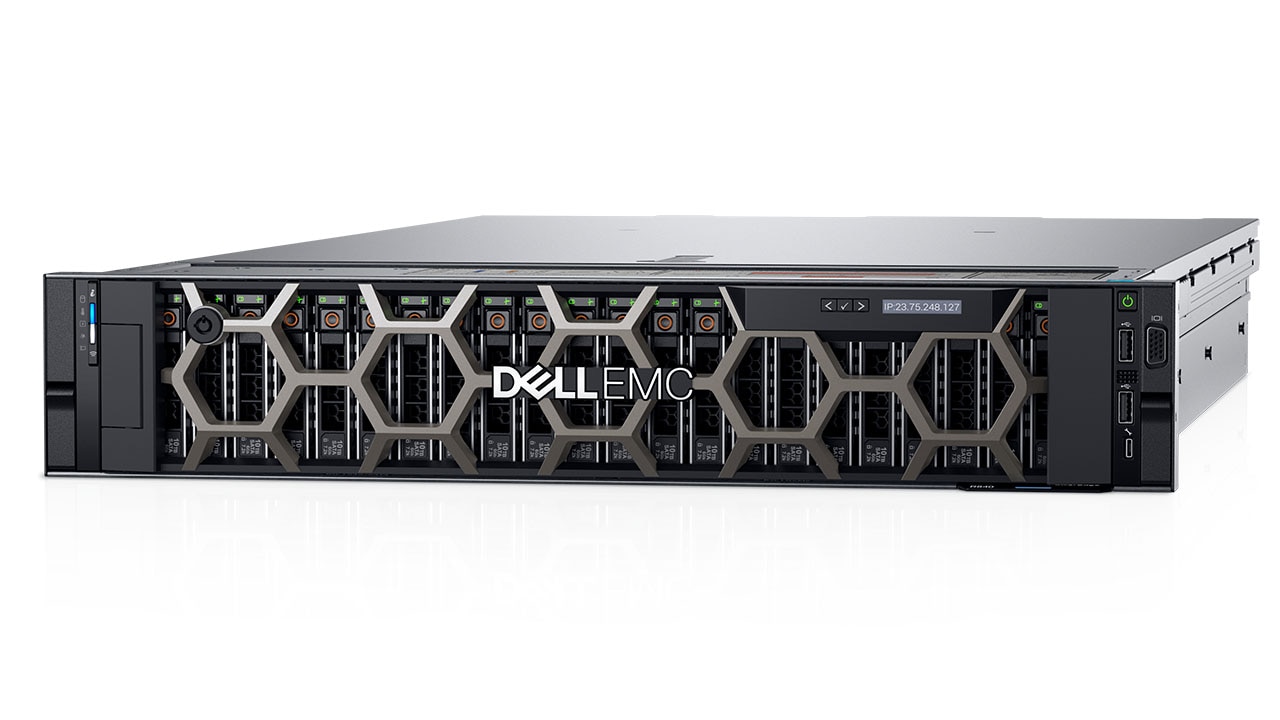 Video: PowerEdge R840-rackserver 1:26
Tekniske specifikationer og tilpasning PowerEdge R840 - Full Configuration
Embedded Systems Management
Fibre Channel Adapters/Converged Network Adapter
NVMe and PCIe Storage Adapters
GPU/FPGA/Acceleration Cards
IDSDM and VFlash Card Reader
Systems Management Upgrades
Additional Shipping Box Labels
Shipping Material
PowerEdge R840 Shipping Material
Inkluderet i prisen
Engineering/Informational(Multi Select)
Identifikation af systemaktiver
Base warranty
Basic Next Business Day 36 Months, 36 Måned(er)
Inkluderet i prisen
Garanti
Den maksimale periode er 5 år
Den maksimale periode er 7 år
Den maksimale periode er 7 år
Den maksimale periode er 7 år
Den maksimale periode er 7 år
derunder
Dell Services:Extended Service
Diagnosis On-Site Service - OSD
Implementeringsservices
Overlad det trygt til Dell-eksperterne at stå for implementeringer, fra planlægning og grundlæggende hardwareinstallationer til konfiguration og komplekse integrationer.
Hjælp mig med at vælge
mere
Også inkluderet i dette system
Følgende valgmuligheder og standardvalg er inkluderet i din ordre.
Enterprise Order - EMEA
PowerEdge R840 - Full Configuration
Tilbudspris
305.292,64 kr.
Priser på support er afhængige af omkostninger til hardware og operativsystem
Sendes inden for 17-19 arbejdsdage
Ordrekode emea_r840_vi_vp
Funktioner

Kraftig ydeevne til dine forretningskritiske workloads
PowerEdge R840 accelererer indblik for virksomheder og leverer en hidtil uset ydeevnetæthed til databaseanalyse. Lever konsistente resultater til krævende programmer med kraftfuld ydeevne med fire sokler og stor hukommelse. Selv om dine workloads bliver mere og mere komplekse, forenkler OpenManage™ Enterprise administrationen af din IT-infrastruktur, så du kan fokusere på virksomhedens mål. Integreret sikkerhed og dokumenteret pålidelighed er med til at sikre maksimal oppetid i virksomhedens datacenter.
Ideelle workloads:
Dataintensive programmer
Dataanalyse

Skaler programydeevnen til krævende dataanalyse
R840 tilbyder fleksible ressourcer, der gør det muligt for dig at opfylde skiftende virksomhedsbehov. Maksimer ydeevnen, og minimer responstiden med direkte tilsluttede NVMe-drev.
Boost ydeevnen med op til fire skalerbare 2. generations Intel® Xeon®-processorer og op til 112 processorkerner
Håndter store datasæt med op til 48 DIMM-moduler (hvoraf 24 kan være DCPMM'er) og op til 15,36 TB hukommelse
Skaler kapaciteten og ydeevnen med op til 26 2,5" harddiske/SSD'er (op til 24 NVMe-drev)
Gør programmer hurtigere med to GPU'er eller to FPGA'er i dobbelt bredde
Sæt turbo på dine dataoverførsler med fuldt integrerede ultra path-forbindelser (UPI'er)

Automatiser hverdagens opgaver
Reducer tiden og besværet forbundet med administration af IT-miljøer med intelligent automatisering.
Øg effektiviteten med agentfri iDRAC9 med Lifecycle Controller til automatiseret og forenklet administration
Implementer OpenManage Enterprise som en virtuel enhed i dine ESXI-, Hyper-V- eller KVM-miljøer
Brug OpenManage-integrationer eller -forbindelser til at administrere PowerEdge-servere med de eksisterende konsolinvesteringer
Løs problemer op til 90 % hurtigere* med proaktive og forudseende fejlmeddelelser fra ProSupport Plus og SupportAssist

Beskyt din IT-drift
Forstærk dit datacenter med omfattende beskyttelse for at beskytte mod, detektere og genoprette efter cyberangreb. Maksimer oppetiden med en cyberrobust arkitektur og robuste sikkerhedsfunktioner.
Oprethold datasikkerheden med kryptografisk signeret firmware og Secure Boot
Detekter og undgå uautoriserede eller skadelige ændringer med Server Lockdown (låsning af Server)
Sørg for, at der bruges en pålidelig sikkerhedskopiering fra en sikker, skjult startenhed med hurtig gendannelse af operativsystem/BIOS
Slet hurtigt og sikkert alle data fra storagemedier med System Erase
Vær med til at sikre høj tilgængelighed med hot-plug-drev og strømforsyninger
Drivere, manualer og support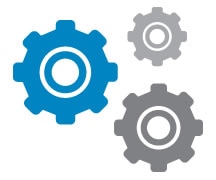 Dell Support
Dells produktsupport dækker det hele, lige fra drivere og manualer til diagnosticeringsværktøjer og reservedele.