Smart Value Power Edge R6515 Server Basic
Ydeevne som med to sokler i et 1U-rackdesign med en enkelt sokkel
Dell EMC PowerEdge R6515 er en 1U-server med en enkelt sokkel, der er udviklet til at håndtere workloads som virtualisering, HCI og OpenStack-klar arkitektur.
Lynhurtige besparelser! Spar op til 39%
Smart Value Power Edge R6515 Server Basic
Processor Thermal Configuration
Memory Configuration Type
Memory DIMM Type and Speed
Boot Optimized Storage Cards
RAID/Internal Storage Controllers
Hard Drives for 2nd RAID Container
Hard Drives (PCIe SSD/Flex Bay)
BIOS and Advanced System Configuration Settings
Advanced System Configurations
Embedded Systems Management
Ethernet Mezzanine Adapters
Additional Network Adapters
NVMe and PCIe Storage Adapters
GPU/FPGA/Acceleration Cards
Optics and Cables for Network Adapters
Additional Virtual Machines for Windows Server OS
iDRAC Systems Management Options
Virtualization Software and Support
Dell Services: Extended Service
Dell Services: HPC Support Services
Keep Your Hard Drive for Enterprise Services
Keep Your Component for Enterprise Services
Dell Services: On-site Diagnosis Service
Dell Services: Deployment Services
Additional Deployment Services
Dell SDS Residency Service
Anti Theft Device & Asset Tagging
Dell Services: GCP/OEM PM
Custom Delivery Logistics
Configuration Services Asset Report
Additional Shipping Box Labels
Systems Management Software
Configuration Services – Custom (Quoting Only)
Data Sanitization or Destruction for Ent Service
Også inkluderet i dette system
Følgende valgmuligheder og standardvalg er inkluderet i din ordre.
Enterprise Order - EMEA
Lynhurtige besparelser! Spar op til 39%
Smart Value Power Edge R6515 Server Basic
Start ved pris
24.485,19 kr.
Tilbudspris
14.446,26 kr.
Priserne på support og services afhænger af valg af hardware og operativsystem
Sendes fra fabrikken inden for 3-5 arbejdsdage
Ordrekode per651501a
Funktioner

Levér fremragende ydeevne, innovation og tæthed
Datacenterudvikling begynder med moderne platforme, der nemt kan skaleres og er optimeret til programydeevne. PowerEdge R6515 er opbygget med en skalerbar systemarkitektur og giver den løsning og fleksibilitet, der opfylder dine krav til ydeevne. Specifikationer på højt niveau:
100 %* flere processorkerner og hurtigere dataoverførselshastigheder med 4. generation af PCIe
20 %* større hukommelsesydeevne til skalering af miljøer
Forbedrede samlede ejeromkostninger med VM-tæthed og forbedringer af SQL-ydeevnen
Høj parallelitet for lav ventetid på ROBO og Dense Azure Stack HCI
Network Functions Virtualization (NFV)

Øg effektiviteten, og sæt fart i driften
Dell EMC OpenManage™-systemadministrationsporteføljen leverer en effektiv og omfattende løsning til PowerEdge-servere med skræddersyede, automatiserede og gentagelig processer.
Automatisér administrationen af serverens levetid med scripting via iDRAC Resting API'en, der er i overensstemmelse med Redfish.
Du kan forenkle og centralisere én-til-mange-administration med OpenManage Enterprise-konsollen.
Benyt OpenManage Mobile-appen og PowerEdge Quick Sync 2, så du nemt kan administrere servere med en telefon eller tablet.
Løs problemer med op til 72 % mindre IT-indsats med automatisk proaktiv og forudseende teknologi fra ProSupport Plus og SupportAssist.*

Optimér dit datacenter med integreret sikkerhed
Alle PowerEdge-servere er udviklet med en cyberrobust arkitektur, der integrerer sikkerhed dybt ind i alle faser igennem hele produktlevetiden, fra design til afvikling.
Øg sikkerheden med platformsaktivering af AMD Secure Memory Encryption (SME) og Secure Encrypted Virtualization (SEV).
Kør dine workloads på en sikker platform, der er forankret af kryptografisk pålidelig opstart og Silicon Root of Trust.
Hold serverfirmwaren sikker med digitalt signerede firmwarepakker.
Registrer og afhjælp uautoriserede eller skadelige ændringer med driftsregistrering og systemlåsning.
Slet sikkert og hurtigt alle data fra storagemedier, herunder harddiske, SSD'er og systemhukommelse med systemsletning.
Dell EMC tilbyder komplette end-to-end-services
Det er vigtigt at optimere IT-produktlevetiden. Vi har ekspertservices
*
til alle faser i produktlevetiden, der sparer dig tid og ressourcer, reducerer arbejdsbyrden og forbedrer din IT-oplevelse.

Konsulentservices
Konsulentservices giver dig eksperthjælp, så du kan vokse, optimere og omdanne dit IT-miljø i dit eget tempo og inden for dit budget. Vi anvender en lang række certificerede konsulenter og teknikere, understøttet af programstyringsteams, der kan levere omfattende teknisk ekspertise. Vi forsikrer dig om, at dit projekt vil blive udført korrekt og til tiden.

Support
Få frihed til at fokusere på din forretningsomlægning med den supportekspertise og indsigt, Dell EMC er kendt for over hele verden. Vælg den rigtige support baseret på vigtigheden af specifikke systemer med tilgængelig automatisk forudsigende analyse, tredjepartssamarbejde og servicekontostyring.

Implementering
Med ProDeploy Enterprise Suite kan din virksomhed udnytte den teknologiske udvikling allerede fra dag ét. Residency-service giver løbende overgangs assistance for at accelerere adoption. Hav tillid til, at vores eksperter skal føre implementeringer fra basis hardware installationer via planlægning, konfiguration og komplekse integrationer, der kan hjælpe dig med at opnå forretningsresultater i dag og i morgen.

Uddannelse
Uddannelsesservices tilbyder en omfattende pakke af undervisningsservices med forskellige undervisningsformer, herunder klassebaseret, online i form af selvstudium og virtuel klasseundervisning. Med omfattende og fleksible uddannelsesprogrammer gør vi det nemt at sikre, at dine medarbejdere har de færdigheder, de har brug for til at administrere og udnytte din nye teknologi på den bedst mulige måde.


Drivere, manualer og support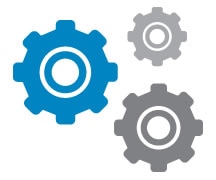 Dell Support
Dells produktsupport dækker det hele, lige fra drivere og manualer til diagnosticeringsværktøjer og reservedele.