Dell™ PowerEdge™ R900
Sorry, this item is not available anymore for purchase online. Please see our recommended replacement product.
The PowerEdge™ R900 amplifies Dell's industry-leading virtualization performance with 6-core processing.


Outstanding virtualization performance
An ideal server for RISC migration
Power and stability for data demanding enterprise applications
PowerEdge R900 Rack Server
PowerEdge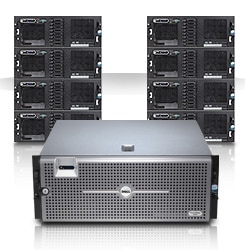 Outstanding Virtualization Performance
Dell's most powerful Intel® server, the PowerEdge R900 is designed and optimized to provide outstanding virtualization performance.

The R900 is an optimum platform for data-demanding enterprise applications in a virtual environment and features:
Intel® Xeon® 7400 series 6-core and 4-core processor technology
Increased memory and I/O (input/output) capacities over the previous model
Broad scalability
An embedded hypervisor for simplified virtualization — Choose between VMware® ESXi™ 3.5 or Citrix® XenServer™ and then power up the server and begin migration of virtual machines within minutes with factory-integrated hypervisors.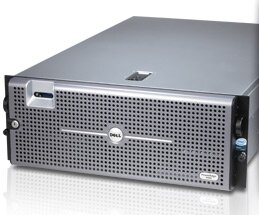 An Ideal Server for RISC Migration
Migrating to an open x86 platform can reduce costs and improve overall management while providing an affordable foundation that scales easily for future needs. Dell's premium-free systems management helps drive down costs and simplify RISC migration.

With up to 24 cores, the PowerEdge R900 moves well into the enterprise class of RISC/UNIX® proprietary-systems.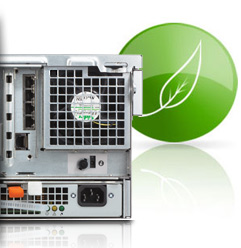 Power and Stability for Business-Critical Applications
Designed to handle data and compute-intensive applications, the PowerEdge R900 is:

Dell's most powerful Intel-based system to date
An outstanding choice for Oracle®, SQL® and other business-critical enterprise-class solutions
Stable and efficient with Energy Smart® power supply units that provide 90 percent efficiency for improved performance per watt and maximum value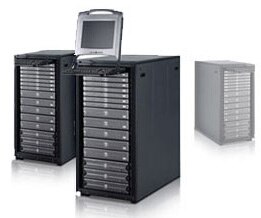 Simplified Management
The PowerEdge R900 helps simplify your IT infrastructure with:

Improved monitoring capabilities in a single, easy-to-use interface with the Dell OpenManage™ suite of management tools featuring monitoring capabilities for power-sensitive and virtual environments
Advanced security features, including the industry-standard Trusted Platform Module (TPM), a locked-down internal USB port and a chassis intrusion sensor to help protect critical data
High availability thanks to hot-pluggable redundant power supplies and hard drives and multiple RAID options, including support for RAID-6
Reliable Protection for Your Data

Dell offers storage technology that can enable you to derive maximum value from your information infrastructure.

 

No other company knows more about storing and protecting information on Dell servers and storage arrays than Dell. Direct feedback from customers drives the design and development of a broad range of storage products for organizations of all sizes.


Storage Area Network (SAN):
A network of shared storage resources
Learn More

 
---
Network Attached Storage (NAS):
A storage server that connects to a network
Learn More

 
---
Disk Storage Arrays:
Disk enclosures that connect to a server or network
Learn More

 
---
Tape Automation:
Automated tape systems for consolidated backup
Learn More

 
---
Tape Drives and Removable Disk Drives:
Tape and Removable Disk Drive devices used to back up and restore information
Learn More
Dell Business Solutions
Make the most of your technology with innovative and progressive software solutions available from Dell, a single source for complete end-to-end IT needs.


Optimize for Microsoft SQL Server 2005

Dell can provide a complete, integrated and supported solution for SQL Server 2005. Solutions include servers, storage, operating systems, and systems management, all geared toward delivering the performance, manageability, and value required in a database environment.

Learn More

 
Optimize for Oracle Database 10g

Dell works in hand-in-hand with Oracle engineers to help ensure compliance with IT best practices. We provide solutions that integrate software, systems management, services, and storage from leaders in the industry: Dell, Oracle® and EMC® . The entire solution stack is pre-engineered, tested and validated. Oracle database solutions are available with Red Hat Linux® and Microsoft® Windows® Server 2003 operating systems.

Learn More

 
Server Consolidation

Dell offers the tools, products and services needed to help address the key stages of server consolidation, including the critical first step of preparing a business analysis to determine an estimated return on investment.
Virtualization Solutions

Dell and VMware have collaborated to test and certify VMware Infrastructure 3 virtualization software on Dell PowerEdgeTM server and Dell/EMC storage products to provide a comprehensive virtualization solution. Built with leading technologies, the PowerEdge R900 delivers the performance required to efficiently host multiple virtualized workloads.

Learn More