Diseñado para procesadores multinúcleo y optimizado para virtualización
Lo sentimos, pero ya no es posible adquirir este artículo en el sitio web. Por favor vea nuestro producto de reemplazo recomendado.
El adaptador para servidor Intel® Ethernet 10 Gigabit X520-T2 ofrece conectividad Gigabit multipuerto de alto rendimiento en plataformas multinúcleo y entornos virtualizados.


Proporciona rendimiento de red 10 GbE altamente accesible para aplicaciones de uso intensivo de banda ancha.
Ofrece conectividad Gigabit multipuerto de alto rendimiento en plataformas multinúcleo y entornos virtualizados.
Brinda la manera más fácil, confiable y rentable de conectar servidores a las SAN iSCSI.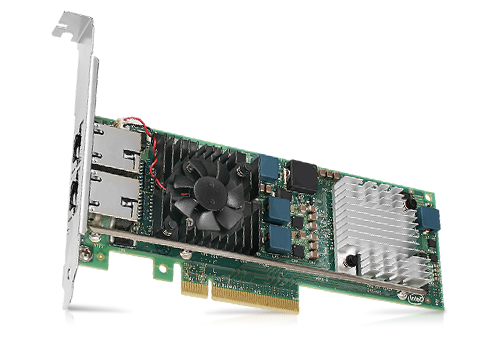 Intel X520-T2 servidor
Intel
Flexibility and Scalability in Virtual and Unified Storage Environments
Intel Ethernet X520-T2 is the newest 10GBASE-T adapter to join the 10 Gigabit X520 series of server adapters designed for multicore processors and optimized for virtualization.

Provides bandwidth-intensive applications with highly affordable 10 GbE network performance, including cost-effective RJ-45 connections up to 100 meters
Delivers industry-leading I/O (input/output) virtualization capabilities with superior virtualization performance and virtual machine (VM) flexibility, plus broad virtual machine manager (VMM) support
Supports native OS iSCSI acceleration for optimal performance, and is the most cost-effective way to connect servers to iSCSI SANs
Intel Virtualization Technology for Connectivity on Dell™ PowerEdge™ Servers
Intel® Virtualization Technology for Connectivity (VT-c) is a suite of hardware assists that reduces I/O bottlenecks in a virtualized server, improving performance, flexibility and virtual machine scalability. Using emulation mode or direct access mode, it lowers the I/O overhead, which optimizes CPU usage, reduces system latency and improves I/O throughput.

Intel VT-c includes:

Virtual Machine Device Queues (VMDq) — In the emulation mode, VMDq optimizes network performance by offloading data sorting and copying from the software virtual switch in the VMM to the Intel® Ethernet 82599 10 Gigabit controller. This configuration is best suited for a large number of VMs running standard applications that have limited bandwidth and latency requirements.
Single Root I/O Virtualization (SR-IOV) — In direct access mode, industry standards-based SR-IOV provides direct VM connectivity and data protection across the VM. It also provides flexibility and mobility by facilitating live VM migration. SR-IOV enables the data to bypass the software virtual switch, providing near-native performance. It assigns either physical or virtual I/O ports directly to individual VMs. This technology is best suited for high I/O throughput, low-latency applications, such as data base, storage, financial and others.
Designed for Intel Multicore Processor-Based Dell PowerEdge Servers
The Intel Ethernet 10 Gigabit X520-T2 server adapter provides high-performance, multiport gigabit connectivity in multicore platforms and virtualized environments.

In a multicore platform, Intel Ethernet X520-T2 supports such technologies as Intel® QuickData Technology, MSI-X and low-latency interrupts that help accelerate the data across the platform, thereby improving application response times.
The Intel Ethernet 82599 network controller uses queues and interrupt vectors to offload data and interrupt processing from the CPU, helping improve overall system performance.
Simplified iSCSI Connectivity for Dell PowerEdge Servers
The Intel Ethernet 10 Gigabit X520-T2 provides the easiest, most reliable and most cost-effective way to connect servers to iSCSI SANs.

Intel Ethernet X520-T2 server adapter uses native iSCSI initiators integrated in the OS to simplify iSCSI deployment and configuration without the need for proprietary software. Native initiators are integrated with standard OS configuration tools and partner-provided tools. They have existed for years, are trusted by customers, and have been tested with many generations of operating systems and hardware storage products.
Intel Ethernet server adapters include hardware-based iSCSI acceleration features that do not require offloading to a proprietary TCP/IP stack. iSCSI acceleration uses large send offload, Receive Side Coalescing and transmit send offloads to help reduce latency and lower CPU utilization. To improve efficiency, MSI-X, Receive-side Scaling and Intel® Ethernet Flow Director scale I/O processing across multiple CPU cores. Direct memory access (DMA), direct cache access (DCA) and header splitting improve network data processing efficiency, and data center bridging (DCB) supports multiple traffic classes that can be prioritized for iSCSI traffic.
Intel VT-c accelerates iSCSI traffic in VMware® ESX and Microsoft® Hyper-V™ R2 environments. Intel works closely with leading VMM vendors to ensure compatibility and outstanding performance with their iSCSI native initiators and was the first company to certify its Ethernet server adapters with the ESX initiator.
Supporting Your Unique Environment
The right support is not one size fits all, it's what fits your environment. The Dell™ ProSupport™ portfolio of support services provides a flexible, reliable and easy support model that empowers you to customize services to meet your unique business needs. Choose support based on how you use technology and where you want to allocate resources.

If you don't have an IT staff, Dell ProSupport for end users is the way to go. You'll receive:

24x7x365 direct break-fix hardware and software support for your employees
"How-to" support on popular software applications such as Norton™ Anti-Virus, Microsoft® Office, Microsoft Small Business Server, Intuit® QuickBooks®, Adobe® Photoshop® and Adobe Acrobat®.
Remote setup assistance for simple networks (wired & wireless)
Award-winning support from Global Command Centers for dispatch monitoring and end-to-end case management for critical situations or natural disasters

If you have an IT team, Dell ProSupport for IT is right for you. You'll receive:

24x7x365 direct access to Dell Expert Centers via email, chat & phone support
Mission Critical Response Options, including ability to self-designate Severity level 1
Hardware and software diagnostics, and troubleshooting, including direct Dell OEM (original equipment manufacturer) support and 3rd party collaborative support
Skip the script and save time with tech-to-tech support
Fast-Track Dispatch for Dell-certified technicians, enabling you to self-dispatch parts and labor
Award-winning support from Global Command Centers for dispatch monitoring and end-to-end case management for critical situations or natural disasters

Further maximize the availability and stability of your infrastructure through Dell ProSupport Options such as asset and data protection, speed of response, specialized onsite services, proactive maintenance and remote advisory services. Streamline patch management and get detailed reporting. Get advice via telephone access to technical expertise on applications and solutions such as Microsoft Exchange, Virtualization and more. And for more complex IT environments, choose the Enterprise-wide Contract option which provides a designated Service Delivery Manager, performance benchmarking, proactive planning and custom reporting.

To learn more about Dell ProSupport visit www.dell.com/prosupport.
Simplify Your IT Infrastructure
Dell ProConsult global infrastructure consulting services can help integrate your new enterprise hardware into an existing or evolving IT infrastructure. We can provide guidance whether you're adding single or multiple servers, a storage area network or virtualizing your environment. We can also help you enhance the overall performance of your IT infrastructure and data center by consolidating software and hardware, reviewing data usage to optimize the environment, developing a business continuity plan and by helping you migrate to standards-based technologies.

We utilize skilled solution architects, innovative tools, automated analysis and our own intellectual property to give customers rapid insight into the root causes of unnecessary complexity. We seek better answers than traditional service models, based on our belief that solving problems should not need armies of people. Our strategy is to help customers quickly identify high-impact, short-duration projects that deliver ROI and free up resources to obtain competitive advantage. The result is practical, action-oriented plans with specific, predictable, measurable outcomes. From Data Center Optimization to Server Virtualization to Systems Management, our consulting services help you build a more efficient enterprise.
Accelerating Deployment
Dell helps simplify implementation with deployment services that speed time to production of new hardware and IT solutions. During the initial system-build of your server, we can customize software and hardware to match your specific requirements. By helping you rapidly deploy new capabilities while minimizing disruptions, we can contribute to improved efficiencies and lower costs.
Empowering Your Team
Our education services provide training and certification courses to help you and your team better manage and use your new hardware so you can reap the full benefits of standards-based technologies.
 
For more information, please visit www.dell.com/services.