Dell QLE220
Lo sentimos, pero ya no es posible adquirir este artículo en el sitio web. Por favor vea nuestro producto de reemplazo recomendado.
QLE220 de Dell es uno de los primeros HBA de 4 Gbps de la industria dirigidos al mercado de la pequeña y mediana empresa. Con 30.000 IOPS a velocidades de canal de fibra de 4 Gb, el modelo QLE220 ofrece conectividad SAN al precio y con la facilidad de uso de DAS, brindando mayor eficacia y confiabilidad para el usuario final de la pequeña y mediana empresa que utiliza almacenamiento en la PYME. El modelo QLE220 ha sido cuidadosamente diseñado en términos de diseño, software, documentación y metodología de asistencia, y se ha personalizado para satisfacer las necesidades del usuario final de la PYME. Este HBA también incluye un software de administración basado en GUI con asistentes de instalación, lo que lo hace perfecto para administradores de TI que pueden no tener el tiempo, la capacitación o el personal necesarios para crear y administrar un entorno SAN con rapidez.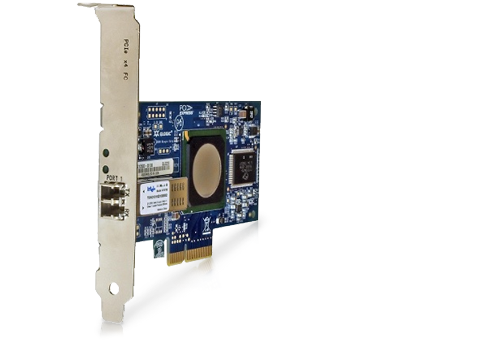 Qlogic QLE220 Fibre Channel Host Bus Adapter
Q Logic
Highlights
Dell Single Channel FC Host Bus Adapter for SMB
Extremely easy to use — The QLE220 features enhanced wizard-based installation, auto-configured software, preconfigured factory settings and simple/graphical user documentation.
Low price — Carefully crafted for the SMB segment, this card eliminates components and reduces features that are typically required by enterprise customers.
Built-in robustness — Meticulous design, limited components and a rigorous component evaluation result in extremely high MTBF (mean time between failures).
Proven quality — Mature architecture and design, coupled with exhaustive and meticulous tests, make this FC HBA rock-solid.
Performance — The QLE220 offers 4-Gbps speed with up to 800-Mbps throughput using the PCI Express x4 host bus.
Enhanced training and documentation — Web-based training on SAN, a step-by-step quick start guide and localized documentation enable easy adoption of the FC HBA.
Enterprise Support
Dell's Enterprise Support Services provide customers with robust, flexible support for server and storage systems. These state-of-the-art services help ensure that your IT systems consistently achieve their performance potential.

Our specialized support teams work with customers to eliminate problems before they happen, prepare in advance for any elevated IT demands, and provide our fastest and most complete approach to problem resolution. Our innovative service technologies and processes can enable a new level of performance management and continuous improvement. When your business requires nothing less than the very best support, Dell's Enterprise Support Services are the answer.
Platinum Enterprise Support
Dell's most comprehensive level of support, which combines rapid response and resolution for critical issues with customized account planning and reporting to proactively improve availability, Platinum Enterprise Support is appropriate for storage systems in data centers and complex environments.
Gold Enterprise Support
Gold Enterprise Support provides 7x24 rapid response and resolution of critical issues, including escalation management and on-site Emergency Dispatch procedures, to quickly restore operations. This level of support is appropriate for storage systems used for email, database applications and virtualization.
Dell/EMC Maintenance
Designed to help keep your storage systems current and healthy, Dell™/EMC Maintenance includes periodic health checks and  installation of software updates, along with how-to assistance for configuring or installing select storage area network (SAN) components.