Maximized Gen2 PCIe expansion is finally realized within a blade.
Sorry, this item is not available anymore for purchase online. Please see our recommended replacement product.
PowerEdge M610x Blade Server
PowerEdge
Improve Effectiveness, Operate Efficiently and Recover Valuable Time
With the feature-rich Chassis Management Controller and flexible PCIe options, you can run business applications with efficient resources, consolidate your data center, ease data management and cut system maintenance times.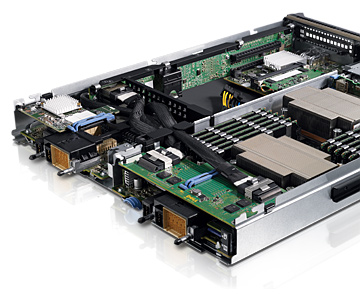 Unparalleled PowerEdge Flexibility
The PowerEdge™ M610x with PCIe expansion module enables you to creatively incorporate a vast array of PCIe-based products into blade deployments, with enough power and cooling to efficiently deploy even the most feature-rich expansion card-based solutions.
PCIe expansion module includes two full-length x16 PCIe Gen2 slots and two standard blade I/O (input/output) mezzanine cards.
Supplemental power connectors enable maximum wattage for one 300 W dual-slot card or two 250 W single-slot cards.
PCIe slots support everything from H-series external RAID controllers to general-purpose graphics processing units (GPGPUs).
Now, a single M610x, equipped with a GPGPU card, can perform over 400 Gigaflops of double-precision computations, for demanding, floating-point intensive workloads. Communication with the host system is maximized by the x16 Gen2 PCIe bandwidth while the efficient Dell™ M1000e chassis powers and cools the solution.

Communication between the host system and the Tesla processors is maximized by the x16 PCIe 2.0 bandwidth while the efficient Dell M1000e chassis powers and cools the solution to its maximum 247 W TDP.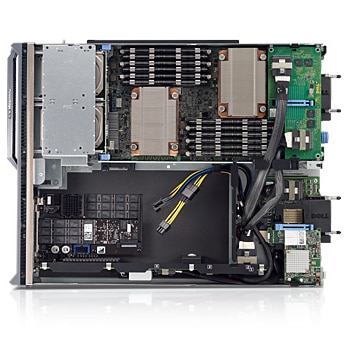 Uncompromised Performance
The PowerEdge™ M610x is an energy-efficient, optimized full-height two-socket server for virtualization and database applications. Additional manageability features make it easy to use, manage and deploy.

Ideal PCIe host server that features the reliability of two 2.5 inch serial attached SCSI (SAS) or solid-state drive (SSD) hot-swappable hard drives and the I/O (input/output) production of a dual-port embedded gigabit network interface card (NIC) and two additional network daughter cards. 

Intel® Xeon® processor 5600 series plus up to 192GB/s of Double Data Rate 3 (DDR3) memory offer high performance with low power consumption for a variety of dense-environment workloads.

Efficiently powered and modularly cooled PCIe expansion module delivers up to 8GB/s of application production.
With the addition of the PCIe expansion module, the PowerEdge™ M610x blade server is an ideal solution for organizations that need maximum flexibility, performance and reliability.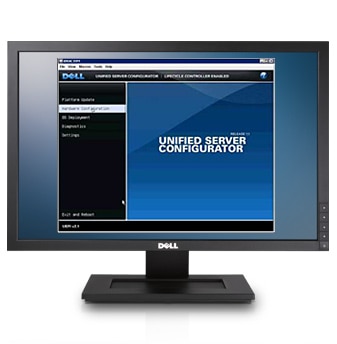 Simplified System Management
The Chassis Management Controller (CMC) and embedded-system management features on the PowerEdge M610x enable you to spend more time on your business and less on maintaining your IT.

Automated discovery — CMC automates configuration of new hardware through a one-to-many relationship and enables pre-provisioning of local area network/storage area network (LAN/SAN) resources.
One-to-many deploy and update — CMC and Virtual Media File Share enables customers to quickly and simply deploy OS images and updates to one or many blades in a chassis without agents, additional software or using Pre-Boot eXecution Environment (PXE).
Proactive management — CMC provides immediate access to system status, issues and alerts through a single, easy-to-use interface plus one-click access to key functions to help quickly resolve any issues.
Flexibility Redefined
Only Dell M-Series provides complete, snap-in FlexIO scalability down to the switch interconnects. FlexIO technology is the foundation of the M1000e I/O subsystem and delivers the flexibility to design the solution to meet your requirements today, and the scalability to add or change options as warranted by your data center or future technologies in the future.
Ethernet


The M-Series enclosure supports a broad set of modular Ethernet blade switches including PowerConnect and Cisco Catalyst.

Dell's fully-modular PowerConnect switches provide great flexibility with choices in models from 1Gb to 10GbE speeds, flexible modular uplinks of varying media types, and many other valuable features. The PowerConnect portfolio, including the M6220 and M8024, offers a selection of switches for a variety of needs.

Spanning entry-level GbE to GbE with stacking and 10GbE uplinks – Cisco models include the Catalyst 3032, 3130G, and 3130X. The 3130 switches feature Cisco's Virtual Blade Switch functionality, enabling customers to interconnect up to 9 switches to create a single logical switch, thereby simplifying the manageability of their data center.



Learn More about Ethernet Blade Switches




Learn More about Ethernet Blade Mezzanine Cards
Fibre Channel


Brocade 4Gb and 8Gb Fibre Channel Switches provide powerful connectivity to fibre channel SANs, such as those offered by Dell/EMC. Models currently available include the M4424 and M5424.

For heterogeneous integration into any Fibre Channel network, these Brocade FC Switches can be configured as in Access Gateway mode. Based on NPIV functionality, Access Gateway mode delivers the cable aggregation benefits and cost savings offered by Dell's M-Series blade solution.



Learn More about Fibre Channel Blade Switches




Learn More about Ethernet Blade Mezzanine Cards
InfiniBand


For High-Performance Computing (HPC) or other environments requiring the highest bandwidth and lowest latency available, the M-Series offers two levels of InfiniBand switches. The industry's first chassis-integrated Quad Data Rate IB switch is available in the Mellanox M3601Q, with speeds of up to 40Gbps. For Dual Data Rate (DDR) InfiniBand infrastructures, the M-Series can be equipped with Cisco M7000E or Mellanox M2401G switches. Each switch features 16 ports in and 8 ports out to ensure the availability and redundancy needed for the most demanding applications.



Learn More about InfiniBand Blade Switches




Learn More about InfiniBand Blade Mezzanine Cards
FlexIO for M-Series: Delivering the speed you need, when you need it
Learn More about M-Series Blade I/O Options
Dell Global Services include a wide, customizable range of choices to simplify the assessment, design, implementation, management and maintenance of your IT environment, and to help you transition from platform to platform. Depending on your current business requirements and the level of service you want, we can provide you with factory, onsite, remote, modular and specialized services that fit your needs, and budget. We'll help you with a little or a lot—your choice—and provide you with access to our global resources like our global command centers.

Dell IT Consulting Services
Dell global infrastructure consulting services utilize skilled solution architects, innovative tools, automated analysis and our own intellectual property to give customers rapid insight into the root causes of unnecessary complexity. We seek better answers than traditional service models, based on our belief that solving problems should not need armies of people. Our strategy is to help customers quickly identify high-impact, short-duration projects that deliver ROI and free up resources to obtain competitive advantage. The result is practical, action-oriented plans with specific, predictable, measurable outcomes. From Data Center Optimization to Server Virtualization to Systems Management, our consulting services help you build a more efficient enterprise.

Dell Managed Services
Dell Managed Services are a modular set of lifecycle services designed to help customers automate and centrally configure, deploy, and manage their day-to-day data center operations. These services extend a customer's existing on-premise IT infrastructure with off-premise cloud services designed to better address challenges with mobility, highly distributed organizations, security, compliance, business continuity and disaster preparedness.

Deploy: Our factory, remote and onsite installation services for servers make efficient use of your employees' time by helping to speed up activities like configuration, customization and deployment, enabling delivery of systems that are ready to work right out of the box.

Operate: Dell can help optimize your data center operations, including storage, backup and virtual environments by focusing on remote monitoring, reporting and alerts, along with full remote management for storage and backup environments, freeing up IT resources.

Protect: Dell Data Center Backup Management services are available to assist you with reporting to help refine SLA requirements, to provide monitoring to improve process efficiency or for the full management of your backup environment.

Recovery and Recycling: Dell Asset Recovery and Recycling Services help you recover and dispose of owned or leased computer equipment, in a manner that follows EPA guidelines.

Dell ProSupport
Dell ProSupport is a suite of support services that enable you to build the solution that's right for your organization. Choose support models based on how you use technology and where you want to allocate resources. From the desktop to the datacenter, address everyday IT challenges such as unplanned downtime, mission critical needs, data and asset protection, support planning, resource allocation, software application management and more. Optimize your IT resources by prescribing the right support model.
Learn about the storage technology Dell offers that can enable you to derive maximum value from your information infrastructure.

No other company knows more about storing and protecting information on Dell servers and storage arrays—than Dell. Direct feedback from customers--fueled by the Dell direct model--drives the design and development of a broad range of storage products for organizations of all sizes. Upon consulting with you to understand your operational objectives, Dell can design and deploy a custom storage solution and become a primary contact to assist you with your enterprise applications and information.


Storage Area Network (SAN):
A network of shared storage resources


Learn More
---
Network Attached Storage (NAS):
A storage server that connects to a network


Learn More

 
---
Disk Storage Arrays:
Disk enclosures that connect to a server or network


Learn More

 
---
Disk Backup :
Disk Based Backup and data protection


Learn More

 
---
Tape Automation:
Automated tape systems for consolidated backup


Learn More

 
---
Tape Drives and Removable Disk Drives:
Tape and Removable Disk Drive devices used to back up and restore information


Learn More