ALIENWARE m15 GAMING LAPTOP
1

/

8
Sorry, this item is not available anymore for purchase online. Please see our recommended replacement product.
Product Details
Operating System
Available with Windows 10 Home or Windows 10 Pro:
Gaming is better than ever on Windows 10, with games in 4K, DirectX 12 and gameplay streaming.
*

A NEW LEGEND IS BORN
At minimum 2.11kg, under 20.5mm thin, 360.3mm wide and 276.2mm long, the Alienware m15 is lean and powerful. Designed from the ground up, the m15 features premium magnesium alloy materials that deliver weight savings while reducing thickness and delivering a stiffer, sturdy, chassis - all within a sleek aesthetic. This generation of the Alienware m15 includes an improved surface coating engineered to reduce fingerprint smearing and other typical stains without changing the hue or color. This stain resistant solution is a High Performance Clear Coat – a formula that lets you feel the cold and durable magnesium-alloy within our award-winning high-contrast color strategy. Available in Lunar Light or Dark Side of the Moon.

Power reborn: With 10th gen Intel® Core™ i7 processors enabling up to 8-cores and 16-threads of multi-threaded performance, the Alienware m15 goes beyond its predecessor.

ADVANCED ALIENWARE CRYO-TECH
Our latest thermal technology, Advanced Alienware Cryo-Tech, is an engineering approach where an Alienware system's gaming performance is never compromised by means of electrical and mechanical methods while maintaining system stability during the highest performance states. This is managed using methods, not limited to, heat dissipation through creative thermal module designs, fan and fan motor design, as well as exhaust and intake layouts and overall airflow impedance. This generation has also been upgraded with an 9mm diameter increase in the CPU fan blades and 4mm diameter increase in the GPU fan blades. In addition, the m15 offers improved airflow by directly channeling the cooler air onto the most sensitive cores of the system.

With all the latest engineering enhancements, you can expect increased power efficiency and higher speeds for longer sustained periods. Here's a closer look at our innovative cooling solution:

Vapor Chamber Technology: Alienware's new Vapor Chamber Technology uses advanced methods to efficiently dissipate heat. The Alienware m15 is engineered with a dedicated vapor chamber in between the CPU and copper heat pipes. It's all designed to manage the thermal flow and maximize performance. These chambers utilize the phase-changing nature of liquid to transfer heat more effectively than a solid piece of metal or copper heat pipes. Vapor Chambers are also more versatile than copper heat pipes in that they can be designed to be spread evenly across an entire chip that needs to be cooled.

Dual-intake, dual-exhaust airflow design: Our thin and light chassis prioritizes performance with a dual fan design that pulls in cool air from the top and bottom vents, and exhales exhaust out the rear and side vents for optimal cooling of the core components.

High voltage driving fan: The fire resistant, Kevlar-like liquid-crystal polymer fan blades include sleeve bearings, and 3-phase fan control to create less friction and circulate air more efficiently. There are now 132 unique fan blades to cool both the CPU and GPU.

Load-balancing heat pipes:  The dynamics of thermal activity across critical components like the GPU and the CPU are intelligently discharged across four 3.5mm diameter copper-composite heat pipes.

Dense copper fin stacks: The m15 has the greatest amount of copper material, by weight, dedicated to providing heat dissipation to core components than on any previous m15. The m15 has also increased the size of its heat pipes by 40% to increase overall surface area and heat dissipation.

HYPEREFFICIENT VOLTAGE REGULATION
Hyper-Efficient Voltage Regulation is the result of hardware engineering that enables graphics and/or processors to run at their highest levels of performance for extended lengths of time. This increases the number of total voltage regulation phases which thereby raises power signal efficiency and thermal efficiency per core.

The higher efficiency level results in capacity for increased workloads over time with reduced energy loss to heat.

The graphics story: An industry first, the m15 features unparalleled 12-phase graphics voltage regulation on configurations featuring the NVIDIA® GeForce® RTX 2080 SUPER™ 8GB GDDR6 with Max-Q Design to enable the highest performance possible for the longest time ever possible. Offering a 50% increase in voltage regulation phases to create our most efficient 15" design in Alienware history.

The processor story: Achieve up to 6-phase voltage regulation on configurations with a NVIDIA GeForce graphics card for higher performance gaming for longer periods of time. And with 25% larger CPU inductors, top-end performance is increased even further.

UNPARALLELED DISPLAY TECHNOLOGIES
The Alienware m15 offers incredible display options and the thinnest left and right bezels (5.6mm) among all Alienware gaming laptops for gamers who demand the best visual experiences possible.
Superior visuals:
An OLED 4K UHD display option beyond the standard 100% color gamut features 1ms response time, 100,000:1 contrast ratio, 60Hz refresh rate and 400-nit brightness so gamers can get lost in vivid, lifelike visuals and pulse-racing gameplay. Combining the ultra-high definition of our 4K display with the high contrast and wide color gamut of OLED, gamers will be able experience what visuals without compromise looks like. It also features Eyesafe® Display Technology that reduces the amount of harmful high energy blue light emanating from your screen, without color distortion, to keep you deep in the game longer.
Rapid refresh rate:
For gamers who prioritize blazing-fast, uninterrupted gaming, the Alienware m15 offers 300Hz panel option that is now twice as fast as the previous generation. The 300Hz panel includes sRGB 100% color gamut, 1000:1 contrast ratio, 300-nit brightness, and 3ms response time.
Reduced blue light emissions:
The laptop reduces blue light rays with a unique technology that lowers the exposure to high-energy visible light to keep you deep in the game without reducing image quality. Available on the OLED panel.
Bring the game to life:
 With the OLED panel, you can experience a new True Black HDR 500 rating with a DCI-P3 color gamut during every moment of the game. With over 8,000,000 individually managed pixels the most chaotic moments on the battlefield feel crisp and responsive with its 1ms response time. And with uniform lighting on each light diode, panel edge bleeding is as absent as your opponent's win streak.

GAME-ENHANCING FEATURES
Triple SSDs: The Alienware m15 offers optional RAID 0 triple SSD configurations. This means the two drives are recognized as a single large drive, maximizing transfer rates and enabling maximum storage and performance.

Rapid connectivity: Killer Doubleshot™ Pro technology enables intelligent management of internet traffic by using both the wired and wireless connections in tandem to prioritize packets. Killer technology will automatically identify latency sensitive gaming and voice traffic and send it over the fastest interface. This new technology is made possible by combining Killer 2.5Gbps E3000 Wired Networking with Killer™ Wi-Fi 6 AX1650 (2x2) 802.11ax Wireless and Bluetooth 5.1


INTUITIVE IMMERSION
Ready for everything: Expand your world with a newly added media card reader. The new slot uses a push-push Micro-SD slot supporting UHS-11 HD312 media.

Improved keyboard: The incredibly responsive keyboard features 1.7mm travel with RGB per-key Alien FX lighting, N-Key rollover and anti-ghosting technology.

Premium touchpad: A precision-point glass touchpad provides a high-quality gaming experience you can feel.

ADVANCED EYE TRACKING
Next-gen Tobii eye tracking adds a completely new form of immersion to your game. Smaller sensors with wake capabilities enable features and sensitivity to track head pose, presence, fine gaze and eye position.
Available on the OLED panel option with NVIDIA graphics only.

Enhanced interactions: UI elements fade when not making eye contact so you can get deeper into the game. Characters know when you're looking at them and will respond accordingly.

New tracking tools: Learn, train and improve using eye tracking-enabled tools designed to measure your mini map awareness and help you learn when to pay attention to the clock.

Software support: Show viewers where you're looking while streaming your favorite game. Tobii Ghost software supports all major streaming platforms and software.

Twitch-ready: Toggle between visualizations like heatmaps, shadow, and spotlight using our extension. You no longer need to move your mouse to show viewers what you're talking about, just glance at it.
ALIENWARE COMMAND CENTER
The Alienware Command Center is continuously updated. Our latest version now includes features specifically desired by the gaming community with auto-tuned game profiles, a new responsive UI, intuitive overclocking options and all-new AlienFX settings.

Creative control
Create profiles designated for power, thermal management, sound, lighting, macros, and more.
Link a profile to a game and its settings will automatically apply whenever the game is launched, no matter where it's launched from.

Optimal overclocking
The new Alienware Command Center includes an easy and intuitive overclocking control module that allows the user to quickly and safely squeeze additional performance out of their system.

Create your own system overclocking profiles, then easily control their system performance.

Enhanced AlienFX
The latest AlienFX hardware and software supports full RGB values with up to 16.8 million colors.

Easily manage your FX lighting zones, edit peripheral settings and save new themes you can then assign for each game.

Ports & Slots
1. SD Card Reader | 2. (2x) SuperSpeed USB 3.1 Gen 1 Type-A | 3. HDMI 2.0b with HDCP 2.2 Output | 4. Mini-Display Port 1.4 Output | 5. Thunderbolt™ 3 Port | 6. Alienware Graphics Amplifier Port | 7. Power/DC-In Port | 8. Noble Lock port (cable and lock sold separately) | 9. Killer™ Networks E3000 Gigabit Ethernet NIC | 10. USB 3.1 Gen 1 Type-A with Powershare Technology | 11. Audio Out 1/8" Port (Compatible with inline mic headset)

Dimensions & Weight
With Non-OLED display
1. Height (Front): 17.9mm (0.704") | Height (Peak): 19.9mm (0.783") | Height (Rear): 19.5mm (0.768") | 2. Width: 360.3mm (14.19") | 3. Depth: 276mm (10.86") | Lowest weight: 2.11kg (4.65lbs) | Maximum weight: 2.5 kg (5.5 lbs)
*
With OLED display
1.Height (Front): 20.5mm (0.807") | Height (Peak): 20.5mm (0.807") | Height (Rear): 19.5mm (0.768") | 2.Width: 360.3mm (14.19") | 3. Depth: 276.2mm (10.87") | Lowest weight: 2.11kg (4.65lbs) | Maximum weight: 2.5 kg (5.5 lbs)
*

HIGH-PERFORMANCE GAMING ACCESSORIES
Transform your gaming laptop into a desktop-class gaming rig with the superior graphics and audio performance you crave.

ALIENWARE 34 CURVED GAMING MONITOR | AW3420DW
Enhance all the action on this 34" curved monitor with WQHD resolution, customizable AlienFX lighting, and NVIDIA
®
G-Sync™ technology.
View Details

ALIENWARE 25 GAMING MONITOR | AW2521HF
Custom AlienFX lighting stands out on this 25" monitor featuring a 240Hz refresh rate, 1-ms response time, and NVIDIA
®
G-Sync™ technology.
View Details

Alienware 7.1 Gaming Headset | AW510H
Lose yourself in the game with virtual 7.1 surround sound, powerful high-fidelity 40mm drivers and low-latency performance – all highlighted by premium materials and iconic Alienware design.
View Details
PERFORMANCE-ENHANCING PERIPHERALS
Introducing the latest Alienware keyboards and mice featuring the iconic designs you trust for exhilarating, immersive gaming.

Alienware Low-Profile RGB Mechanical Gaming Keyboard | AW510K
Bring competitive edge to every game with this mechanical keyboard featuring brown switches, 15 programmable macro key functions, onboard memory and 13 RGB lighting zones.

Alienware Gaming Mouse | AW510M
Count on incredible speed and sensitivity control with a 12,000 DPI optical sensor, redesigned side wings for improved grip, and AlienFX RBG lighting.


Drivers, Manuals & Support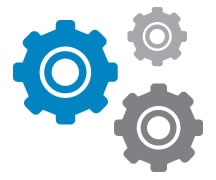 Dell Support
From drivers and manuals to diagnostic tools and replacement parts, Dell Product Support has you covered!
Add the products you would like to compare, and quickly determine which is best for your needs.
Add the products you would like to compare, and quickly determine which is best for your needs.