PowerVault 114X RD1000 Rack Enclosure
---
Sorry, this item is not available anymore for purchase online. Please see our recommended replacement product.
Features

RD1000 rackable solution
114X RD1000 — Rackable solution, configurable with up to two RD1000 drive bases and upgradeable up to four drives using drive upgrade kit, USB 3.0. The USB cables come in two different lengths of 2 m and 3 m. Includes backup software for easily scheduled backups.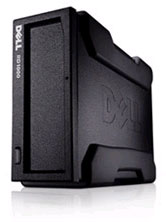 Removable disk drive versus other storage
The benefits of using a high-capacity, removable disk drive and accompanying cartridge like Dell PowerVault RD1000 are evident when compared to alternative backup media. Rugged, removable disk media offers increased portability and durability over standard USB-based hard drive storage. The PowerVault RD1000 cartridges are built to withstand a fall from nearly one meter so they are very durable, and the removable disk cartridges are small and lightweight and can be stored off-site for better disaster recovery protection. PowerVault RD1000 provides easy expandability — when you reach capacity with one removable disk cartridge, just insert in a new one. There's no need to buy additional hardware. PowerVault RD1000 includes backup software that provides data protection for faster data restores and reduced downtime.
PowerVault RD1000 features a protective disk drive cartridge that is available in 1TB
*
, and 2TB capacities. The RD removable disk cartridges are all interchangeable and preformatted. Archiving a collection of PowerVault RD1000 disk cartridges takes considerably less room than a similar amount of DVDs or CDs — it would take over 200 standard DVDs to hold the volume of a single 1TB removable disk cartridge — all while saving shelf space.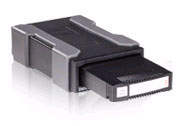 Hard drive speed and reliability
The PowerVault™ RD1000 removable disk cartridge contains a Serial ATA (SATA) hard drive, the same technology that Dell uses across the PowerVault disk storage line, PowerEdge™ server line and Dell Precision™ workstations external drive. SATA hard drive technology is a reliable industry standard for storage and an ideal long-term and durable media. Files transfer to PowerVault RD1000 at about the same time it would take to save to your regular PC drive, up to 80MB/sec.

Cartridge Drop Test:

RD1000 cartridges have been qualified to withstand a drop of one meter to a tile over concrete floor. In most cases the RD1000 cartridges can withstand drops of up to 1.5 meters.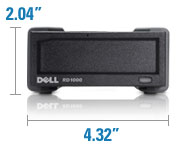 Tough and compact form
The PowerVault RD1000 functions lying flat or on its edge. Its compact profile takes up very little space on a desk or close to your server, allowing a backup solution that doesn't require rethinking your office arrangement. The removable disk cartridge is designed for durability and easily fits into a briefcase, backpack or even a coat pocket. The PowerVault RD1000's simple plug-and-play USB connection allows you to back up more than one system, or move it from home to office as you need. Each removable disk drive cartridge weighs about as much as a cell phone and is only slightly larger.

Hardware Support Service Plans
Dell Infrastructure Services: Execution without excuses:
Dell brings pure execution to IT Services. The planning, implementation and maintenance of your IT infrastructure deserves nothing less. Variability in execution can compromise user productivity, IT resources, and ultimately, your reputation. By leveraging our heritage of process driven excellence, Dell Services can deliver a smarter way. That's Pure Dell.
Gold Enterprise Support:
Provides 7x24 rapid response and resolution of critical issues including escalation management and On-Site Emergency Dispatch procedures to quickly restore operations. This level of support is appropriate for servers that are being used for email systems, database applications and virtualization.
Silver Enterprise Support:
Silver support provides convenient 7x24 phone access for hardware and core software troubleshooting with 4-hour2 7x24 on-site services following completion of phone-based troubleshooting. This level of support is appropriate for file and print servers and other non-production testing and development.
Take Your Support to the Next Level
Platinum Plus Enterprise Support
Dell's most comprehensive level of premium support for storage systems combines rapid response and resolution for critical issues with customized account planning and reporting to proactively help improve uptime. With Platinum Plus, you receive direct access to the Enterprise Command Center and a designated Platinum Technical Account Manager and can enjoy the benefits of these two new innovative features:
Operations Performance Benchmarking Innovative management tools and processes, providing customers with unprecedented visibility into their IT operations and a mechanism for continuous improvement.
ECC Real-time Tracking Window A real-time web based tool that allows customers to track the real-time position and status of every open incident they are experiencing around the world, without picking up the phone.
Additional Service Offerings
In today's environment, businesses depend on their advanced server and storage systems running like clockwork. Maximum uptime is crucial. IT professionals' success and credibility depends on knowing they can reliably deliver business-critical operations and rapidly resolve problems when they do arise. They also need the flexibility to match support to the different needs of various end users and applications environments, smartly balancing quality and costs.
Backup and Recovery
Dell offers comprehensive project management to help you optimize your technology, improve efficiencies, and minimize downtime with a tailored Archiving, backup, recovery solution engineered to provide increased flexibility, scalability, and manageability.
Storage and Server Consolidation
Consolidation services provide a common platform to allocate and manage growing demands for data storage and helps reduce administrative effort by establishing a single management console. Dell's comprehensive approach to storage and server consolidation helps you accelerate productivity by delivering customized systems, software and services that ease management and can result in lower total cost of ownership. Consolidation can offer these key benefits:
Simplify Operations
Improve Utilization
Cost Effective Scaling
Comprehensive Storage Training and Certification
Arm your employees with the knowledge and skills they need to be as productive as possible. Dell offers comprehensive training services which include hardware and software training, as well as PC skills and professional development classes. Dell training can help improve system reliability, maximize productivity, and reduce end user requests and downtime.
On-Site Installation and Remote Installation Services

Remote Configuration Set-up
Assistance configuring or setting up your new server's operating system for the first time
Flexibility with Dell remotely "driving" the install via online Web-Ex session or allowing you to perform via phone-based instruction
Most cost-effective solution to quickly getting your server OS up and running
On-Site Installation: Hardware and OS
An On-Site Dell technician to ensure proper physical setup & functionality of the hardware and Windows operating system in your business environment
Assistance installing your new server into a Dell-support rack
Reduced time required to get your new server completely up and running
Support


Dell Support
From drivers and manuals to diagnostic tools and replacement parts, Dell Product Support has you covered.