Dell EMC SC5020 Storage Array
Accelerate workloads, automate savings
Self-optimizing SSD, HDD or hybrid configurations provide an affordable high-performance solution for mixed application environments
Accelerate workloads, automate savings
Self-optimizing SSD, HDD or hybrid configurations provide an affordable high-performance solution for mixed application environments
Tech Specs & Customization
Data Mobility and Migration
Replication
Replicates with other SC Series arraysi
Synchronous/Asynchronous via FC or iSCSI
Per-volume QoS bandwidth prioritization
Target/source relationships may be one-to-many or many-to-one
Supports all SC data services on source and target volumes
Change replication types and topologies on demand
Supports cross-platform replication with PS Series/EqualLogic arrays (either direction)

Volume mobility
Live Migrate (included in base product) enables host-transparent data movement among arrays; see also Federation section

Federated multi-array systems
Live Migrate (included in base product) enables host-transparent movement of volumes among arrays
Snapshots maintained/preserved during migration

Thin Import
Space-efficient, non-disruptive data migration from PS Series (EqualLogic) arrays

Thin Clones
Clone standalone volumes with zero duplication of data
Clones maintain independent snapshots and replication
Ideal for VDI, test/dev, other applications that require discrete instances of common data
More efficient than dedupe for database copies
Data Optimization
Auto-tiering method
Policy-based migration based on real-time data usage, customizable 512KB-4MB page size

Auto-tiering structure
Up to 3 primary (media-based) tiers total, up to 2 SSD tiers (write- and read-intensive SSDs)

Tiering customizations
User-defined profiles, option to "pin" volumes to any tier

RAID support
RAID 0, 1, 5, 6, RAID 10, and RAID 10 DM (Dual Mirror); any combination of RAID levels can exist on a single array

RAID tiering
Auto-provisions and dynamically restripes multiple RAID levels on the same tier; no need to pre-allocate RAID groups

Thin provisioning
Active by default on all volumes, operates at full performance across all features

Thin snapshots
Records changes only, snapshots auto-migrate to lower-cost storage

Intelligent deduplication and compression
Selectable option per volume on SSD and/or HDD tiers in hybrid configurations
Compression-only option also available on any configuration

HDD optimization
FastTrack moves frequently accessed data to outer tracks for quicker response times
Data Protection
Data Protection, Disaster Recovery, Security

Business continuity
Live Volume bi-directional auto-failover, auto-repairi
Continuous operations, disaster recovery, disaster avoidance
Includes third-site (tertiary) replication options with Live Volume Managed Replicationi
Zero RTO/RPO with customizable site failover SLAs per volume 
VMware Metro Stretch Cluster support
VMware Site Recovery Manager

Distributed sparing
No dedicated hot spares required, all drives available for I/O

Thin snapshots
Records changes only, snapshots auto-migrate to lower-cost storage

Application Consistency
Replay Manager: Application-consistent snapshots in Microsoft or VMware environments
AppSync: Application-consistent snapshots in Microsoft, VMware, Oracle environments

Data-at-rest encryption
Self-encrypting drives (SEDs) in SSD or HDD formats
Full Disk Encryption (FCE) based on AES-256
Drives certified to FIPS 140-2 Level 2
Key Management Server (KMS) options available for FIPS 140-2 Level 1, 2 and 3

External key manager support
Gemalto's SafeNet KeySecure k460, k250, k170v, k150v
Thales EMS 200
Environmental Operating Conditions
Operating temperature: 50 - 95°F (10 - 35°C)
Non-operating temperature: -40 - 149°F (-40 - 65°C)
Operating humidity ranges (non-condensing): 10% to 80% with 29°C (84.2°F) maximum dew point
Non-operating humidity (non-condensing): 5% to 95% with 33°C (91°F) maximum dew point
Inlet type: NEMA 5-15/CS22.2, n°42

Expansion Capacity
Supported expansion enclosures
Dell EMC SC420: 24 x 2.5" drive bays (12Gb SAS)
Dell EMC SC400: 12 x 3.5" drive bays (12Gb SAS)
Dell EMC SC460: 60 x 3.5" drive bays (12Gb SAS)

Maximum drive count
222 per array (30 internal, plus 192 external), more in federated systemsi

Max raw capacity
2.16 PB per array (SSD or HDD)i, more in federated systemsi

Max raw capacity (NAS)
2.16 PB per array (requires FS8600 NAS appliance)
4PB in single namespace (requires FS8600 and multiple arrays)
20PB with global namespace (requires FS8600 and multiple arrays) 

Storage media
SAS and NL-SAS drives; different drive types, transfer rates and rotational speeds can be mixed in the same system.
SSD: write-intensive and read-intensive drives
HDD: 15K, 10K, 7.2K RPM
Functional
Array configurations
All-flash, hybrid or HDD arrays

Storage format
Block (SAN) i 

Max SAN hosts: 500
Max initiator ports: 1000
Max LUN size: 500TB
Max number of LUNs: 2000
Max number of snapshots: 8192
Max IOPS: 1,025,000i
Max IOPS (with latency less than 1ms): 818,000i
Max IOPS (80% reads, 20% writes): 330,000i
Max throughput (reads): 19,000 MB/si
Max throughput (writes): 9,500 MB/si
Management
Management interface
Browser-based (HTML 5):
Unisphere for SC (element manager)
Unisphere Central (multi-array management)
CloudIQ (cloud-based analytics and monitoring)
Client application:
Dell Storage Manager (multi-array, multi-site, cross-platform management)

Federation
Create large multi-array systems under unified management, with seamless workload migration between arrays via included Live Migrate feature. Add like or unlike SC arrays non-disruptively, efficiently utilizing their combined capacity and performance. Volume Advisor monitors federated arrays to suggest optimal data placement and load balancing. Volume movement does not impact snapshots or replication data protection.i

Scripting support
Microsoft PowerShell API
RESTful API

Host OS support
Microsoft® Windows Server®, Oracle® Solaris, HP®-UX, Oracle Linux, IBM® AIX®, Novell® NetWare, SLES, Apple, HPTru64, VMware®, Citrix® XenServer®, RedHat®

Third-party application integration
VMware, Oracle, Microsoft, IBM, OpenStack™, Symantec™, Commvault®, Veeam®, Docker™ -- see SC Series Management spec sheet for more details


Data-in-place upgrade option
Transfer drives from SC4020 head unit and/or expansion enclosures to new SC5020/SC7020

Coexistence with PS Series arrays
Replication in either direction
Day-to-day management from a single interface
Thin import: space-efficient, non-disruptive data migration from PS Series arrays
 
Certifications
VMware vSphere Metro Storage Cluster, VMware SRM, Veritas Storage Foundations Suite, IBM VIOS Recognized, Oracle Validated Infrastructure (OVI); see Dell Storage Support Matrix for additional certifications and details

Reporting/alerts
Support assist (phone home), remote diagnostics and performance monitoring, automated alerts, reports and notifications, departmental chargeback

Firmware updates
Online, non-disruptive.i Firmware may be set to download automatically, with option to trigger installation manually if desired.

Workload management
QoS, VVOLs
Network and Expansion I/O
Front-end-network protocols
FC, iSCSI, SAS (supports simultaneous multiprotocol)

Max 32Gb FC ports
8 per array (SFP+)

Max 16Gb FC ports
8 per array (SFP+)

Max 100Gb iSCSI ports
8 QSFP28 per array

Max 25Gb iSCSI ports
8 SFP28 per array

Max 10Gb iSCSI ports
16 SFP+ or BaseT per array

Max 12Gb SAS ports
8 12Gb SAS portsi

Management ports
2 per array (1Gb BASE-T)

Back-end expansion protocols
12Gb SAS

Max back-end expansion ports
8 per array
Up to 16 expansion enclosures per array
Physical
Rack size: 3U
Height: 13.33 cm (5.25 inches)
Width: 44.5 cm (17.52 inches)
Depth: 78.5 cm (30.9 inches)
Weight at maximum configuration: 24.22 kg (53.4 lb)
Weight empty: 15.15 kg (33.4 lb)

Power
Power/wattage: 2 hot-swappable power supplies (1378W or 1485W options available, wattage type not interchangeable after point of sale)
Maximum output power: 1378W supply option: 1378 W; 1485W supply option: 1485 W
Maximum input power: 1378W supply option: 1584 W; 1485W supply option: 1688 W
Maximum input current: 1378W supply option: 16 A, 1485W supply option: 8.8 A
Maximum inrush current: 55A for 10 ms or less
Nominal input voltage operating range: 1378W supply option: 100-240 VAC; 1485W supply option: 200-240 VAC
Nominal input frequency: 50/60 Hz
Maximum thermal output/heat dissipation: 1378W option: 5,770 BTU per hour; 1485 option: 5,760 BTU per hour (for all-in-one base appliance, no expansion enclosures)
Features & Design

Crank up the performance, crank down the cost
SC5020 makes storage cost savings automatic with a modern architecture that optimizes your data center for economics while delivering transformational SSD, HDD or hybrid performance.
SC Series provides the lowest effective price/GB for flash and hybrid flash
*
, giving companies of any size the technology advantage they need to compete in today's
fast-changing markets. Highlights include:
Data Progression – Achieve IOPS goals with the least expensive mix of storage media, even as performance needs evolve
Deduplication & Compression – Dramatically reduce the raw capacity required to store your data
RAID tiering – Eliminate manual provisioning, increase efficiency and utilization
Federation – Simplify multi-array environments with quick and seamless data movement, plus proactive load balancing assistance via Live Migrate and Volume Advisor
ProSupport Services – Reduce deployment costs with remote installation options that ensure your project goes right the first time.
Persistent software licensing – Future-proof your investment, minimize the cost of upgrades and expansions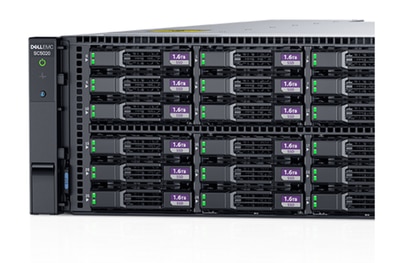 All-new hardware platform
Designed as the next-generation successor to the popular SC4020 array, SC5020 is a performance powerhouse. With dual 8-core Intel processors, 4x more memory and a 12Gb SAS back end, the SC5020 delivers
The new 3U "all-in-one" chassis includes 30 drive bays plus dual hot-swappable controllers, providing up to 460TB raw capacity in a single compact unit. A variety of expansion enclosures lets you scale over 2PB
*
per array – with even larger scale-out potential in federated multi-array systems.
But the advantages don't stop with fast hardware. SC5020 includes all the Storage Center Operating System (SCOS) features you've come to expect from SC Series storage.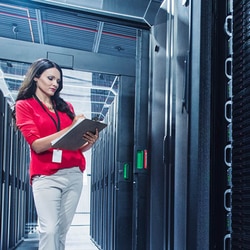 Intelligent advantage for modern workloads
Based on actual use and application performance requirements, SC Series Data Progression dynamically tunes multiple drive tiers and manages RAID levels for performance and cost savings. By default, all new data is written to fastest Tier 1 drives at RAID 10 performance levels, then converted to economical RAID 5/6 (on the same drives) for subsequent reads.

As data ages, it's moved to less expensive storage until it becomes more active again. Data is precisely where it's needed, when it's needed – the perfect combination of high IOPs and cost savings.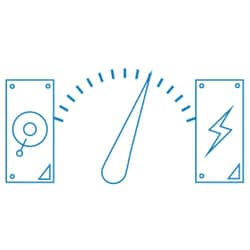 0-100% Flash architecture
Target specific price/performance ratios with any mix of SSDs and HDDs – then modify the mix as your needs change. Add more flash to boost performance, or "cheap and deep" spinning disk as cold data volumes grow. Hot data will always be written to your fastest drives at the fastest RAID levels.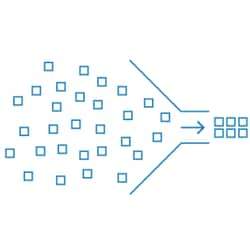 Intelligent Data Reduction
Like many SC services, Deduplication and Compression are applied dynamically at a sub-LUN level to optimize performance and reduce capacity needs throughout the data lifecycle. Fully integrated with Data Progression, SC data reduction saves money on SSDs, HDDs – or both in hybrid systems.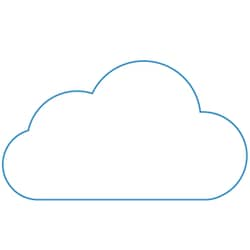 Low-Cost Business Continuity
Keep mission-critical apps running during unexpected outages and disasters with seamless volume-level auto-failover between local and remote arrays. Innovative Live Volume feature is native to SCOS – no extra hardware or software is required to create your "always available" storage environment.

Reliable SC Series investment protection
Despite its low initial and lifecycle costs, SC5020 includes all the advanced tools and integrations you need to be sure your array continues to provide value as your business grows.
Dell Storage Manager – Intuitive control and monitoring of one or multiple systems with powerful features like multi-hop replication, departmental "chargeback," QoS, VVols support and more.
Unisphere for SC, Unisphere Central – Convenient HTML 5 Web UI lets you manage one or multiple systems from your mobile device.
CloudIQ – Cloud-based analytics and monitoring.
Thin clones – Easily create thousands of discrete volume copies for VDI, test/dev and other applications, without consuming additional storage space.
Data-at-rest encryption – Supports optional FIPS 140-2 certified self-encrypting drives (SEDs), auto-lock on power down or removal.
Integration with PS Series (EqualLogic™) arrays — Unified management and bi-directional replication lets you combine two platforms in a single solution.
Dell EMC ecosystem support – PowerPath, ViPR, VPLEX, RecoverPoint, Connectrix, Data Domain and more.
Broad 3rd-party integration – VMware, Microsoft, Oracle, OpenStack, IBM, CommVault, Symantec, VERITAS, Veeam and more.

Future-Proof Program
Unrivaled buying assurance programs includes 3-Year Satisfaction Guarantee, 2:1 Data Reduction Guarantee, Never-Worry Data Migration, Tech Refresh & Recycle, and All-Inclusive Software offers.
See Future-Proof details
Dell EMC offers complete end-to-end services
Optimizing the IT lifecycle is vital. Dell EMC has expert services
*
for all lifecycle phases that save you time and resources, reduce effort, and improve your IT experience.

ProSupport Enterprise Suite
Gain the freedom to focus on your business transformation with the support expertise and insights Dell EMC is known for across the globe. Choose the right support based on the criticality of specific systems with available automated predictive analysis, collaborative third-party assistance and service account management.

ProDeploy
ProDeploy Enterprise Suite helps you get more out of technology starting on day one. Trust Dell EMC experts to lead deployments from basic hardware installations through planning, configuration and complex integrations. Our complete suite of deployment services and professional certifications helps you achieve business outcomes today and tomorrow.

Training
Education Services offers an expansive suite of training services with multiple delivery methods, including instructor-led, self-paced online and virtual instructor-led training. With comprehensive and flexible training programs, we make it easy to ensure your staff has the skills they need to successfully manage and utilize your new technology to its full potential.

Consulting
Consulting services give expert guidance to help you grow, optimize and transform your IT environment at your own pace and budget. We employ a broad range of certified consultants and engineers, backed by program management teams, who can deliver deep technical expertise. We give you the confidence that your project will be done right and on time.
Drivers, Manuals & Support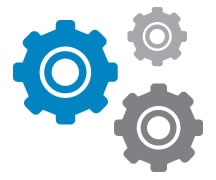 Dell Support
From drivers and manuals to diagnostic tools and replacement parts, Dell Product Support has you covered!
Add the products you would like to compare, and quickly determine which is best for your needs.
Add the products you would like to compare, and quickly determine which is best for your needs.