PowerEdge T140 Tower Server + Win Server 2019
🗙
1

/

4
PowerEdge T140 Tower Server + Win Server 2019
Focus on your business, we'll handle IT
Easy to use, safe, and practical entry-level server for growing businesses. Ideal for file and print, and point of sale applications.
Dell.com Exclusive: Incl. 48% Off
PowerEdge T140 Tower Server + Win Server 2019
Trusted Platform Module (TPM)
Processor Thermal Configuration
Memory DIMM Type and Speed
Memory Configuration Type
RAID/Internal Storage Controllers
Boot Optimized Storage Cards
Embedded Systems Management
BIOS and Advanced System Configuration Settings
Advanced System Configurations
Virtualization Software and Support
Additional Virtual Machines for Windows Server OS
iDRAC Systems Management Options
Dell Services: Extended Service
Keep Your Hard Drive for Enterprise Services
Keep Your Component for Enterprise Services
Dell Services: On-site Diagnosis Service
Dell Services:Deployment Services
Dell Services:Additional Deployment Services
Data Sanitization or Destruction for Ent Service
Tech Support Phone Label - Standard
MAC Address Label - Standard
Main Configuration Box Label - Standard
E-Support Label - Standard
System Information Label - Standard
Order Details Label - Standard
Configuration Services Asset Report
For Inside Sales Use - Dellplus Charges(Quote ONLY
Also included in this system
The following options and default selections are included with your order.
NONE
Dell.com Exclusive: Incl. 48% Off
PowerEdge T140 Tower Server + Win Server 2019
Discounted Price
$3,162.93
Price includes GST & delivery
Support prices are dependent on hardware and OS costs.
Order Code pet140tm0312nzoo
Product Details

Your practical, entry-level server
The Dell EMC PowerEdge T140 allows you to focus on your business, that's why we offer the entry-level practical business server. Organize your data in one central data repository.
The T140 enables you to address common business workloads affordably.
Ideal for business applications like:
File and print
Mail and messaging
Point of sale
Finance

Make IT easy
The Dell EMC PowerEdge T140 allows you to focus on your business. You don't have to worry about your IT infrastructure, we have IT covered.
Work more efficiently with 50% more cores with Intel Xeon E-2200 processor, 11% faster data transfer speeds, and 20% more PCIe lanes*
Get set up as much as 66% faster with our ProDeploy suite of services*
Resolve issues with up to 72% less IT effort using automated proactive and predictive technology from ProSupport Plus and SupportAssist*
Take advantage of flexible tower placement options with quiet acoustics and thermal efficiency

Keep your data safe
The Dell EMC PowerEdge T140 allows you to focus on your business, we protect your data, so it is secure.
A comprehensive, cyber-resilient architecture with security embedded into every server helps to protect your data.
Protect your data and your customer's data
Keep your data safe with software RAID by saving your data automatically
Protect your server from malicious changes with iDRAC9 Enterprise Server Lockdown mode
Help data privacy when you repurpose or retire servers with System Erase of local storage
Dell EMC offers complete end-to-end services
Optimizing the IT lifecycle is vital. We have expert services
*
for all lifecycle phases that save you time and resources, reduce effort, and improve your IT experience.

ProSupport Enterprise Suite
Gain the freedom to focus on your business transformation with the support expertise and insights Dell EMC is known for across the globe. Choose the right support based on the criticality of specific systems with available automated predictive analysis, collaborative third-party assistance and service account management.

ProDeploy
ProDeploy Enterprise Suite helps you get more out of technology starting on day one. Trust our experts to lead deployments from basic hardware installations through planning, configuration and complex integrations. Our complete suite of deployment services and professional certifications helps you achieve business outcomes today and tomorrow.

Training & Certification
Education Services offers an expansive suite of training services with multiple delivery methods, including instructor-led, self-paced online and virtual instructor-led training. With comprehensive and flexible training programs, we make it easy to ensure your staff has the skills they need to successfully manage and utilize your new technology to its full potential.

Consulting
Consulting services give expert guidance to help you grow, optimize and transform your IT environment at your own pace and budget. We employ a broad range of certified consultants and engineers, backed by program management teams, who can deliver deep technical expertise. We give you the confidence that your project will be done right and on time.
Drivers, Manuals & Support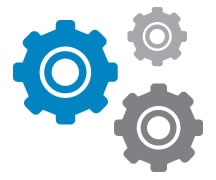 Dell Support
From drivers and manuals to diagnostic tools and replacement parts, Dell Product Support has you covered!