PowerEdge MX840c Compute Sled
Scalable high performance modular server
Elastic compute resources for database-driven mission critical applications and performance workloads in a 4-socket, double-width sled.
Scalable high performance modular server
Elastic compute resources for database-driven mission critical applications and performance workloads in a 4-socket, double-width sled.
Processor
Up to four 2nd Generation Intel® Xeon® Scalable processors, with up to 28 cores per processor

TDP: 70-205W
Operating System
Canonical® Ubuntu® Server LTS
Citrix® Hypervisor™
Microsoft® Windows Server®with Hyper-V
Red Hat® Enterprise Linux
SUSE® Linux Enterprise Server
VMware® ESXi®
Chipset
Intel® C628 Chipset with optional Intel® QuickAssist Technology
Memoryi
DIMM Speed
Up to 2933 MT/s

Memory Type
RDIMM
LRDIMM
NVDIMM-N

Memory Module Slots
48 DDR4 DIMM slots
12 slots enabled for NVDIMM-N
24 slots enabled for Intel® Optane™ DC persistent memory DCPMM

Maximum RAM
RDIMM 3TB
LRDIMM 6TB
NVDIMM-N 192GB
Intel® Optane™ DC persistent memory DCPMM 12.2TB (total capacity of 15.36TB per server)


Storage
Front:
Up to 8 x 2.5" SAS/SATA (HD/SDD) or NVMe PCIe SSD
Storage Controllers
Internal controllers:
PERC HBA330, H730P, H745P, HBA330 mini-mezz

Software RAID:
S140

Internal Boot:
Boot Optimized Storage Subsystem (BOSS):
Choice HWRAID 2 x M.2 SSDs or
Internal Dual SD Module (IDSDM)
Security
Cryptographically signed firmware
Secure Boot
Secure Erase
Silicon Root of Trust
System Lockdown (requires OpenManage Enterprise)
TPM 1.2/2.0 optional
Management
Embedded / At-the-Chassis
OpenManage Enterprise – Modular Edition
Quick Sync 2 Bluetooth Low Energy (BLE) / wireless module

Embedded / At-the-Server – Compute Sled
iDRAC9 with Lifecycle Controller 
iDRAC Direct
iDRAC RESTful API with Redfish

Consoles
OpenManage Enterprise
OpenManage Essentials
OpenManage Power Center

Mobility
OpenManage Mobile (requires OM Enterprise or OM Essentials)

Tools
Dell EMC Repository Manager
Dell EMC System Update
Dell EMC Server Update Utility
Dell EMC Update Catalogs
iDRAC Service Module
OpenManage Server Administrator
OpenManage Storage Services

OpenManage Integrations
BMC® Truesight
Microsoft® System Center
RedHat® Ansible®
VMware® vCenter

OpenManage Connections
IBM Tivoli® Netcool/OMNIbus
IBM Tivoli® Network Manager IP Edition
Micro Focus® Operations Manager i (OMi)
Nagios® Core
Nagios® XI

Power Supplies
Up to 6 x 3000W; PSU and grid redundancy support (MX7000 chassis)
5 rear- and 4 front-accessible hot-swap fans (MX7000 chassis)
Ports
Networking Options
Up to 2 pair redundant general-purpose switch or pass-through module bays (Fabrics A and B); redundant pair of storage specific switch bays (Fabric C)
Up to 25GbE, 32Gbps Fibre Channel, 12Gbps SAS

Front Ports
1 x USB 3.0

Rear Ports
1xUSB 2.0 management port for iDRAC
1xUSB 3.0 + USB 2.0 for IDSDM

Internal Ports
1 x USB 3.0

Slots
PCIe
4 x PCIe 3.0 x16 mezzanine slots (Fabric A and B)
2 x PCIe 3.0 x16 mini-mezzanine slot (Fabric C)

Video Card
Integrated VGA controller in iDRAC, VGA over LAN
Form Factor
7U Chassis, double-width compute sled
Dimensions & Weight
Height
85.5mm (3.374")

Width
250.2mm (9.85")

Depth
618mm (24.33") (handle closed)

Weight
17.0kg (37.47lbs.)

Recommended Support
Choose Dell ProSupport Plus for critical systems or Dell ProSupport for premium hardware and software support for your PowerEdge solution. Consulting and deployment offerings are also available. Contact your Dell representative today for more information. Availability and terms of Dell Services vary by region.
Product Details

Set the foundation for the modern data center
Designed for Dell EMC's PowerEdge MX kinetic infrastructure ecosystem, the PowerEdge MX840c server, with dense compute, exceptionally large memory capacity and highly expandable storage subsystem, delivers the flexibility and agility needed in today's demanding, shared-resource environments.
Double-width; up to four sleds per PowerEdge MX7000 chassis.
Two or four, up to 28-core second-generation Intel® Xeon® Scalable processors per sled, up to 448 cores per chassis.
Up to 48 DDR4 DIMMs slots, 6 TB max memory and speeds up to 2933MT/s; up to 192 DIMMS per chassis for up to 24.5TB max memory.
Supports up to 24 DIMM slots for Intel® Optane™ DC persistent memory DCPMM (12.2TB) with a maximum total capacity of 15.36TB per server.
Up to eight 2.5" drive bays for SAS/SATA (HDD/SDD) and NVMe PCIe SSD support plus optional M.2 boot.

Dynamically configure for optimal workload performance and efficiency
PowerEdge MX architecture disaggregates and granularly reassigns resources, maximizing utilization, minimizing overprovisioning and stranded infrastructure. PowerEdge MX840c fully configurable, no compromise compute maximizes scalability to enhance workload performance and optimization.
Scale compute resources with second-generation Intel® Xeon® Scalable processors and tailor performance based on your unique workload requirements.
Flexible memory configurations from capacities of 8GB to 6TB; RDIMMs and LRDIMMs for reduced memory loading and greater density.
Large, high-performance onboard storage footprint with double the HDD drives per compute sled*.

Intelligently automate to accelerate deployment and provisioning
Deploy and provision PowerEdge MX servers faster and automate daily operations with agent-free lifecycle management. Unify and simplify management of compute, storage and fabric with Dell EMC OpenManage Enterprise – Modular Edition within the MX7000 chassis.
Up to four times more performance with integrated Dell Remote Access Controller 9 (iDRAC9) for easy lifecycle management from deploy to retirement*.
Sixteen fewer steps and 30% time savings to perform basic server setup using Android or Apple mobile device with Quick Sync 2* .
Full Lifecycle Management of more than 5,000 nodes within 611 chassis over 7 continents simultaneously on a single OpenManage Enterprise console* .

Integrate innovation to maximize longevity and minimize disruption
PowerEdge MX infrastructure's responsive and future-ready design mitigates the uncertainty of planning for future workload and data center needs. Industry leading thermal architecture, unique no mid plane design, forward thinking mechanical design and control algorithms for dense configurations allows for emerging technologies to easily integrate with existing infrastructure.
Multi-generational assurance for at least three sever processor microarchitecture generations.
More effective cooling and non-disruptive fabric upgrades with the no mid plane design - direct compute to I/O connections.
Simplified storage capacity expansion with the PowerEdge MX5016s which accommodates up to sixteen 2.5" hot-pluggable SAS drives that can be granularly assigned to servers.
Dell EMC offers complete end-to-end services
Optimizing the IT lifecycle is vital. We have expert services
*
for all lifecycle phases that save you time and resources, reduce effort, and improve your IT experience.

ProSupport Enterprise Suite
Gain the freedom to focus on your business transformation with the support expertise and insights Dell EMC is known for across the globe. Choose the right support based on the criticality of specific systems with available automated predictive analysis, collaborative third-party assistance and service account management.

ProDeploy
ProDeploy Enterprise Suite helps you get more out of technology starting on day one. Trust our experts to lead deployments from basic hardware installations through planning, configuration and complex integrations. Our complete suite of deployment services and professional certifications helps you achieve business outcomes today and tomorrow.

Training & Certification
Education Services offers an expansive suite of training services with multiple delivery methods, including instructor-led, self-paced online and virtual instructor-led training. With comprehensive and flexible training programs, we make it easy to ensure your staff has the skills they need to successfully manage and utilize your new technology to its full potential.

Consulting
Consulting services give expert guidance to help you grow, optimize and transform your IT environment at your own pace and budget. We employ a broad range of certified consultants and engineers, backed by program management teams, who can deliver deep technical expertise. We give you the confidence that your project will be done right and on time.
Drivers, Manuals & Support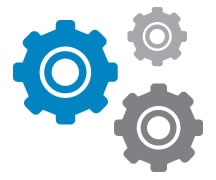 Dell Support
From drivers and manuals to diagnostic tools and replacement parts, Dell Product Support has you covered!
Compare Products
()
Add the products you would like to compare, and quickly determine which is best for your needs.
Add the products you would like to compare, and quickly determine which is best for your needs.