PowerEdge M630 Blade Server
Scalable, manageable, flexible.
Accelerate workloads with next-generation blade servers that offer greater memory bandwidth and double the SSD capacity of prior generations.
Scalable, manageable, flexible.
Accelerate workloads with next-generation blade servers that offer greater memory bandwidth and double the SSD capacity of prior generations.
Processor
Intel® Xeon® processor E5-2600 v4 product family. Internal interconnect Intel QuickPath Interconnect (QPI): 6.4 GT/s; 8.0 GT/s; 9.6 GT/s Cache 2.5MB per core; core options: 4, 6, 8, 10, 12, 16, 18, 22
Operating System
Microsoft® Windows Server® 2008 R2
Microsoft Windows Server 2012
Microsoft Windows Server 2012 R2
Microsoft® Windows Server® 2016
Novell® SUSE® Linux Enterprise Server
Red Hat® Enterprise Linux
VMware® ESX®
Chipset
Intel C610 series chipset
Memoryi
Up to 1.5TB (24 DIMM slots): 4GB/8GB/16GB/32GB/64GB DDR4 up to 2400MT/s
Storage
Hot-plug hard drive options: PowerEdge Express Flash NVMe PCIe SSD, SATA HDD/SSD or SAS HDD/SSD
4 x 1.8" SSD
2 x 2.5" PCIe SSD
Management
Systems management: IPMI 2.0 compliant;
Dell OpenManage Essentials;
Dell OpenManage Mobile;
Dell OpenManage Power Center
Remote management iDRAC8 with Lifecycle Controller,
iDRAC8 Express (default), iDRAC8 Enterprise (upgrade)
8GB vFlash media (upgrade), 16GB vFlash media (upgrade)
Dell OpenManage Integrations:
Dell OpenManage Integration Suite for Microsoft® System Center
Dell OpenManage Integration for VMware® vCenter™
Dell OpenManage Connections:
HP Operations Manager, IBM Tivoli® Netcool® and CA Network and Systems Management
Dell OpenManage Plug-in for Oracle® Database Manager
Chassis
Form factor: Half-height blade with up to 16 nodes in a M1000e chassis; up to 4 nodes in VRTX converged infrastructure
H:197.9 mm (7.8 in) x W:50.35 mm (2 in) x D:544.32 mm (21.4 in)
Features & Design
Easily scale your workload capacity
Deliver the compute power your demanding applications require with the flexible PowerEdge M630 blade server, a member of the 13th generation of PowerEdge servers. Designed for the PowerEdge M1000e blade server chassis and the PowerEdge VRTX modular infrastructure, the M630 offers exceptional scalability in environments ranging from IT as a service (XaaS) providers and private clouds to remote and branch offices.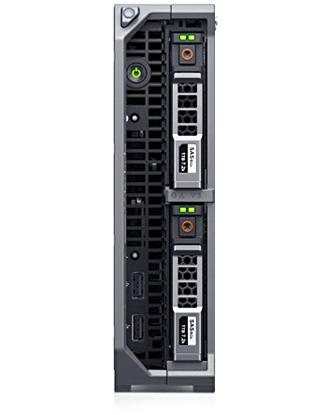 More cores for higher virtualization density: Deliver more, larger and higher-performing virtual machines with help from more cores (up to 44 with two processors) and up to 28 percent greater memory bandwidth than previous generations. The Intel® Xeon® processor E5-2600 v4 product family offers the processing cycles and threads to help increase virtualization performance.

Drive applications with more flash: Unleash the workload capacity of your modular compute nodes with up to four 1.8" SSDs of local storage — twice the number of flash drives per blade than previous generations.

Massive memory capacity: Meet your growing IT demands with ample room for memory expansion in the server's 24 DIMM slots. Extreme memory density and high-bandwidth DDR4 memory makes the M630 ideal for high-end research and development as well as high-performance computing (HPC). Versatile memory configurations support a wide range of virtualization options and budget requirements.
Tailor your blades to your business
The M630 provides the flexibility to optimize in-server storage and IO performance, allowing you to tailor your servers to your workloads today and adapt as your needs change over time.

Big IO boost for your applications: The optional 12Gb PowerEdge RAID Controller (PERC) offers double the throughput and cache of previous generations and can deliver a significant IO boost for applications. And with up to two Express Flash PCIe SSDs, the M630 can support even the most IOPs-hungry applications like business decision support or real-time data analytics.

In-server storage options: With a range of drive options to choose from, it's easy to configure your in-server storage to meet your needs. The M630 supports up to 4 x 1.8" SSDs or up to 2 x 2.5" HDDs or Express Flash PCIe SSDs.

Scalable, flexible networking: Enable rapid access to the storage resources your server or cloud requires — NAS or SAN — with Dell EMC Select Network Adapters. These modular NIC options offer your choice of fabric, speed and vendor, allowing you to pinpoint workload bandwidth requirements.
Simplify and automate your IT management tasks
Help reduce the cost and complexity of managing blade resources with embedded management and automation features designed to make your job easier.
| | | |
| --- | --- | --- |
|   | | Manage your blades as you like with the Dell EMC Chassis Management Controller (CMC) — the single, embedded interface for multi-chassis management included with Dell EMC modular infrastructure platforms. The powerful features of the CMC let you manage your M630 blades individually or collectively in groups, in one or multiple chassis, and in one or more locations in your network.  |
|   |   | Simplify administration of PowerEdge servers with the embedded intelligence of the integrated Dell EMC Remote Access Controller (iDRAC) with Lifecycle Controller and with the robust, timesaving management features of the entire Dell EMC OpenManage portfolio. |
|   |   | Agent-free management from iDRAC8 with Lifecycle Controller offers real-time monitoring for the server and internal storage devices. It monitors server health, internal parameters and system performance without requiring agents to be installed in the server operating system — agents which could require additional upkeep and consume valuable CPU time. |
|   |   | The Lifecycle Controller provides deployment, update and support automation on demand to maximize data center efficiency and can automatically inventory, monitor and update any new PowerEdge system added to the data center. It includes managed and persistent onboard storage that, when combined with its systems management capabilities, eliminates the need for traditional media-based system management tools and utilities. |
|   |   | Zero-touch automated deployment discovers and auto-configures Dell EMC servers by using configuration files stored in designated locations on an internal network, which can reduce setup time and manual entry errors. |
|   |   | Automated server updates synchronize servers to firmware baselines stored at designated locations on an internal network to simplify firmware updates. |
|   |   | The Tech Support Report, automatically maintained by iDRAC, is a continuously updated health and status report that monitors over 5,000 key system parameters and can help cut time needed to identify and resolve server issues. |
Accelerate IT service deployment
Streamline infrastructure provisioning, speed up workload deployment and simplify IT service delivery through the unified console and highly intuitive user interface of Active System Manager. Enhanced for the latest generation of PowerEdge servers, it features:


Template-based

server and IO configurations, identity management and service migration capabilities

Fast workload deployment

with an expanding out-of-box template library

Cloud enablement

with support for infrastructure as a service (IaaS) and platform as a service (PaaS), 

including Red Hat and VMware solutions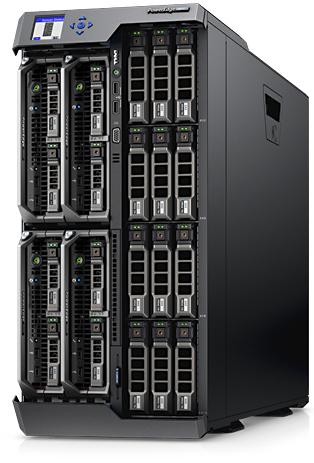 Enable the future-ready data center
With exceptional flexibility, reliability and efficiency, our latest-generation blade servers are ready to run business-critical applications in data centers yet to come.

Adapt with innovative solutions: Be ready for future IT demands with innovative solutions like in-server storage-caching technology that can help your servers access SAN-based media sources more rapidly, allowing you to quickly adapt to increasing demands for services like video and audio streaming.

Exceptional reliability: Support business-critical workloads with modular-chassis features such as hot-plug, redundant power and cooling, and with server features like redundant embedded hypervisors, fault-resilient memory and multiple RAID options.

Focused on efficiency: Consolidate your resources with blade and modular infrastructure solutions designed to save space, energy and cost. With efficient power supplies and fans, enhanced power management features and Fresh Air 2.0 configurations, Dell EMC modular infrastructure solutions can help reduce your hardware footprint and lower your total cost of ownership.
Dell Solutions
Transform your data center. We can help.
When you buy a Dell server, you get more than just hardware. You get access to IT solutions end to end. From the onboard iDRAC with Lifecycle Controller in each server — to a huge array of complementary technologies, software, and services — we help you develop data center solutions that advance the goals of your business or organization, for now, and for the future.Among an array of innovative technologies, you'll find state-of-the-art solutions for systems management, storage, networking and so much more.
State-of-the-art systems management
You can improve the performance, productivity and availability of your data center resources with our cutting edge portfolio of systems management solutions. Get anytime anywhere mobile access to your hardware, agent-free embedded management, extensive automation, and connections to third-party management solutions you may already use.
Innovative storage solutions
Improve security and performance while you store more data on less hardware across your data center. Our storage server portfolio brings you technologies like our industry-leading deduplication and compression algorithms, our patented high-performance Dell Fluid File System (FluidFS), and advanced, intelligent autotiering.
Future-ready networking
You can optimize and modernize your network infrastructure, and evolve beyond proprietary architectures with our open, standards-based networking solutions, and ready paths to software defined networking (SDN). We've been delivering high-performance, reliable networking solutions for over a decade, and today we power some of the world's most demanding enterprise and Cloud/Web 2.0 environments.
And so much more
Servers, storage and networking solutions are just the tip of the iceberg of technologies we can help you develop, manage and optimize. When you visit our solutions pages, you'll find insights and resources for the following technologies, and many more:
Cloud Computing
Converged Infrastructure
Systems Management
High Performance Computing
Mobile/BYOD Solutions
Networking

Power and Cooling
Security
Storage
Virtualization
Software
And more …
Visit our Solutions site for details, or talk to a Dell expert for one-on-one expertise.
Dell EMC offers complete end-to-end services
Optimizing the IT lifecycle is vital. We have expert services
*
for all lifecycle phases that save you time and resources, reduce effort, and improve your IT experience.

ProSupport Enterprise Suite
Gain the freedom to focus on your business transformation with the support expertise and insights Dell EMC is known for across the globe. Choose the right support based on the criticality of specific systems with available automated predictive analysis, collaborative third-party assistance and service account management.

ProDeploy
ProDeploy Enterprise Suite helps you get more out of technology starting on day one. Trust our experts to lead deployments from basic hardware installations through planning, configuration and complex integrations. Our complete suite of deployment services and professional certifications helps you achieve business outcomes today and tomorrow.

Training & Certification
Education Services offers an expansive suite of training services with multiple delivery methods, including instructor-led, self-paced online and virtual instructor-led training. With comprehensive and flexible training programs, we make it easy to ensure your staff has the skills they need to successfully manage and utilize your new technology to its full potential.

Consulting
Consulting services give expert guidance to help you grow, optimize and transform your IT environment at your own pace and budget. We employ a broad range of certified consultants and engineers, backed by program management teams, who can deliver deep technical expertise. We give you the confidence that your project will be done right and on time.
Drivers, Manuals & Support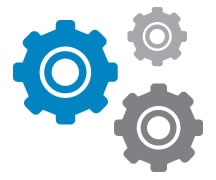 Dell Support
From drivers and manuals to diagnostic tools and replacement parts, Dell Product Support has you covered!
Add the products you would like to compare, and quickly determine which is best for your needs.
Add the products you would like to compare, and quickly determine which is best for your needs.