PowerEdge T330 Tower Server
Sorry, this item is not available anymore for purchase online. Please see our recommended replacement product.
Processor
1 processor from the following product families:
Intel® Xeon® processor E3-1200 v6 product family
Intel Pentium®
Intel Core i3®
Intel Celeron®
Operating System
Microsoft® Windows Server® 2012
Microsoft Windows Server 2012 R2, x64
Microsoft® Windows Server® 2016
Red Hat® Enterprise Linux®
VMware vSphere® ESXi®
SUSE® Linux Enterprise Server®
Memoryi
Architecture: Up to 2400MT/s DDR4 DIMMs
Memory Type: UDIMMs
Memory Module Sockets: 4
Maximum RAM: Up to 64GB
Storage
2.5" SATA 7.2K
2.5" SATA SSD's
2.5" nearline SAS 7.2K
2.5" SAS 10K HDDs
2.5" SAS 15K HDDs
3.5" Enterprise SATA 7.2K HDDs
3.5" nearline SAS 7.2K HDDs
Management
Systems management:
IPMI 2.0 compliant
Dell OpenManage Essentials
Dell OpenManage Mobile
Dell OpenManage Power Center

Dell OpenManage Integrations:
Dell OpenManage Integration Suite for Microsoft System Center
Dell OpenManage Integration for VMware vCenter®

Dell OpenManage Connections:
HP Operations Manager
IBM Tivoli® Netcool®
CA Network and Systems Management
Dell OpenManage Plug-in for Oracle® Database Manager

Remote management:
iDRAC8 with Lifecycle Controller
iDRAC8 Express (default)
iDRAC8 Enterprise (upgrade)
8GB vFlash media (upgrade)
16GB vFlash media (upgrade)
Slots
4 slots:
1x8 PCIe 3.0 (x16 connector)
1x4 PCIe 3.0 (x8 connector)
1x4 PCIe 3.0 (x8 connector)
1x1 PCIe 3.0 (x1 connector)
Chassis
Dimensions & Weight
Height: chassis base height - 430.3 mm/17.04 in
With foot - 443.3 mm/17.45 in
With wheel - 471.3 mm/18.55 in

Width: chassis base width - 218 mm/8.58 in
With foot - 304.5 mm/11.98 in

Depth: front to rear wall (w/o bezel) - 542.2 mm/21.33 in
front to PSU handle (w/o bezel) - 578.42 mm/22.77 in
front to rear wall (with bezel) - 558.6 mm/21.99 in
front to PSU handle (with bezel) - 594.82 mm/23.41 in
Features & Design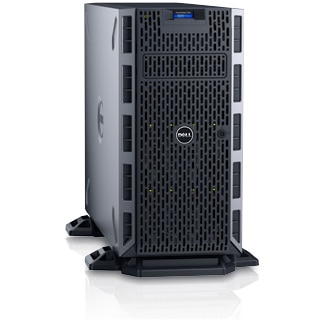 Accelerate application performance
Accelerate application performance while providing room for future growth with the latest Intel® processors, DDR4 memory and PCIe Gen3 I/O.
Drive greater memory performance with 4 x DIMM slots and enhanced DDR4 memory offering 50% faster clock speed than previous-generation DDR3 which is 12.5% faster than the initial 2133 MT/s implementation of DDR4.*
Boost data throughput with 4 x PCIe Gen 3.0 slots driving 2x data throughput compared to Generation 2.0.
Drive 2x IOPS performance with the PowerEdge PERC9 RAID Controller, compared to previous-generation PowerEdge T320 equipped with PERC8.*
Ensure fast response times with the latest quad core Intel® Xeon® E3-1200 v6 product family, as well as flexible dual core processor options including Intel Pentium®, Intel Core i3®, or Intel Celeron®.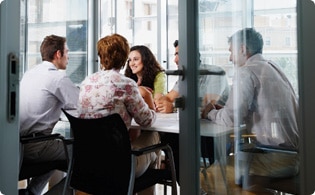 Discover greater versatility
Grow data storage at your own pace with up to 8 x internal 3.5" hot-plug hard drives.
Expand memory capacity as you grow, with support for up to 64GB total memory footprint.
Easily and flexibly attach peripheral devices with eight external USB ports.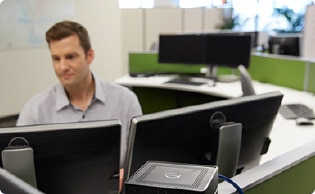 Reliable, worry-free operation
Deploy rapidly and turn the server over for productive work sooner with Dell OpenManage systems management solutions.
Easily monitor system health and behavior with the simple, intuitive Dell OpenManage Essentials console.
Save IT administrator time by automating firmware updates — up to 92% reduction in firmware update time using Repository Manager auto-updates compared to manual updates.*
Dell Solutions

Transform your IT. We can help.

When you buy a Dell server, you get more than just hardware. You get access to IT solutions end to end. From the onboard iDRAC with Lifecycle Controller in each server — to a huge array of complementary technologies, software, and services — we help you develop data center solutions that advance the goals of your business or organization, for now, and for the future. Among an array of innovative technologies, you'll find state-of-the-art solutions for systems management, storage, networking and so much more.

State-of-the-art systems management

You can improve the performance, productivity and availability of your data center resources with our cutting edge portfolio of systems management solutions. Get anytime anywhere mobile access to your hardware, agent-free embedded management, extensive automation, and connections to third-party management solutions you may already use.

Innovative storage solutions

Improve security and performance while you store more data on less hardware. Our storage server portfolio brings you technologies like our industry-leading deduplication and compression algorithms, our patented high-performance Dell Fluid File System (FluidFS), and advanced, intelligent autotiering.

Future-ready networking

You can optimize and modernize your network infrastructure, and evolve beyond proprietary architectures with our open, standards-based networking solutions, and ready paths to software defined networking (SDN). We've been delivering high-performance, reliable networking solutions for over a decade, and today we power some of the world's most demanding enterprise and Cloud/Web 2.0 environments.

And so much more

Servers, storage and networking solutions are just the tip of the iceberg of technologies we can help you develop, manage and optimize. When you visit our solutions pages, you'll find insights and resources for a wide range of platforms and solutions.

Visit our Solutions site for details, or talk to a Dell expert for one-on-one expertise.
Dell EMC offers complete end-to-end services
Optimizing the IT lifecycle is vital. We have expert services
*
for all lifecycle phases that save you time and resources, reduce effort, and improve your IT experience.

ProSupport Enterprise Suite
Gain the freedom to focus on your business transformation with the support expertise and insights Dell EMC is known for across the globe. Choose the right support based on the criticality of specific systems with available automated predictive analysis, collaborative third-party assistance and service account management.

ProDeploy
ProDeploy Enterprise Suite helps you get more out of technology starting on day one. Trust our experts to lead deployments from basic hardware installations through planning, configuration and complex integrations. Our complete suite of deployment services and professional certifications helps you achieve business outcomes today and tomorrow.

Training & Certification
Education Services offers an expansive suite of training services with multiple delivery methods, including instructor-led, self-paced online and virtual instructor-led training. With comprehensive and flexible training programs, we make it easy to ensure your staff has the skills they need to successfully manage and utilize your new technology to its full potential.

Consulting
Consulting services give expert guidance to help you grow, optimize and transform your IT environment at your own pace and budget. We employ a broad range of certified consultants and engineers, backed by program management teams, who can deliver deep technical expertise. We give you the confidence that your project will be done right and on time.
Drivers, Manuals & Support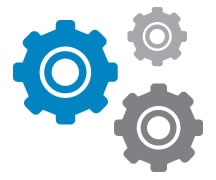 Dell Support
From drivers and manuals to diagnostic tools and replacement parts, Dell Product Support has you covered!
Add the products you would like to compare, and quickly determine which is best for your needs.
Add the products you would like to compare, and quickly determine which is best for your needs.