Dell EMC SC All-Flash Storage Arrays
Welcome to a better flash architecture
Smart AFA choice for modern workloads provides self-optimizing performance, federated scale and mobility, all-inclusive software value
Welcome to a better flash architecture
Smart AFA choice for modern workloads provides self-optimizing performance, federated scale and mobility, all-inclusive software value
Data Mobility and Migration
Replication
Replicates with other SC Series arraysi
Synchronous/Asynchronous via FC or iSCSI
Per-volume QoS bandwidth prioritization
Target/source relationships may be one-to-many or many-to-one
Supports all SC data services on source and target volumes
Change replication types and topologies on demand
Supports cross-platform replication with PS Series/EqualLogic arrays (either direction)

Volume mobility
Live Migrate (included in base product) enables host-transparent data movement among arrays; see also Federation section

Federated multi-array systems
Live Migrate (included in base product) enables host-transparent movement of volumes among arrays
Snapshots maintained/preserved during migration

Thin Import
Space-efficient, non-disruptive data migration from PS Series (EqualLogic) and MD3 arrays

Thin Clones
Clone standalone volumes with zero duplication of data
Clones maintain independent snapshots and replication
Ideal for VDI, test/dev, other applications that require discrete instances of common data
More efficient than dedupe for database copies
Data Optimization
Auto-tiering method
Policy-based migration based on real-time data usage, customizable 512KB-4MB page size.

Auto-tiering structure
Up to 2 SSD tiers (write- and read-intensive SSDs)

Tiering customizations
User-defined profiles, option to "pin" volumes to any tier

RAID support
RAID 0, 1, 5, 6, RAID 10, and RAID 10 DM (Dual Mirror); any combination of RAID levels can exist on a single array

RAID tiering
Auto-provisions and dynamically restripes multiple RAID levels on the same tier; no need to pre-allocate RAID groups
 
Thin provisioning
Active by default on all volumes, operates at full performance across all features
 
Thin snapshots
Records changes only, snapshots auto-migrate to lower-cost storage
 
Intelligent deduplication and compression
Selectable option per volume
Compression-only option also available
Environmental Operating Conditions
Operating temperature: 50 - 95°F (10 - 35°C)
Non-operating temperature: -40 - 149°F (-40 - 65°C)
Operating humidity ranges (non-condensing): 10% to 80% with 29°C (84.2°F) maximum dew point
Non-operating humidity (non-condensing): 5% to 95% with 33°C (91°F) maximum dew point
Inlet type: NEMA 5-15/CS22.2, n°42
Expansion Capacity
Supported expansion enclosures
Dell EMC SC420F: 24 x 2.5" drive bays (12Gb SAS)

Maximum drive count
SC7020F: 606 drives per array, more in federated systemsi
SC5020F: 222 per array (with optional expansion enclosures), more in federated systemsi

Max raw capacity
SC7020F: 4PB per array, more in federated systemsi
SC5020F: 2.16PB per array, more in federated systemsi

Storage media
SSD: write-intensive and read-intensive drives (can be mixed in single system), SED SSDs
Functional
Array configurations
All-flash arrays only

Storage format
Block (SAN)i

Max SAN hosts: 500

Max initiator ports: 1000

Max LUN size: 500TB

Max number of LUNs: 2000

Max number of snapshots:
SC7020F: 16,384
SC5020F: 8,192

Max IOPS:i
SC7020F: 1,200,000
SC5020F: 1,025,000

Max IOPS (with latency less than 1ms):i
SC7020F: 1,050,000
SC5020F: 818,000

Max IOPS:i
(80% reads, 20% writes)
SC7020F: 346,000
SC5020F: 330,000

Max throughput (reads):i
SC7020F: 29,000 MB/s
SC5020F: 19,000 MB/s

Max throughput (writes):i
SC7020F: 14,000 MB/s
SC5020F: 9,500 MB/s
Management
Management interface
Browser-based (HTML 5):
Unisphere for SC (element manager)
Unisphere Central (multi-array management)
CloudIQ (cloud-based analytics and monitoring):
Client application:
Dell Storage Manager (multi-array, multi-site, cross-platform management)

Federation
Create large multi-array systems under unified management, with seamless workload migration between arrays via included Live Migrate feature. Add like or unlike arrays non-disruptively, efficiently utilizing their combined capacity and performance. Volume Advisor monitors federated arrays to suggest optimal data placement and load balancing. Volume movement does not impact snapshots or replication data protection.i

Scripting support
Microsoft PowerShell API
RESTful API

Host OS support
Microsoft® Windows Server®, Oracle® Solaris, HP®-UX, Oracle Linux, IBM® AIX®, Novell® NetWare, SLES, Apple, HPTru64, VMware®, Citrix® XenServer®, RedHat®

Third-party application integration
VMware, Oracle, Microsoft, IBM, OpenStack™, Symantec™, Commvault®, Veeam®, Docker™ -- see SC Series Management spec sheet for more details

Coexistence with PS Series arrays
Replication in either direction
Day-to-day management from a single interface
Thin import: space-efficient, non-disruptive data migration from PS Series arrays

Certifications
VMware vSphere Metro Storage Cluster, VMware SRM, Veritas Storage Foundations Suite, IBM VIOS Recognized, Oracle Validated Infrastructure (OVI); see Dell Storage Support Matrix for additional certifications and details

Reporting/alerts
Support assist (phone home), remote diagnostics and performance monitoring, automated alerts, reports and notifications, departmental chargeback

Firmware updates
Online, non-disruptive.i Firmware may be set to download automatically, with option to trigger installation manually if desired.

Workload management
QoS, VVOLs
Physical
Rack size: 3U
Height: 13.33 cm (5.25 inches)
Width: 44.5 cm (17.52 inches)
Depth: 78.5 cm (30.9 inches)
Weight at maximum configuration: 24.22 kg (53.4 lb)
Weight empty: 15.15 kg (33.4 lb)
Network and Expansion I/O
Front-end-network protocols
FC, iSCSI (supports simultaneous multiprotocol)

Max 32Gb FC ports
SC7020F: 24 per array (SFP+)
SC5020F: 8 per array (SFP+)

Max 8/16Gb FC ports
SC7020F: 24 per array (SFP+)
SC5020F: 8 per array (SFP+)

Max 100Gb iSCSI ports
SC7020F: 16 QSFP28 per array
SC5020F: 8 QSFP28 ports per array

Max 25Gb iSCSI ports
SC7020F: 16 SFP28 per array
SC5020F: 8 SFP28 ports per array

Max 10Gb iSCSI ports
SC7020F: 32 SFP+ (10Gb) or BaseT ports per array
SC5020F: 16 SFP+ (10Gb) or BaseT ports per array

Management ports
2 per array (1Gb BASE-T)

Back-end expansion protocols
12Gb SAS

Max back-end expansion ports
SC7020: 24 per array
SC5020: 8 per array
Up to 16 expansion enclosures per array
Power
Power/wattage:
SC7020F: 2 hot-swappable 1485W power supplies
SC5020F: 2 hot-swappable power supplies (1378W or 1485W options available, wattage type not interchangeable after point of sale)

Maximum output power:
SC7020F: 1485 W
SC5020F: 1378 W (1378W supply option) or 1485 W (1485W supply option)

Maximum input power:
SC7020F: 1688 W
SC5020F: 1584 W (1378W supply option) or 1688 W (1485W supply option)

Maximum input current:
SC7020F: 8.8 A
SC5020F: 16 A (1378W supply option) or 8.8 A (1485W supply option)

Maximum inrush current:
55A for 10 ms or less

Nominal input voltage operating range:
SC7020F: 200-240 VAC
SC5020F: 100-240 VAC (1378W supply option) or 200-240 VAC (1485W supply option)

Nominal input frequency: 50/60 Hz

Maximum thermal output/heat dissipation:
SC7020F: 5,760 BTU per hour
SC5020F: 5,770 BTU per hour (1378W supply option) or 5,760 BTU per hour (1485W supply option)
Features & Design

Welcome to a better flash architecture
Bring the power and speed of Dell EMC all-flash storage to bear on your toughest business challenges. Whether your goals include general-purpose workload consolidation, a new VDI deployment, high-volume OLTP systems or an all-flash private cloud, SC All-Flash storage delivers modern SSD performance with simplicity, flexibility and value. Why compromise with less complete solutions? These arrays have everything you need to get started with all-flash faster – and see all-flash results sooner.

Transformational performance
End-to-end flash helps you do things you thought were impossible, taking your business to new levels of productivity and success. Active/active, performance-centric design keeps IOPS high as you scale up and out, while ensuring every storage dollar spent is targeted directly on application acceleration.

Dynamic intelligence
Purpose-built to adapt to constant change and growth, SC All-Flash powers workloads even as environments evolve unpredictably. The days of saying "no" to business opportunity because of rigid storage infrastructures are over. You now have unprecedented flexibility to test new ideas and shift strategies on the fly.

Efficiency and value
Automate cost savings with innovative self-optimization features, including Intelligent Deduplication and Compression. Pervasive "thin methods" and intuitive management tools maximize resources – and best of all, every advanced SC software feature is enabled by default. No extra licenses to buy or maintain!

Federate the performance and capacity of up to 10 arrays
Built-in "storage hypervisor" lets you move workloads seamlessly between arrays, making storage changes without impacting hosts. The enterprise-proven SC Operating System automates and manages time-consuming, error-prone management tasks, including server/LUN mappings and RAID provisioning. Increase both deployment velocity and configuration agility to help your business compete in today's volatile markets.

Easy migrations
Data mobility within a federation is fast and transparent to hosts. Need to move a volume to another array? Live Migrate makes it click-simple, keeping workloads online and preserving snapshot and replication relationships throughout the move.

Load balancing wizards
Included Volume Advisor even offers ongoing load balancing guidance, suggesting the best initial data locations, then alerting you with optimization recommendations as time goes by.

Always available storage
Included Live Volume also keeps workloads running during unexpected outages and disasters. Non-disruptive auto-failover between synchronized volumes on local and remote arrays protects your vital business operations.
All-Flash value – everything's included!
Exclusively with SC All-Flash, every advanced feature in the SC Series line-up is enabled at no extra cost, making this the most value-intensive, future-proof SC product ever.
All features are licensed to the full capacity of the array.
You get:
Intelligent Deduplication & Compression
Live Migrate federation
Live Volume auto-failover
Volume Advisor
Data Progression
RAID tiering
Dynamic Controllers
Dynamic Capacity
Thin snapshots
Thin clones
Replication (single-hop, multi-hop, 1-to-many)
Remote Instant Replay (sync/async replication across IP networks)
Multi-protocol networks
Native application recovery tools
Unisphere for SC, Unisphere Central HTML Web UI

CloudIQ web-based analytics and monitoring

Dell Storage Manager client app interface
Self-encrypting drive support (SEDs)
Integration with PS Series (EqualLogic™) arrays
Chargeback
Multi-VLAN tagging
QoS
VVOLs support
More…

Trusted, enterprise-class solution
And of course SC All-Flash is backed by the #1 market leader in all-flash arrays, and the #1 leader in storage overall
*
. Dell EMC products are ubiquitous in data centers around the world -- and you get the benefit of all that technology and business expertise!
World-class services options – Choose from a range of comprehensive deployment and support options, including ProSupport, ProDeploy, and new Optimize Services
Dell EMC hardware/software support – SC All-Flash supports popular Dell EMC products including PowerPath, ViPR, VPLEX, RecoverPoint, Connectrix, Data Domain and more
Broad 3rd-party integration – VMware, Microsoft, Oracle, OpenStack and more. Dell EMC has deep relationships with the ecosystem and application leaders that matter to you

Future-Proof Program
Unrivaled buying assurance programs includes 3-Year Satisfaction Guarantee, 2:1 Data Reduction Guarantee, Never-Worry Data Migration, Tech Refresh & Recycle, and All-Inclusive Software offers.
See Future-Proof details
Powerful platform options
Take the inside track to great storage with two SC All-Flash array model options – and an interchangeable expansion enclosure that can be used with either array.

SC7020F array
(4) 8-core Intel processors per array
(30) 2.5" drive slots, 3U chassis
606 drive max expansion
6 PCIe slots (3 per controller)
100/25/10Gb iSCSI and/or 32/16Gb FC
16,000 snapshots
29,000MB/sec front-end bandwidth
Supports intermixed SSD formats
All premium software features included

SC5020F array
(2) 8-core Intel processors per array
(30) 2.5" drive slots, 3U chassis
222 drive max expansion
2 PCIe network slots (1 per controller)
100/25/10Gb iSCSI and/or 32/16Gb FC
8,192 snapshots
19,000MB/sec front-end bandwidth
Supports intermixed SSD formats
All premium software features included

SC420F expansion enclosure
(24) 2.5" drive slots
2U chassis
Supports multiple intermixed SSD formats
12GB SAS back-end
Non-disruptive expansion, workloads remain online
Dell EMC offers complete end-to-end services
Optimizing the IT lifecycle is vital. Dell EMC has expert services
*
for all lifecycle phases that save you time and resources, reduce effort, and improve your IT experience.

ProSupport Enterprise Suite
Gain the freedom to focus on your business transformation with the support expertise and insights Dell EMC is known for across the globe. Choose the right support based on the criticality of specific systems with available automated predictive analysis, collaborative third-party assistance and service account management.

ProDeploy
ProDeploy Enterprise Suite helps you get more out of technology starting on day one. Trust Dell EMC experts to lead deployments from basic hardware installations through planning, configuration and complex integrations. Our complete suite of deployment services and professional certifications helps you achieve business outcomes today and tomorrow.

Training
Education Services offers an expansive suite of training services with multiple delivery methods, including instructor-led, self-paced online and virtual instructor-led training. With comprehensive and flexible training programs, we make it easy to ensure your staff has the skills they need to successfully manage and utilize your new technology to its full potential.

Consulting
Consulting services give expert guidance to help you grow, optimize and transform your IT environment at your own pace and budget. We employ a broad range of certified consultants and engineers, backed by program management teams, who can deliver deep technical expertise. We give you the confidence that your project will be done right and on time.
Drivers, Manuals & Support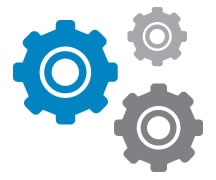 Dell Support
From drivers and manuals to diagnostic tools and replacement parts, Dell Product Support has you covered!
Add the products you would like to compare, and quickly determine which is best for your needs.
Add the products you would like to compare, and quickly determine which is best for your needs.