Alienware Area-51 Gaming Desktop
Forget everything you know.
Innovative, iconic design. Intel® Core™ i7 X-Series processors. Incredible configuration options. It's what powerful gaming should look like.
Forget everything you know.
Innovative, iconic design. Intel® Core™ i7 X-Series processors. Incredible configuration options. It's what powerful gaming should look like.
Features and Design
Operating System
With Windows 10 Home – Break down boundaries and immerse yourself in the game with graphics more realistic than ever before thanks to the multi-thread scaling capabilities of the new API DirectX 12.

VR Ready with a Vive-Optimized PC.
With a VR-ready Alienware PC, you can be the first to experience the future of gaming. Partnering with HTC, Alienware provides a range of systems to bring you most immersive VR experience imaginable. The Alienware Vive-Optimized desktops are unmatched in performance, featuring Intel® processors, and NVIDIA or AMD graphics options.
A legacy of excellence takes shape.
You demand the best systems on Earth. Since our inception, Alienware has strived to deliver incredible gaming performance without sacrifice.

You've never seen anything like the Alienware Area-51. It's more than an iconic design. It's a perfect convergence of power and beautiful design. We reimagined this system from the inside out, and built it without compromises. It's an engineering marvel and a completely new experience that performs true to our legacy of excellence.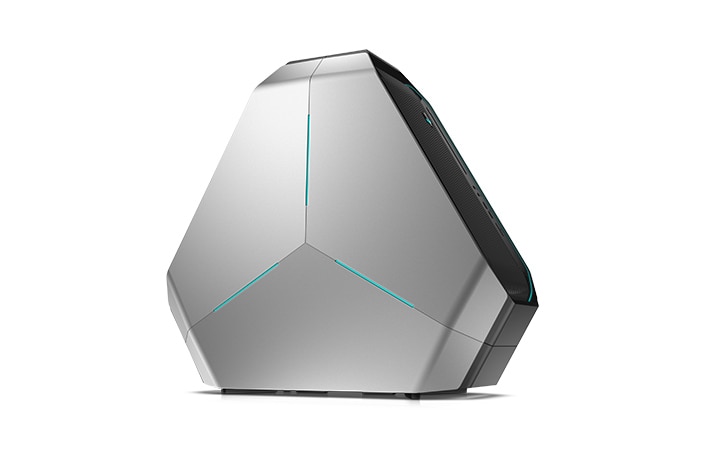 Alienware Area-51 (2014)
We spent years designing and refining to create a superior chassis that will change the way you see and use PCs from now on. It's an innovative system designed with purpose and tuned for ultimate performance.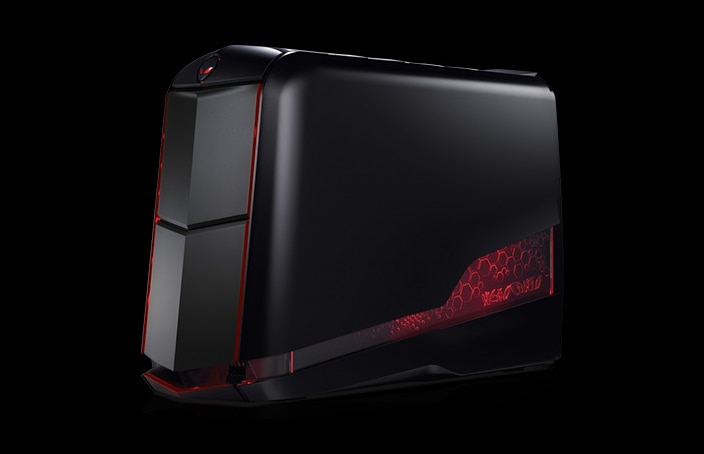 Alienware Aurora (2011)
Groundbreaking, innovative design with tool-less hard drive bays, internal theater lighting, up to 6-core processors and CPU liquid cooling.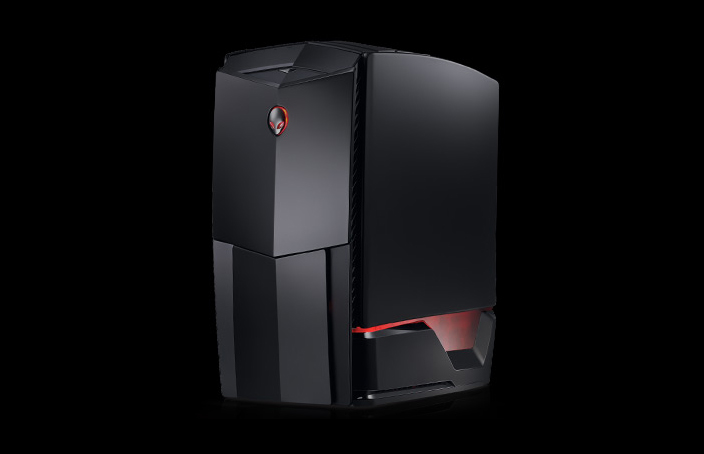 Alienware Phobos (2009)
Alienware Phobos (2009): Dell's first Area-51 introduced Active Venting, Command Center, Thermal Controls, tool-less and cable-free drive cages, motorized door and compartmentalized components.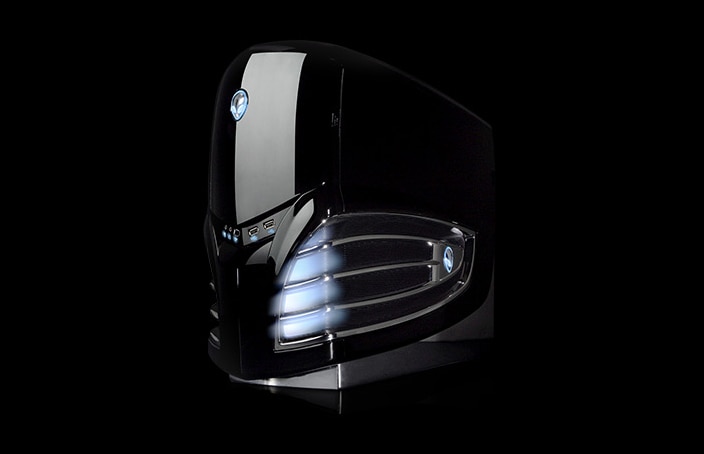 Alienware P2 (2006)
Alienware P2 (2006): The first to include 100% exclusive ID, advanced liquid cooling and the now legendary AlienFX.
Triad chassis. Intelligent design.

Get inside.
The Area-51's three corners are built to support 5 times the system's weight. Pivot the system towards you and gain easy access to the rear ports when connecting or disconnecting cables. There is even a button on the back of the chassis that turns on the rear accessibility lighting to reduce the need of having to use a flashlight.

Carry on.
Transport your ultimate gaming rig anywhere. The rugged handles make the Area-51 more natural to carry. The shape and internal component layout are designed to have a low center of gravity to avoid the system from tipping when being lifted.

Easy access.
The angular shape is designed to have all the I/O ports facing you directly, making connecting a USB device, headphones, or even a media card reader easier than on a traditional rectangular chassis design.

Designed to keep cool.
Internal fans blow fresh ambient air, quietly and directly, onto the graphics cards and the internal cable management enables maximum airflow – satisfying your system's hunger for cooler air and keeping it performing at its peak. The angled design also provides a large space for hot air to escape where a traditional, rectangular chassis only leaves a small space between it and the wall.

Behold the jaw-dropping power of 12K.
The Area-51 is not only perfect for serious gamers, it's also the platform of choice for developers and programmers who demand concurring gaming workloads at the highest 4K resolution. It's not just the highest-performance gaming experience – it's a breathtaking display you can lose yourself in.

Maximum multitasking.
Designed to support up to three full-length double-wide graphics cards, or quad GPU configurations (available soon), managing multiple tasks at once has never been easier. Flawless concurrent execution of data-intensive workloads lets you spend more time creating and less time waiting. You can also play your favorite games in 4k while broadcasting live HD streams around the world on Twitch.

Processing powerhouse.
Liquid-cooled & overclocked: The Alienware Area-51 ushers in a new era of performance with Windows 10 and up to 10-core Intel® Core™ i7 Extreme processor options that come factory overclocked and made possible with the new Intel® X99 Express chipset and 2133Mhz DDR4 memory — up to 64GB in quad channel. Do insane, intensive multitasking like rendering video or extreme performance 4K gaming at your leisure.

Get deeper: Unprecedented power make the Area-51 the ideal platform for today's most graphic intensive, hyper-immersive gaming experiences, including premium VR.

Unrivaled PC gaming: Take your gaming performance to the next level with overclockable CPU cores and Turbo Max 3.0 for amazing, single-threaded gameplay.

A full studio in your PC: Whether you're creating new music, developing games or designing models for a 3D printer, the Area-51 lets you easily edit and render high resolution 4k and VR video and effects.
Ridiculously awesome – inside and out.

Incredible power.
Optional 1.5KW power supply and modular cabling will ensure revved-up performance that is both highly efficient and reliably impressive.

Big storage. Pure speed.
The storage bays support up to five drives of either SSD or HDD. Enjoy the pure speed of solid state and the big storage of hard drives – allowing for quick boot and massive archiving capabilities.

Connect with confidence.
The Ethernet assembly has been built by Killer™ Technology. It prioritizes streaming video and gaming packets for the smoothest possible performance when you need it most. Plus, it comes fully equipped with 802.11ac – the latest wireless protocol.

Experience the full spectrum.
AlienFX uses 20 different colors to create 512 billion unique themes to give your machine a more personalized look. Supported on over 130 titles, lighting zones can be customized to react to things like in game actions, powering on and off, and notifications by pulsing, morphing or simply holding a solid color. Once you've finished your theme, you can save and upload it to where you can share your custom creation with others and download any you find. And for times when you want a little less visual stimulation, AlienFX allows you to "Go Dark" by disabling all lighting effects until you're ready to turn them back on.

The best Windows ever for gaming is here.
Purchase your system today, upgrade for free, and experience PC gaming at its best with Windows 10 Home.

DirectX 12 -
Break down boundaries and step into your game with graphics more stunning than ever before with the new DirectX 12 technology. Windows 10's API is armed with new features that will provide quicker processing in real time to generate higher FPS and richer graphics as well as reduced power consumption to play longer.
Expand your community -
Xbox app lets you see what your friends are playing now, chat with your community, and track your scores and achievements. Plus, Game DVR
*
lets you record your best hero moves for sharing with friends.
Play more games -
The greatest Xbox games are now at your fingertips, and you will get built-in support for the Xbox controller
*
and even stream Xbox One games to a Windows 10 Home PC, laptop, or tablet anywhere in your home. Even the cross-device barriers are down – start a game on your PC and move to your Xbox to continue playing.
Start menu - Back and improved.
You will be an expert from the get-go since your windows Start menu is back in an expanded form. Plus, all your pinned applications will carry over so your experience is familiar, productive and better than ever.
The speed you need -
Windows 10 Home starts up and resumes fast so there's no buffer between you and your game. Even your updates reach you as soon as they are available so you always have the latest and greatest features.
Alienware Command Center 4.0
AlienFX: Customize your lighting experience with AlienFX across nine independent programmable lighting zones, and with over 20 colors to choose you can create up to 512 trillion color combos.

AlienAdrenaline: The new Alien Adrenaline performance monitoring app lets you view detailed graphs that tell you real-time details about the CPU, memory, graphics card, and network adapter.

Overclocking controls: Manually tinker with the settings of your CPU to raise performance even beyond the stock settings.

Manual DRAM adjustments: Optimize your memory for maximum performance and ensure that your system runs at peak power for extreme gaming.

Overclocking Profile: Break your limits and make the rules with extreme memory settings that can go way beyond standard specifications. Enhance your gaming features and squeeze as much power as possible.

Thermal Controls: Alienware's Thermal Controls allow you to control the thermal and venting behavior of your Area-51. You can also create and save multiple thermal and venting profiles for different usage scenarios.

Ports and Slots.
1. Hi-Speed USB 2.0 | 2. SuperSpeed USB 3.0 | 3. RJ-45 Gigabit Ethernet | 4 . Power Connector | 5. Security Cable Slot and Latch | 6. Rear I/O Porch-light Button | 7. Optical S/PDIF Connector | 8. Coaxial S/PDIF Connector | 9 . Front L/R Speakers | 10. Surround L/R Port | 11. Center/Subwoofer LFE Port | 12. PCI-Express X16 (Graphics) Slot 1 | 13. PCI-Express X1 Slot | 14. PCI-Express X16 (Graphics) Slot 2 | 15. PCI-Express X4 | 16. PCI-Express X16 (Graphics) Slot 3 | 17. Slot-Loading Optical Drive| 18. Headphone Port | 19. Microphone Port | 20. SuperSpeed USB 3.0 Ports | 21. Media Card Reader

Dimensions and Weights
Height: 569.25mm (22.411") | Depth: 638.96mm (25.156") | Width: 272.71mm (10.736") | Starting at Weight: 28 Kg. (61.73lbs)
*

Essential accessories for your Alienware Area-51
Complete your Alienware purchase with extra Steam Wallet Cards, gaming headsets, a wireless touch keyboard and more. Look for these great products and more at checkout.

Alienware 25 Gaming Monitor - AW2518H
Enjoy unrivaled gameplay in a 25" monitor with the Alienware iconic design featuring a 240Hz refresh rate, 1ms response time, NVIDIA® G-sync™ technology, and custom AlienFX™ lighting.

Alienware Elite Gaming Mouse - AW958
Experience great gaming with an all-purpose Gaming Mouse with AlienFX™ lighting (RGB) featuring 12000 DPI, 13 programmable buttons, and the striking Alienware design.

Alienware Pro Gaming Keyboard - AW 768
Improve your gaming ability with a mechanical gaming keyboard featuring brown switches, 15 programmable macro key functions, on board memory and a zone-based RGB backlight with AlienFX™ technology.

Dell 27 Monitor - S2716DG
Immerse yourself in stunning edge-to-edge gameplay with this 27"monitor for serious gamers.

TOBII EYE TRACKER 4C
The Tobii Eye Tracker 4C is the only PC gaming device to provide simultaneous head and eye tracking functionality, adding a hugely immersive experience in simulator games.​


All of the support. None of the hassle.


Premium Support
Get 24x7 support with everything from setting up your new system to using everyday software.
*
With new features like SupportAssist, our experts will actually contact you if they detect an issue.
*
And if we can solve your issues remotely, we'll send a technician to your location. It's the hassle-free help you deserve.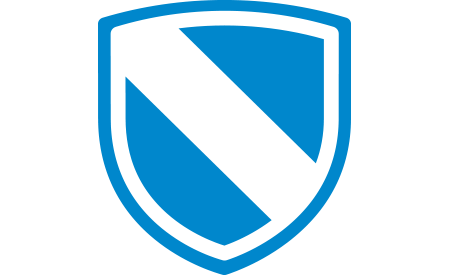 Accidental Damage Protection
Minimize the unplanned expenses and downtime by protecting you against unforeseen mishaps caused by drops, spills, surges and breaks.
*


Drivers, Manuals & Support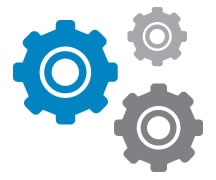 Dell Support
From drivers and manuals to diagnostic tools and replacement parts, Dell Product Support has you covered!
Add the products you would like to compare, and quickly determine which is best for your needs.
Add the products you would like to compare, and quickly determine which is best for your needs.