EqualLogic PS6210 Series Arrays
Power, simplicity and versatility.
New-generation Dell Storage PS Series arrays streamline storage management and improve and simplify performance for lasting value.
Power, simplicity and versatility.
New-generation Dell Storage PS Series arrays streamline storage management and improve and simplify performance for lasting value.
Features and Design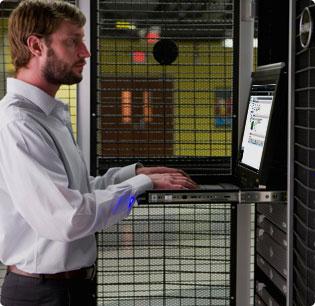 Streamline storage management
The Dell EqualLogic PS6210 array allows you to manage more data with fewer resources, and integrate with common application environments and various operating systems. In addition, the latest Dell Storage PS and SC Series software releases provide common management and cross-platform replication capabilities, allowing you to take advantage of new functionality while utilizing existing investments. The PS6210 Series is designed to:
Deploy in virtualized VMware® environments, Microsoft® Exchange and SQL Server® applications and distributed DAS implementations
Support block and file data along with the FS Series through a single intuitive interface
Support server and desktop virtualization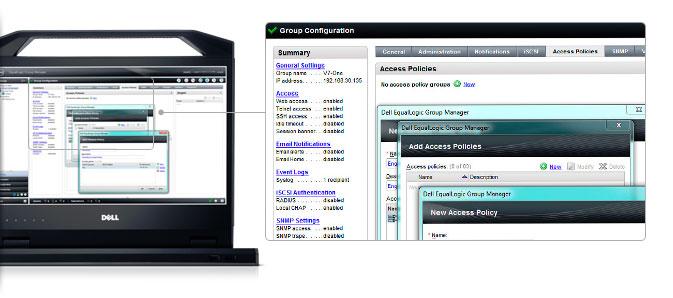 Advanced software that eases management
Manage day-to-day tasks, replicate volumes and initiate migration from PS Series to SC Series arrays with the latest software releases, which include Dell Storage Manager (DSM).
The Dell Storage PS Series Array Software helps you store, protect, virtualize and optimize data on the PS6210. The full Dell Storage PS Series software suite also includes:
PS Series Host Software that extends the functionality of the array-based software to enable cooperation with host operating systems, hypervisors and applications
Host Integration Tools for Microsoft®, VMware® and Linux® products
SAN HQ management software with an interface for monitoring your groups of PS Series arrays that are integrated into Dell Services with Support Assist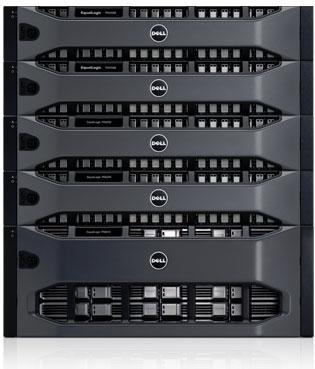 A new level of performance
The Dell EqualLogic PS6210 Series arrays provide enhanced, simplified performance for the small-to-medium enterprise. Dell EqualLogic PS6210 arrays can drive up to approximately 2GB/sec of throughput per array for sequential, large-block workloads.
*
In addition, flash-enabled PS6210 arrays provide up to three times the random performance of prior-generation arrays.
*
 The full line of PS6210 Series arrays brings 10GbE iSCSI SAN speed and efficiency to real-world applications, featuring:
Dual controllers, each with 16GB non-volatile cache
Two 10GBASE-T RJ45 auto-sensing (10Gb/1Gb/100Mb) ports
Two 10GbE SFP+ ports for fibre or copper cabling
Up to 24 hot-pluggable drives, including SAS, NL-SAS and SSD
Model options for 2.5" drives and 3.5" drives
Up to 144TB capacity per array
Dell was recently given the iSCSI market leader award for the sixth year in a row.
*
 The PS6210 adds new levels of performance and convenience to the Dell Storage PS Series portfolio.
Enhance the value of your data center
Dell Storage PS Series customers achieved up to a 513 percent return on investment in 6.2 months on average.
*
 The PS6210 Series arrays offer low TCO through a family of solutions that can be tailored to fit your exact needs, and grow with you, simply and cost effectively, with:
All-inclusive software functionality
No-forklift upgrades
Multigenerational compatibility that allows mix-and-match arrays to build tiered storage
Seamless rollout or retirement of arrays
Long-term investment protection by allowing PS Series arrays to coexist with SC Series arrays
Fast and powerful arrays
As a part of the new generation of EqualLogic solutions, the PS6210 Series helps accelerate your most critical business services and application tasks. Powered by the updated firmware, the PS6210 family of high-performance arrays is ideal for virtualization, databases, consolidation and heavy IO applications. Build out and customize your storage system to meet your needs by combining PS6210 arrays and FS76x0 NAS appliances with existing EqualLogic arrays. Create the precise balance of speed and capacity that allows your data center to power through whatever comes next, from massive, complex workloads to everyday business activities, without skipping a beat.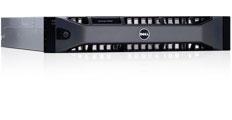 PS6210S Array
All-flash array giving the highest random read IOPS performance and lowest latency in the PS6210 line for the
most demanding enterprise applications. The SSD-enabled PS6210 arrays can deliver customers flash at the
price of disk with a new level of performance in the EqualLogic family — twice the maximum IOPS as prior models
for the most critical applications
*
. All-flash PS6210S arrays provide load-balanced performance and dense SSD
capacity.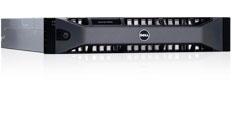 PS6210XS Array
Enables SSD speed and HDD capacity within one array.
Automated data tiering within a member with hot data placed on SSDs
SSD-enabled PS6210 SAN groups can achieve over 267K IOPS for an OLTP workload with less than 5 milliseconds of latency*
Ideal for VDI deployments, important databases and other mixed workloads
7 hot-pluggable 800GB* SSDs
17 hot-pluggable 600GB or 1.2TB* 10K RPM SAS drives
Up to 26TB system capacity with 10GbE connectivity
Dual controllers with 16GB non-volatile memory per controller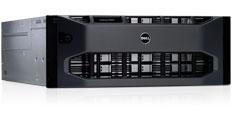 PS6210E Array
Provides both entry-level configurations for affordable capacity and high-capacity configuration for data-intensive
applications, highly consolidated environments and collaboration applications, such as Exchange and SharePoint.
Up to 24 hot-pluggable 7.2K RPM NL-SAS 3.5" HDDs
2TB*, 3TB, 4TB and 4TB SED, and 6TB HDD options
Up to 144TB system capacity with 10GbE connectivity
Dual controllers with 16GB non-volatile memory per controller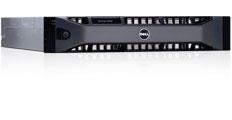 PS6210X Array
Great balance of cost, performance and capacity for enterprise data centers, including virtual server
environments and databases.



Enterprise power with everyday simplicity
Dell Storage PS Series software helps you store and manage your data more efficiently and cost-effectively. PS Series array, host and management software are included in your storage array purchase — virtually all the tools your organization needs for a complete solution. PS Series software virtualizes and simplifies your environment to help protect business-critical data, optimize storage performance and streamline operations. Additionally, the latest SC and PS Series software releases offer common management and cross-platform replication capabilities between SC and PS Series storage arrays, allowing you to take advantage of new functionality while leveraging existing investments.

Simplified management and data protection deliver lasting value
Dell Storage PS Series Array Software, including PS Series Firmware, Group Manager and the Manual Transfer Utility, delivers advanced Storage Area Network (SAN) functions that automatically virtualize and optimize storage resources while providing advanced data protection and SAN management. Integrated across the entire family of PS Series arrays, the PS Series Firmware is a SAN operating system based on a unique peer storage architecture that automatically adjusts system resources. In addition, Dell Storage Update Manager simplifies the firmware upgrade process.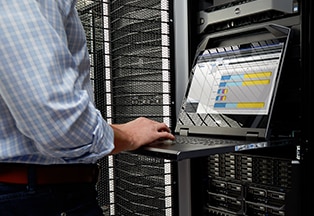 Advanced cross-platform capabilities and streamlined management
If you are adding an SC Series array to your environment, Dell Storage Manager (DSM) provides a common management tool for PS and SC Series day-to-day activities. You can also initiate volume replication between PS and SC Series with DSM, and easily configure and monitor replication task. To simplify migration, you can import data from PS to SC Series using the Thin Import feature.
*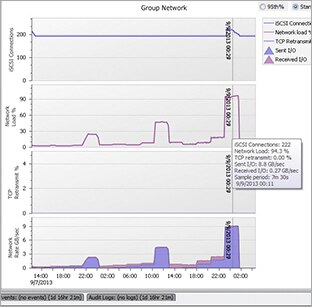 Data center automation with integration and monitoring tools
This family of host-based software provides tight integration between the PS Series array and the host. Dell Storage PS Series Host Integration Tools (HIT) for Microsoft®, VMware® and Linux® environments offer comprehensive data protection and reliable performance.

Dell Storage PS Series SAN Headquarters (SAN HQ) is a centralized monitoring and reporting tool that gathers and provides in-depth performance and capacity information and provides alerts across multiple groups of PS Series arrays. SAN HQ with SupportAssist further streamlines management and improves productivity with automatic case creation and case tracking.
Dell EMC offers complete end-to-end services
Optimizing the IT lifecycle is vital. Dell EMC has expert services
*
for all lifecycle phases that save you time and resources, reduce effort, and improve your IT experience.

ProSupport Enterprise Suite
Gain the freedom to focus on your business transformation with the support expertise and insights Dell EMC is known for across the globe. Choose the right support based on the criticality of specific systems with available automated predictive analysis, collaborative third-party assistance and service account management.

ProDeploy
ProDeploy Enterprise Suite helps you get more out of technology starting on day one. Trust Dell EMC experts to lead deployments from basic hardware installations through planning, configuration and complex integrations. Our complete suite of deployment services and professional certifications helps you achieve business outcomes today and tomorrow.

Training
Education Services offers an expansive suite of training services with multiple delivery methods, including instructor-led, self-paced online and virtual instructor-led training. With comprehensive and flexible training programs, we make it easy to ensure your staff has the skills they need to successfully manage and utilize your new technology to its full potential.

Consulting
Consulting services give expert guidance to help you grow, optimize and transform your IT environment at your own pace and budget. We employ a broad range of certified consultants and engineers, backed by program management teams, who can deliver deep technical expertise. We give you the confidence that your project will be done right and on time.
Drivers, Manuals & Support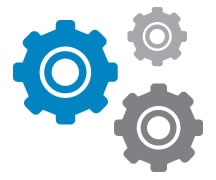 Dell Support
From drivers and manuals to diagnostic tools and replacement parts, Dell Product Support has you covered!
Add the products you would like to compare, and quickly determine which is best for your needs.
Add the products you would like to compare, and quickly determine which is best for your needs.