Brocade BR1741M-k 10 Gbps Converged Network Adapter (CNA)
---
Sorry, this item is not available anymore for purchase online. Please see our recommended replacement product.
Features and Design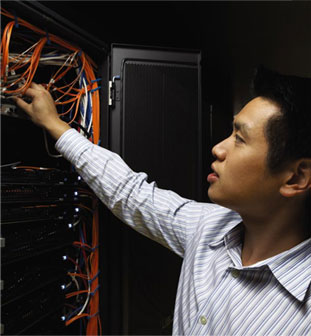 Enterprise-class blade server connectivity for next-generation virtualized data centers
Help reduce cost and complexity in next-generation data center environments with the Brocade BR1741M-k CNA for Dell PowerEdge M-Series blade servers. It's a powerful dual-port 10GbE network interface card (NIC) that supports DCB and FCoE standards to deliver enterprise-class local area network (LAN) connectivity and server I/O (input/output) consolidation.
High-performance line-rate 10GbE for reliable, enterprise-class LAN connectivity for Dell blade servers
DCB support for low-latency, lossless and deterministic 10GbE connectivity and storage over Ethernet applications (FCoE/Internet SCSI [iSCSI])
Advanced Ethernet performance, including IP version 4 (IPv4) and IP version 6 (IPv6) checksum offload, Receive Side Scaling (RSS), Header Data Split (HDS), jumbo frame support and TCP Segmentation Offload (TSO)
Scalable connectivity features, including virtual switching offloads, across a secure, multiprotocol lossless environment
Unified Fibre Channel, FCoE and Ethernet driver stack that enables a single driver for both Brocade CNAs and Fibre Channel host bus adapters (HBAs)
Improved TCO through I/O consolidation
The Brocade BR1741M-k CNA leverages DCB and FCoE technologies to help you consolidate 1/10 GbE NIC and Fibre Channel HBA mezzanine cards into a single adapter and to transport both TCP/IP and storage (iSCSI/FC) traffic over a common link.

DCB is a new set of standards that is designed to enhance the widely adopted Ethernet protocol to deliver a low-latency, lossless and deterministic network infrastructure for storage and other highly demanding traffic types. FCoE encapsulates Fibre Channel frames and transmits them over this enhanced Ethernet infrastructure while preserving the Fibre Channel constructs and management paradigm.

This I/O consolidation helps dramatically reduce blade server deployment costs as well as power and cooling requirements, delivering best-in-class connectivity while reducing total cost of ownership (TCO).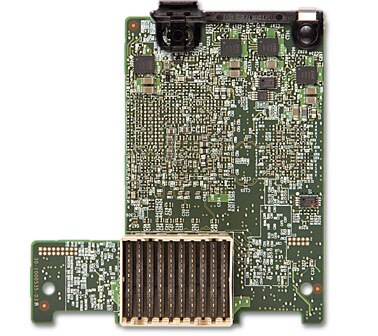 Unmatched performance
With the recent advances in server technology, servers are capable of running more workloads than ever. This drives higher consolidation and virtualization ratios and unprecedented I/O requirements.

The Brocade BR1741M-k CNA is a full-featured 10GbE NIC delivering full 10 Gbps line-rate performance on both ports. It provides industry-standard stateless networking offloads, such as TCP checksum and segmentation offloads, to improve performance and reduce CPU loads, enabling them to dedicate more resources to application processing.

In addition, the Brocade CNA delivers full hardware-based FCoE offload to provide superior performance for storage applications, delivering up to twice the performance of competing products in real-world application scenarios.
Optimized for virtual environments
The Brocade BR1741M-k CNA supports NPIV with up to 255 virtual ports, and it's qualified with all major hypervisor solutions in the industry. Leveraging NPIV technology, you can not only extend Brocade fabric services to the server but also to the VM and application level. 

Virtual Machine Optimized Ports (VMOP) is a feature that offloads essential packet classification tasks from the hypervisor, reducing latency and improving throughput while freeing CPU cycles that can be used to further scale an organization's virtualization environment.
Supporting your unique environment
The right support is not one-size-fits-all, it's what fits your environment. The Dell™ ProSupport™ portfolio of support services provides a flexible, reliable and easy support model that empowers you to customize services to meet your unique business needs. Choose support based on how you use technology and where you want to allocate resources.
If you don't have an IT staff, Dell™ ProSupport™ for end users is the way to go. You'll receive:
24x7x365 direct break-fix hardware and software support for your employees

"How-to" support on popular software applications such as Norton™ AntiVirus, Microsoft® Office, Microsoft® Small Business Server, Intuit® QuickBooks®, Adobe® Photoshop® and Adobe Acrobat®

Remote set up assistance for simple networks (wired & wireless)

Award-winning support from Global Command Centers for dispatch monitoring and end-to-end case management for critical situations or natural disasters
If you have an IT team, Dell™ ProSupport™ for IT is right for you. You'll receive:
24x7x365 direct access to Dell Expert Centers via email, chat and phone support

Mission Critical Response Options, including ability to self-designate Severity Level 1

Hardware and software diagnostics and troubleshooting, including direct Dell OEM (original equipment manufacturer) support and 3rd party collaborative support

Skip the script and save time with tech-to-tech support

Fast-Track Dispatch for Dell-certified technicians, enabling you to self-dispatch parts and labor

Award-winning support from Global Command Centers for dispatch monitoring and end-to-end case management for critical situations or natural disasters
Further maximize the availability and stability of your infrastructure through Dell™ ProSupport™ Options such as asset and data protection, speed of response, specialized on-site services, proactive maintenance and remote advisory services. Streamline patch management and get detailed reporting. Get advice via telephone access to technical expertise on applications and solutions such as Microsoft® Exchange, Virtualization and more. And for more complex IT environments, choose the Enterprise-wide Contract option which provides a designated Service Delivery Manager, performance benchmarking, proactive planning and custom reporting.
To learn more about Dell™ ProSupport™ visit www.dell.com/prosupport.
Simplify your IT infrastructure
Dell ProConsult™ global infrastructure consulting services can help integrate your new enterprise hardware into an existing or evolving IT infrastructure. We can provide guidance whether you're adding single or multiple servers, a storage area network or virtualizing your environment. We can also help you enhance the overall performance of your IT infrastructure and data center by consolidating software and hardware, reviewing data usage to optimize the environment, developing a business continuity plan and by helping you migrate to standards-based technologies.
We utilize skilled solution architects, innovative tools, automated analysis and our own intellectual property to give customers rapid insight into the root causes of unnecessary complexity. We seek better answers than traditional service models, based on our belief that solving problems should not need armies of people. Our strategy is to help customers quickly identify high-impact, short-duration projects that deliver ROI and free up resources to obtain competitive advantage. The result is practical, action-oriented plans with specific, predictable, measurable outcomes. From Data Center Optimization to Server Virtualization to Systems Management, our consulting services help you build a more efficient enterprise.
Accelerating deployment
Dell helps simplify implementation with deployment services that speed time to production of new hardware and IT solutions. During the initial system build of your server, we can customize software and hardware to match your specific requirements. By helping you rapidly deploy new capabilities while minimizing disruptions, we can contribute to improved efficiencies and lower costs.
Empowering your team
Our education services provide training and certification courses to help you and your team better manage and use your new hardware so you can reap the full benefits of standards-based technologies.
For more information, please visit www.dell.com/services.
Drivers, Manuals & Support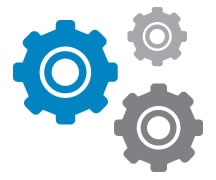 Dell Support
From drivers and manuals to diagnostic tools and replacement parts, Dell Product Support has you covered!