PowerEdge FC640 - Full Configuration
PowerEdge FC640 server sled
Scale business performance and drive increased agility for demanding workloads to boost IT transformation with the customizable PowerEdge FC640 server.
PowerEdge FC640 - Full Configuration
PowerEdge FC640 - Full Configuration
Ex. VAT @20%, free Delivery
Support & Services prices are dependent on hardware and OS selections
Ships in 9–11 business days
Order Code emea_fc640_vi_vp
Features and Design

Scale incrementally with powerful blocks of computing resources
React quickly and boost your services delivery with Dell EMC PowerEdge FC640 server for the PowerEdge FX2.

The FC640 is a flexible 1U 2S server with powerful processors, large memory capacity and highly scalable I/O. The FC640 accelerates workloads and secures operations to help you drive your IT transformation with a cost-efficient and dense core design. From private cloud to software-defined storage, the FC640 transforms your legacy operations with a nimble and agile approach, ideal for better business results.

Boost performance with highly flexible, scale-out storage blocks
Rapidly scale dense Direct Attached Storage (DAS) and Software-Defined Storage (SDS) applications in your FX infrastructures with the 1U FD332 storage module. Create a storage environment that supports balanced data growth on an as-needed basis. Avoid overprovisioning by scaling your storage needs to the workloads you are running. With support for SAS and SATA HDD/SSDs you can readily adapt to the performance needs of your applications.

Sustain your business and grow with intelligent automation
Make IT operations more efficient and your FX infrastructure more productive and reliable with Dell EMC systems management. Take advantage of OpenManage systems management portfolio used across other PowerEdge servers with the FX2, or leverage the embedded chassis management.
Perform automated deployments, updates and configurations with agent-free iDRAC with Lifecycle Controller.
Simplify with the new OpenManage Enterprise console, with custom reports and automatic discovery.
Enable easy collective or individual server management with the embedded Chassis Management Controller (CMC).
Dell EMC offers complete end-to-end services
Optimizing the IT lifecycle is vital. We have expert services
*
for all lifecycle phases that save you time and resources, reduce effort, and improve your IT experience.

ProSupport Enterprise Suite
Gain the freedom to focus on your business transformation with the support expertise and insights Dell EMC is known for across the globe. Choose the right support based on the criticality of specific systems with available automated predictive analysis, collaborative third-party assistance and service account management.

ProDeploy
ProDeploy Enterprise Suite helps you get more out of technology starting on day one. Trust our experts to lead deployments from basic hardware installations through planning, configuration and complex integrations. Our complete suite of deployment services and professional certifications helps you achieve business outcomes today and tomorrow.

Training & Certification
Education Services offers an expansive suite of training services with multiple delivery methods, including instructor-led, self-paced online and virtual instructor-led training. With comprehensive and flexible training programs, we make it easy to ensure your staff has the skills they need to successfully manage and utilize your new technology to its full potential.

Consulting
Consulting services give expert guidance to help you grow, optimize and transform your IT environment at your own pace and budget. We employ a broad range of certified consultants and engineers, backed by program management teams, who can deliver deep technical expertise. We give you the confidence that your project will be done right and on time.
Drivers, Manuals & Support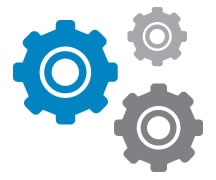 Dell Support
From drivers and manuals to diagnostic tools and replacement parts, Dell Product Support has you covered!