PowerConnect 8024F Switch
---
Sorry, this item is not available anymore for purchase online. Please see our recommended replacement product.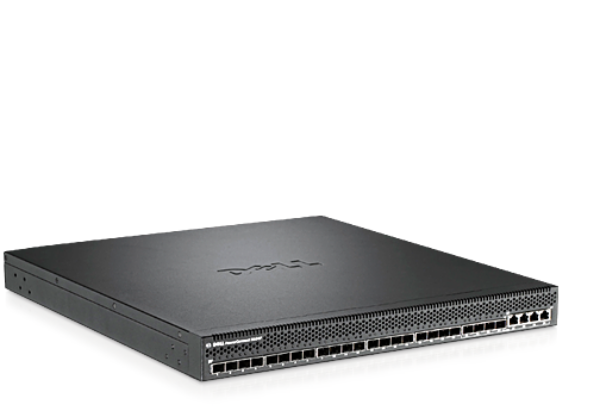 Features and Design
10GbE Performance
Deploy high throughput and availability for your entry-level top-of-rack, aggregation and unified fabric deployments with the PowerConnect 8024F high-density 10Gb Ethernet (10GbE) switch. It's designed to deliver energy-efficient 10GbE connectivity for converged Ethernet environments supporting dense virtualization and 10Gb server/storage aggregation. The 8024F also provides full Layer 3 routing features, redundancy and front-to-rear cooling in a compact 1U form factor. Expand your network easily by stacking up to six switches (managed as a single unit) for high-performance availability and failover deployments while simultaneously benefitting from robust security and enterprise management capabilities.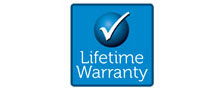 Lifetime Limited Warranty
Gain peace of mind from PowerConnect™ switches that not only provide the quality, reliability and capability you expect from Dell™, but also guaranteed hardware for life — a true Lifetime Warranty
*
. For more details see
www.dell.com/LifetimeWarranty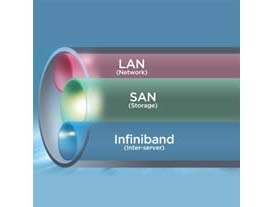 Unified Fabric Ready
The PowerConnect 8024 family is one of the key components in the Dell Unified Fabric solutions and supports converged fabric requirements such as Priority Flow Control (802.1Qbb), iSCSI Optimization, and 10 Gb wire speed performance on all ports.

iSCSI traffic can also be monitored at the fabric level, allowing the administrator to track active iSCSI sessions.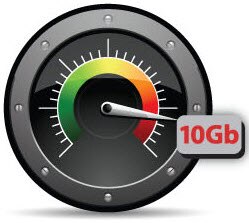 10 Gb Performance and Flexibility
The PowerConnect 8024 brings the benefits of 10Gb Ethernet to a compact and reliable switching platform, with the quality and great service of Dell. 10Gb Ethernet provides a superior return on IT investment through:
Investment Protection – 10Gb Ethernet is the network fabric of the future, with an ever-expanding ecosystem of solutions and the capabilities to grow
Energy-Efficient – Replace multiple 1Gb components in your infrastructure to reduce power requirements and heat loads.
High Performance – 480Gb of throughput for wire-speed 10Gb switching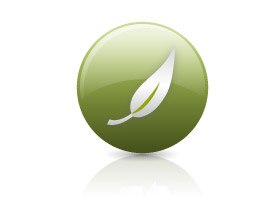 Energy conscious
Go easy on the environment as well as your budget with the PowerConnect 8024F family. Designed for energy savings from the power cord to the ports, the PowerConnect 8024F redundant power supplies operate above 80 percent efficiency in all modes. Variable speed fans automatically adjust speeds according to environmental conditions, and power-efficient 10GBASE-T ports reduce power draw for short cable runs.


High Availability
The PowerConnect 8024F is designed to be highly available with dual internal hot-swap power supplies and removable hot-swap fan modules. It also incorporates dual firmware images to enable image promotions or image redundancy in the network.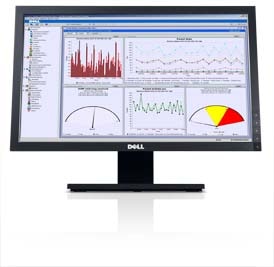 Flexible Management
Monitor and manage the power-saving features, high-availability functions and other switch operations from your choice of management options, including:
Industry-standard command-line interface (CLI)
Remote management using the embedded Web server and browser-based graphical-user interface (GUI)
Simple Network Management Protocol (SNMP) such as OpenManage Network Manager
The Web GUI for PowerConnect switches provides a robust management, with control comparable to the command-line environment. This means you can choose a preferred method for interacting with the switch.
Single IP stack management allows simple scalability without adding complexity.
Peace of mind
This Dell networking switch is backed by an industry-leading Lifetime Limited Warranty,* which guarantees Basic Hardware Service(repair or replacement) for life.
While Basic Hardware Service delivers reliable support for your hardware, most organizations benefit from additional levels of support, to protect their IT investment and maximizing productivity. We recommend Dell ProSupport™, an enhanced suite of services that includes: 24x7 tech support, accelerated response times, immediate access to L2 technical experts and proactive support options. Go beyond the basics and start transforming your IT infrastructure into a true business asset.
Learn more about Dell Lifetime Warranty and ProSupport for networking and other services with these videos.


Supporting your unique environment
The right support is not one size fits all, it's what fits your environment. Dell ProSupport provides flexible and reliable support that empowers you to customize services to meet your unique business needs. Choose support based on how you use technology and where you want to allocate resources.
Whether you need to support an IT staff or end users, Dell ProSupport will help you remove barriers so you can get back to work. You'll receive:
24x7x365 direct access to Dell Expert Centers via email, chat and phone support
Mission-critical response options, including ability to self-designate severity level 1
Hardware and software diagnostics and troubleshooting, including direct Dell OEM (original equipment manufacturer) support and third party collaborative support
"How-to" support on popular software applications such as Norton™ AntiVirus™, Microsoft® Office, Microsoft Small Business Server, Intuit® QuickBooks®, Adobe® Photoshop® and Adobe Acrobat®
Skip the script and save time with tech-to-tech support
Access to tools and resources to certify your technicians that allows them to self-dispatch parts and labor
Award-winning support from Global Command Centers for dispatch monitoring and end-to-end case management for critical situations or natural disasters
Further maximize the availability and stability of your infrastructure through enhanced support options such as: Asset and Data protection, Specialized Onsite
2
Services and Remote Advisory Services. Streamline patch management and get detailed reporting with proactive maintenance. Get advice via telephone access to technical expertise on applications and solutions such as Microsoft Exchange, virtualization and more. And for more complex IT environments, choose the enterprise-wide contract option that provides a designated Service Delivery Manager, performance benchmarking, proactive planning and custom reporting.
To learn more about Dell ProSupport visit www.dell.com/prosupport 

Simplify your IT infrastructure
Dell ProConsult™ global infrastructure consulting services can help integrate your new enterprise hardware into an existing or evolving IT infrastructure. We can provide guidance whether you're adding single or multiple servers, a storage area network or virtualizing your environment. We can also help you enhance the overall performance of your IT infrastructure and data center by consolidating software and hardware, reviewing data usage to optimize the environment, developing a business continuity plan and by helping you migrate to standards-based technologies.
We utilize skilled solution architects, innovative tools, automated analysis and our own intellectual property to give customers rapid insight into the root causes of unnecessary complexity. We seek better answers than traditional service models, based on our belief that solving problems should not need armies of people. Our strategy is to help customers quickly identify high-impact, short-duration projects that deliver return on investment (ROI) and free up resources to obtain competitive advantage. The result is practical, action-oriented plans with specific, predictable, measurable outcomes. From Data Center Optimization to Server Virtualization to Systems Management, our consulting services help you build a more efficient enterprise.
Accelerating deployment
Dell helps simplify implementation with deployment services that speed time to production of new hardware and IT solutions. During the initial system-build of your server, we can customize software and hardware to match your specific requirements. By helping you rapidly deploy new capabilities while minimizing disruptions, we can contribute to improved efficiencies and lower costs.
Empowering your team
Our education services provide training and certification courses to help you and your team better manage and use your new hardware, so you can reap the full benefits of standards-based technologies.
For more information, please visit www.dell.com/services 
Lifetime Limited Warranty*
Select Dell networking products, carry a Lifetime Limited Hardware warranty with Basic Hardware Service for life. Repair or replacement does not include configuration or other advanced service and support provided by Dell ProSupport Services. For more details see www.dell.com/LifetimeWarranty 
Drivers, Manuals & Support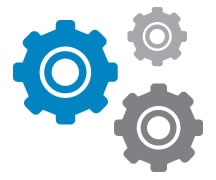 Dell Support
From drivers and manuals to diagnostic tools and replacement parts, Dell Product Support has you covered!