FN IO Module for FX2 Chassis
No-fuss network integration
Simplify FX2 cabling and enhance converged IO and Fibre Channel capabilities for the FX architecture with added full layer 2/3 switch mode.
No-fuss network integration
Simplify FX2 cabling and enhance converged IO and Fibre Channel capabilities for the FX architecture with added full layer 2/3 switch mode.
Tech Specs & Customization


Need help with your purchase? Call us at 0800 085 4878 or chat.
Performance
MAC addresses: 64K
Switch fabric capacity: 240 Gbps (Full-Duplex)
Forwarding capacity: 179 Mpps
Link aggregation: Up to 12 members per group, 24 LAG groups with stack support
In standalone mode, max 4 members per group and 1 uplink LAG group (Port-channel 128 default mode)
In stacking mode: max of 12 members per group and 1 uplink LAG group (stacking mode with FN410S and FN410T)
In PMUX mode: max of 24 LAG groups and multiple uplink LAG groups
In full-switch mode: max of 24 LAG groups and multiple uplink LAG groups
Line-rate Layer 2 switching: All protocols, including IPv4
Line-rate Layer 3 routingi : IPv4 and IPv6
Packet buffer memory: 4MB
CPU memory: 2GB
ACLs ingress egress in full switch mode
Stacking Attributes
Stacked units: Up to 6 IOAs (using 10GbE ports deployed via CLI)
Stacking bandwidth: Up to 40Gbps (using 1 x 10GbE ring)
Stacking topology: Ring and daisy chain
Virtual Link Trunking (VLT): mVLT and L2 over VLT (deployed via CLI)
VLT supported in VLT, PMUX and Full-switch mode.
Stacking supported in stacking, PMUX and Full-switch mode with FN410S and FN410T.
Routing
Layer 3 Routing - full switch mode:
1058 RIPv1
2453 RIPv2
2154 MD5 (OSPF)
1587 NSSA (OSPF)
2328 OSPFv2
2740 OSPFv3
4222 Prioritization and congestion avoidance
4552 OSPFv3 IPsec authentication

BGP:
1997 BGP Communities
2385 BGP MD5
2439 BGP Route Flap Damping
2796 BGP Route Reflection
2918 BGP Route Refresh
3065 BGP Confederations
4360 BGP Extended Communities
4893 BGP 4-byte ASN
5396 BGP 4-byte ASN representations
draft-ietf-idr-restart-06 BG P Graceful Restart
1195 Routing IPv4 with IS-IS
5308 Routing IPv6 with IS-IS
Management
1155 SMIv1i
1156 Internet MIBi
1157 SNMPv1
1212 Concise MIB Definitionsi
1215 SNMP Trapsi
1493 Bridges MIBi
1850 OSPFv2 MIBi
1901 Community-based SNMPv2
2011 IP MIBi
2012 TCP MIBi
2013 UDP MIBi
2096 IP Forwarding Table MIBi
2570 SNMPv3i
2571 Management Frameworksi
2572 Message Processing and Dispatchingi
2575 SNMPv3 VACMi
2576 Coexistence Between SNMPv1/v2/v3
2578 SMIv2i
2579 Textual Conventions for SMIv2i
2580 Conformance Statements for SMIv2i
2618 RADIUS Authentication MIBi
2665 Ethernet-like Interfaces MIBi
2787 VRRP MIB 2819 RMON MIB (groups 1, 2, 3, 9)i
2863 Interfaces MIBi
3273 RMON High Capacity MIBi
3416 SNMPv2
3418 SNMP MIB
3434 RMON High Capacity Alarm MIBi
ANSI/TIA-1057 LLDP-MED MIBi
IEEE 802.1AB LLDP MIBi
IEEE 802.1AB LLDP DOT1 MIBi
IEEE 802.1AB LLDP DOT3 MIBi
sFlow.org sFlowv5i
FORCE10-IF-EXTENSION-MIB
FORCE10-LINKAGG-MIBi
FORCE10-COPY-CONFIG-MIBi
FORCE10-MON-MIBi
FORCE10-PRODUCTS-MIBi
FORCE10-MS-CHASSIS-MIBi
FORCE10-SMI FORCE10-SYSTEM-COMPONEN-MIBi
FORCE10-TC-MIBi
FORCE10-TRAP-ALARM-MIBi
FORCE10-FIPSNOOPING-MIB
FORCE10-DCB-MIBi
LLDP-EXT-DOT1-DCBX-MIBi
IEEE8021-PFC-MIBi
DELLl_ITA.REV_1_1.MIB
F10-JUMPSTART-MIBi
FORCE10-MSTP-MIB
F10-FPSTATS.MIB
f10-VirtualLinkTrunk.MIB
F10-DCBX.MIB
F10-MS-PLATFORM.MIB
VLAN
802.1Q VLAN tagging
802.3ac frame extensions for VLAN tagging
Native VLAN
802.1D Bridging, STPi
802.1s MSTPi
802.1w RSTPi
Force10 PVST+i
2338 VRRPi
Multicast
4541 IGMPv1/v2 Snooping
1112 IGMPv1i
3569 SSM for IPv4i
2236 IGMPv2i
4541 IGMPv1/v2 Snooping
3376 IGMPv3 draft-ietf-pim-sm-v2-new-05 PIM-SMi
IEEE Compliance
802.1AB LLDP
802.1p L2 Prioritization
802.3ab Gigabit Ethernet (1000Base-T)
802.3ad Link Aggregation with LACP
802.3ae 10GbE (10GBase-X)
802.3u Fast Ethernet (100Base-TX)
802.3x Flow Control
802.3z Gigabit Ethernet (1000Base-X)
ANSI/TIA-1057 LLDP-MED
MTU 12KB
Environmental
Power supply: 100–240V AC 50/60Hz
Max. thermal output: 955.36 BTU/h
Max. current draw per system: 2A at 100/120V AC, 1A at 200/240V AC
Max. power consumption: 123 Watts
ISO 7779 A-weighted sound pressure level: 59.6dBA at 73.4°F (23°C)
Operating temperature: 32° to 140°F (0° to 60°C)
Operating humidity: 10 to 85% (RH), non-condensing
Max. non-operating specifications: Storage temperature: –40° to 158°F (–40° to 70°C)
Storage humidity: 5 to 95% (RH), non-condensing

UL/CSA 60950-1, Second Edition
EN 60950-1, Second Edition
IEC 60950-1, Second Edition Including all National
Deviations and Group Differences
EN 60825-1 Safety of Laser Products Part 1: Equipment Classification Requirements and User's Guide Optical Fibre Communication Systems
FDA Regulation 21 CFR 1040.10 and 1040.11 Emissions
Australia/New Zealand: AS/NZS CISPR 22: 2006, Class A
Canada: ICES-003, Issue-4, Class A
Europe: EN 55022: 2006+A1:2007 (CISPR 22: 2006), Class A
Japan: VCCI V3/2009 Class A
USA: FCC CFR 47 Part 15, Subpart B:2009, Class A
EN 300 386 V1.4.1:2008 EMC for Network Equipment
EN 55024: 1998 + A1: 2001 + A2: 2003
EN 61000-3-2: Harmonic Current Emissions
EN 61000-3-3: Voltage Fluctuations and Flicker
EN 61000-4-2: ESD
EN 61000-4-3: Radiated Immunity
EN 61000-4-4: EFT
EN 61000-4-5: Surge
EN 61000-4-6: Low Frequency Conducted Immunity
All components are RoHS compliant.
Features and Design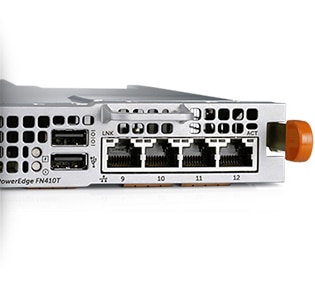 Reduce cable complexity
The FN IO Module (FN IOM) is designed specifically for the PowerEdge FX2 converged-infrastructure chassis, part of the
PowerEdge FX architecture.
Supporting up to two FN IOMs per chassis, the FX2 converged infrastructure also includes up to 8 x 10GbE internal ports, plus redundant cooling fans and power supplies.
The FN IOM can simplify FX2 connectivity by as much as 8-to-1, greatly reducing cabling complexity. Plug-and-play convenience with zero-touch and preconfigured features enables layer 2 control. This allows fast, easy network deployment using the Dell Blade IO Manager, with additional management of the FN IOM through a CLI using the Dell Networking OS 9, enabling full layer 3 switching functions.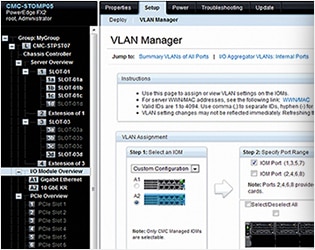 Operate with dual mode capability*
The FN IO Module has the ability to operate in two separate modes.
Plug-and-play mode designed for administrators to configure the FN IOM without having to configure networking settings. The device is managed through the Dell Blade IO Manager's simple GUI interface.
Full switch mode, enabling layer 3 switch functions. This allows Dell OS 9 command line interface control, including routing protocols, multicast features, access control lists, IPv4 and IPv6 support, and OpenFlow capabilities for software-defined networking.


Optimize FX2 performance
Enhance east-west traffic flows within the FX2 enclosure for superior network performance. The FN IO Module takes full advantage of high-performance 10GbE throughput and the next-generation of PowerEdge servers, letting you easily connect to high-density network architectures.

In addition to the eight 10GbE internal ports, the FN IOM supports uplink-port link aggregation group (LAG) and virtual link trunking (VLT).



Simplify converged IO and Fibre Channel connectivity
Choose the right module for your environment and simplify connectivity with your choice of external port configurations.
SFP+ (FN410s): Connect over long distances and minimize latency via optics with 4 x 10GbE SFP+ ports.
10GBASE-T (FN410t): Support cost-effective copper media up to 100 meters with 4 x 10GBASE-T ports.
FC/SFP+ combination (FN2210s): Enable convergence directly within the FX2 enclosure, while reducing cabling and adapters, with a combination of two 2/4/8Gbps Fibre Channel ports* plus two 10GbE SFP+ ports(up to four 10GbE SFP+ ports with reboot).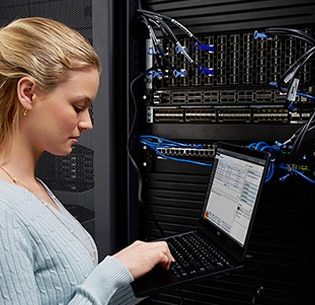 Enable and ease LAN/SAN convergence
Full data center bridging (DCB) support with zero-touch converged IO activation enable an automated LAN/SAN converged system that connects server nodes to upstream switches. The solution can:
 • Reduce cabling up to 75 percent
 • Remove up to 50 percent of your existing LAN/SAN adapters
 • Decrease upstream top-of-rack (ToR) ports by up to 75 percent
In addition, the FN IOM easily connects to the Dell Networking S5000 10/40GbE Switch that features up to 64 SFP+ ports and up to 12 Fibre Channel ports with full Fibre Channel fabric services support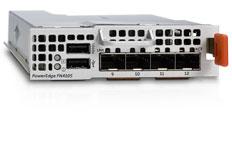 FN410s 4-port SFP+ IO Module
4 ports of SFP+ 10GbE connectivity
Supports optical and DAC cable media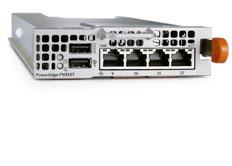 FN410t 4-port 10GBASE-T IO Module
4 ports of 10GBASE-T connectivity
Supports cost-effective copper media up to 100 meters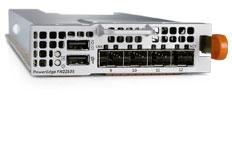 FN2210s 4-port Combination Fibre Channel/Ethernet IO Module
Up to 2 ports of 2/4/8Gbps Fibre Channel* plus 2 ports ofSFP+10GbE
Up to 4 ports SFP+ 10GbE (with reboot)
NPG fiber channel and full fiber channel fabric services
capabilities
Navigate network complexity with Dell EMC Services
Our global team of network experts understands the complexities of IT ecosystems, including multi-vendor environments. We have the skillset and experience to not only quickly resolve performance issues but also transform your network to meet the demands of your business.

Consulting
Dell EMC network consultants provide expert guidance to help you optimize and transform the network environment for the demands of today's multi-cloud infrastructures. Our deep infrastructure and application expertise combined with sophisticated network analysis toolsets address a wide range of network technology and process challenges.

Deployment
Leverage the Dell EMC ProDeploy Enterprise Suite to get your network installed and configured. Our experts can free your IT staff to focus on your core business, minimize downtime and give you the confidence that the job will be done right, the first time.

Support
Gain access to ProSupport technical experts who can assist with your most complex networking challenges. The Dell EMC ProSupport Enterprise Suite provides networking support around the clock and around the globe, helping your team maintain a high level of productivity.

Education
Dell EMC offers flexible training programs so your staff can build the right skills to successfully manage and utilize your network to its full potential. Through our personalized approach, your staff gets the exact training they need to improve productivity and adoption, decrease downtime, and reduce end-user support calls.


Drivers, Manuals & Support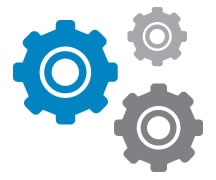 Dell Support
From drivers and manuals to diagnostic tools and replacement parts, Dell Product Support has you covered!
Add the products you would like to compare, and quickly determine which is best for your needs.
Add the products you would like to compare, and quickly determine which is best for your needs.