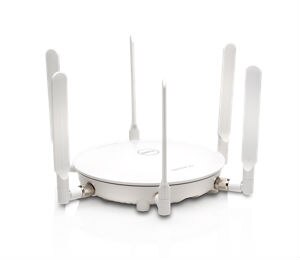 Rapid Wireless Network Deployment
Rapidly deploy and manage your 802.11 wireless networks while securing wireless traffic and optimizing performance with the SonicWall SonicPoint Wireless Access Point Series. Combine high-performance SonicWall SonicPoint Series 802.11ac wireless access points with industry-leading SonicWall firewalls to achieve wired-like network security and performance on your wireless network.

Superior wireless performance and range
With support for the 802.11ac standard, the SonicPoint ACe can achieve a data rate of up to 1.3 Gbps while maintaining a higher performance level at greater ranges.

Flexible Wireless deployment options
SonicPoint ACe can receive power from Ethernet and Gigabit Ethernet (GbE) cabling through an 802.3at Power over Ethernet (PoE) injector, as well as directly through an AC adapter. As a plenum rated access point, the SonicPoint ACe can be safely installed in air-handling spaces, such as in or above suspended ceilings.

Discreet wireless deployment options
With dimmable LEDs (excluding power), SonicPoint ACe fits seamlessly into environments that need discreet wireless coverage.

Enhanced Wireless signal quality and reliability
The 802.11ac wireless standard operates in the 5 GHz frequency band, which is less prone to signal interference, thus enhancing signal quality. Dual radios, six external antennas and 3x3 MIMO result in more reliable wireless coverage.