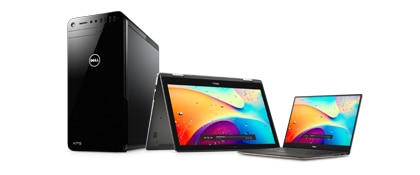 Discover extra savings with Dell coupons & deals.
Here's how they work:
Browse the current deals and offers below and find one you like.
Then highlight & copy the coupon code.
Paste the code into the appropriate field at checkout & click "Apply Coupon."
You'll instantly see how much you're saving & can continue the checkout process.
Never miss a great deal – plus, save an extra 10% on Dell electronics and accessories!
Sign up for Dell emails to stay in the know about the latest products and hottest deals on Dell.com. First-time subscribers receive 10% off Dell-branded electronics and accessories.
Sign Me Up >

Already subscribed? Great! Did you know you can customize your email preferences to receive news on the topics and products that interest you most?
Manage My Preferences >
All coupons and offers are valid only for end users & not resellers and/or online auctions. Valid on new purchases only. Some exclusions and purchase limitations may apply. Availability varies and quantities may be limited.
Offers are subject to change. Dell reserves to right to cancel orders arising from pricing or other errors. Taxes, shipping, handling, and other fees may apply.