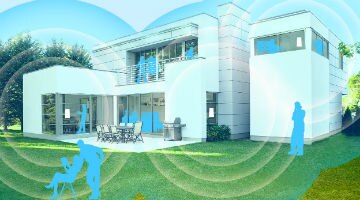 Velop Wireless Mesh WiFi Extender
A Velop Wi‑Fi mesh system outperforms traditional routers and range extenders giving you 100% seamless Wi‑Fi without lag or buffering. With Velop Wi‑Fi range extenders, the signal degrades as you move farther away from the router, slowing your speed and dropping your connections. Mesh networks give you full-strength Wi‑Fi everywhere using modular satellites that communicate with each other to give you fast Wi-Fi everywhere you need it.
Expandable - you can add as many Velop satellites as you need to get the coverage you want.
Easily sets up in minutes via smart phone app.
Automatic updates ensure your network is updated and secured. When new features become available they are automatically installed - no need to upgrade.
Easy Administration via smart phone app – Pause devices for family time, see who is on your network and easily set up guest networks for your friends.
Single SSID – Wi-Fi range extenders create multiple SSIDs causing signal loss when you move from one part of the network to another. Mesh networks have a single SSID so you are always connected to the node that is closest to you giving you fast Wi-Fi throughout your office.​