Dell Rack Line Interactive UPS
---
Sorry, this item is not available anymore for purchase online. Please see our recommended replacement product.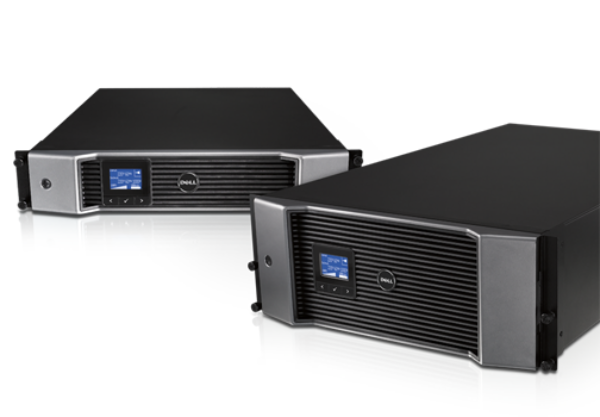 Features
Easy to choose, install and afford
With precise power ratings, tool-free installation and a design that can help support energy efficiency, there's a Dell UPS system that's ideal for your environment. Dell UPS combines leading power regulation technology with network support, environmental monitoring and leading virtualization integration, to offer a comprehensive IT solution.
Customized power sizing
Dell UPS systems are configured and sized in watts, enabling you to select a UPS that's compatible with the actual power draw of your environment.
Simplified installation
Get up and running quickly with Dell ReadyRails mounting kits, which install in your rack without tools in less than 10 seconds.
Up to 97% percent efficiency
Enjoy high levels of energy efficiency with a UPS designed to use less power, dissipate less heat and help reduce cooling costs.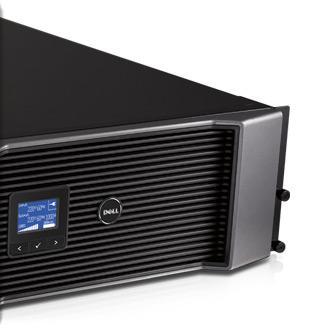 Integrates seamlessly with your Dell equipment
Designed to protect your data in the event of power loss, a Dell UPS can integrate easily with your existing Dell network and server infrastructures.
Matching design
A bold, clean design can coordinate with the appearance of your Dell servers.
Large on-unit display
Change control settings easily with a large, backlit LCD control panel offering the same color-coded system as Dell servers.
Extended battery life
Run for up to 19 minutes with the available External Battery Module (EBM)*.
Region-appropriate sockets
Customized sockets and back plates help ensure compatibility with your region's power requirements
Easy selection
Choose the right UPS for your needs with the configurator on www.dellups.com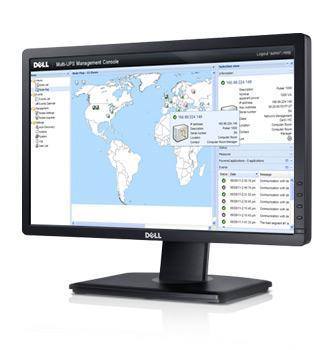 Simple to manage in any environment
 Monitor your power consumption, power events, available battery runtime, alarm conditions and more with free software and a range of control options.
Multi-UPS Management Console (MUMC) software
Monitor and configure multiple UPS systems across your network using a single interface.
UPS Local Node Manager (ULNM) software
Tailor the shutdown of devices in a single-UPS environment using a simple online interface.
Virtualization integration
Integrate with virtualized server environments, including popular platforms from VMware®, Microsoft®, Citrix®, OpenSource and Red Hat®.
External Battery Module


Dell uninterruptible power supplies (UPS) provide battery backup power to ride through brief outages or to allow enough time for graceful shutdown of connected servers. This backup runtime can be extended with the use of optional External Battery Modules (EBMs). For example, an EBM extends battery runtime from 5 minutes to 11 minutes for a 4200W UPS, to 14 minutes for a 3750W UPS, and to 19 minutes for a 1920W, 2700W or 5600W UPS, assuming a 100 percent loaded UPS.
*
Network Management Card


The Dell Network Management Card (NMC) hot plugs into the Dell UPS, connecting it to the IT network. For users with an SNMP-based infrastructure management system, the NMC also provides SNMP traps of power alarms and events.
UPS user settings can be made either through the NMC web interface (accessed through a web browser with the NMC IP address) or through the Dell UPS management software. Changes made in either location will be synchronized with the other to avoid conflicts.
The network management card provides additional functionality over USB:
Full support for virtualized IT infrastructures
Ability to send SMTP email alerts directly from the NMC without relying on UPS management software
SNMP network alerts (supporting the RFC-1628 industry standard Management Information Bases (MIBs))
Ability to schedule power up and power down of the UPS and associated server equipment
Simplified ability to manage multiple UPS installations, including supervision across WAN (for example, for satellite offices)
The NMC is a prerequisite for virtualized IT infrastructures because of the native limitations of USB and hypervisors.
Environmental Monitoring Probe


The optional Dell Environmental Monitoring Probe (EMP) enables you to remotely monitor the temperature, humidity and status of two contact devices through a standard web browser, providing a wide range of environmental and rack-level monitoring capabilities. These status readings can create user alerts and invoke graceful server shutdown at predetermined threshold limits.
Threshold settings and actions based on these thresholds can be set either in the Dell UPS management software or through the UPS NMC interface. Variables are reported directly into the UPS software and (optionally) across the network as SNMP traps.
The EMP is hot installable and can be positioned anywhere within a 19" rack or any flat surface in the IT environment. The EMP can be used with any Dell UPS equipped with a Dell NMC. A maximum of one (1) EMP can be connected to each Dell UPS.
Power Cable Kits


Power cable kits simplify installation for hardwired UPS models by converting them into input (mains) power cable units that can be placed in proximity to an appropriate power source and moved to a new location without the services of an electrician. Cable kits are available for most hardwired UPS models, and must be installed by qualified personnel.
Metered and Managed PDUs


Combined with Dell Power Distribution Units (PDUs), Dell UPS hardware enables you to deploy a Dell power protection and distribution scheme for a flexible, effective power strategy. Dell UPS hardware provides supervision of Dell metered and managed PDUs connected to a network via the on-board network port. Dell UPS MUMC software can discover and monitor Dell PDUs connected to the network. The UPS and PDUs can then transmit SNMP data via Ethernet to the OpenManage™ Power Center, which aggregates and displays that information.
Dell's power management software incorporates the traditional graceful server shutdown operations with enhanced support for large and distributed IT network infrastructures, as well as deeply integrated support for virtualized and private cloud systems.
Dell Multi-UPS Management Console (MUMC)
software is designed to manage multiple UPS with attached server installations from a centralized client location. MUMC also directly manages virtualized systems, often without the need for an agent to be installed on the local hypervisor. This software can reduce the complexity and time required to manage system shutdown profiles and UPS settings across a network. Where virtualization is used, the MUMC can eliminate the need for command line programming and complex hypervisor integration with a simple and unique interaction with hypervisor management systems.
A complete set of capabilities is provided with MUMC. These include:
The ability to monitor and manage multiple power and environmental devices from any internet browser or vCenter dashboard
A user-definable tree structure enabling grouping, access and management of multiple devices across multiple locations
The option to view groups or similar devices and all alerts from a single interface
Auto discovery, providing fast installation by automatically detecting devices on the network
A power device asset management that tracks moves, additions and changes of equipment
Visible SNMP devices and individual web interfaces that are accessible for editing and configuration
Multiple password-protected access levels and support to provide secure communications
Dell UPS Local Node Manager (ULNM)
software provides graceful, automatic shutdown of servers during prolonged power disruptions, helping to prevent data loss and save work in progress. For virtualized systems without a central hypervisor management interface such as VMware's vCenter, the ULNM will also act as a shutdown agent for the individual hypervisors.
Dell ULNM:
Helps avoid data loss by automatically shutting down computers and virtual machines/servers powered by a Dell UPS during an extended power outage
Allows access through an easy-to-use interface from any PC with a web browser
Acquires UPS information through local or network communication and can be easily deployed on many computers
Can be remotely managed, configured and updated with the Dell Multi UPS Management software
Communicates with the protected device directly (by USB) or through the Network Management Card
The Dell UPS software supports virtualized server environments.
Integration with popular virtualization platforms from VMware®, Microsoft®, Citrix®, OpenSource and Red Hat® to manage power to a virtualized environment
Seamless integration with VMware® vCenter dashboard, support for remote shutdown of servers in clusters and the ability to shut down VMs in VMware® high-availability clusters
Ability to trigger vCenter vMotion™ and SCVMM Live Migration™ applications to transparently move virtual machines from a server affected by a power interruption to a nonaffected server on the network, helping to maintain data integrity with no downtime
XenCenter™ plugin
Support for Metered and Managed Dell PDUs
Support for multiple redundant UPS powering the same devices
Support for Dell unique metrics (peak headroom, peak consumption)
Support for Dell Environmental Monitoring Probe (EMP) to monitor temperature, humidity and the status of two dry contacts
Improved diagnostics and reporting tools
Improved translated documentation
Drivers, Manuals & Support


Dell Support
From drivers and manuals to diagnostic tools and replacement parts, Dell Product Support has you covered!