EqualLogic PS4000X iSCSI SAN Storage
---
Sorry, this item is not available anymore for purchase online. Please see our recommended replacement product.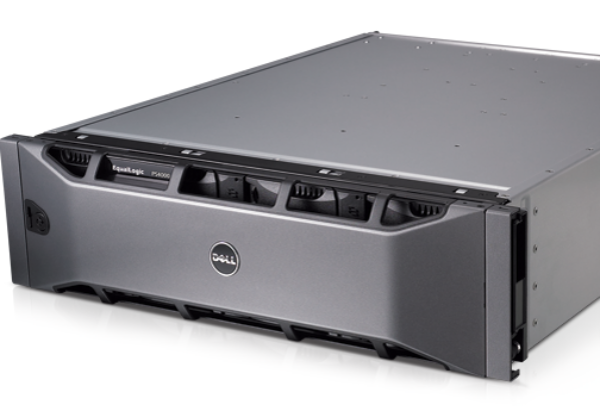 Features

Dell EqualLogic PS4000X
The Dell EqualLogic™ PS4000 Series of virtualized iSCSI SAN arrays are designed to bring enterprise-class features, intelligence, automation and reliability to remote or branch office, departmental and small-to-medium business (SMB) storage deployments.
The PS4000 Series addresses branch office and SMB storage needs with simplified administration, rapid deployment and an affordable price, while providing a full set of enterprise-class data protection and management features, solid performance, scalability and fault tolerance. With 10,000 rpm serial attached SCSI (SAS) disk drives, the PS4000X array provides up to 9.6 TB of storage for a great balance of cost-effective performance and capacity. To grow storage capacity and performance for remote office needs, two PS4000 arrays can be combined in a SAN group. To further scale out the SAN, EqualLogic PS6000 arrays can be added seamlessly without sacrificing the initial investment in PS4000 arrays.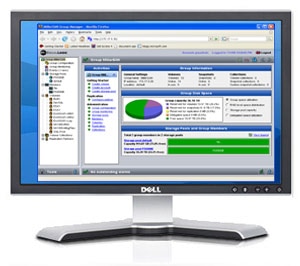 Exceptional Ease of Use
All PS Series storage arrays include SAN configuration features and capabilities that sense network connections, automatically build RAID sets and conduct system health checks to help ensure that all components are fully functional. The PS4000X is designed to be installed, configured and operational in less than one hour. To improve enterprise-wide storage management, the EqualLogic SAN HeadQuarters software tool provides centralized performance and event monitoring of EqualLogic SANs across multiple sites — for instance, monitoring PS4000 deployments at branch offices and PS6000 deployments in corporate data centers.

Modular Design with Enterprise Reliability
To help prevent both underutilization and over-provisioning, EqualLogic PS Series arrays are based on a virtualized modular storage architecture that enables IT managers to purchase only the storage they need, when they need it. Using innovative data movement technology, all EqualLogic PS Series arrays within a SAN work together to automatically manage data, load balance across all resources and expand to meet growing storage needs.
The EqualLogic SAN line is designed to meet and exceed the ruggedness requirements of the enterprise data center and remote office. The PS4000X includes fault tolerance capabilities, through fully redundant and hot-swappable components — optional dual-controllers, standard dual fan trays, dual power supplies and disk drives with hot spares.

Feature-Rich Software Portfolio
The EqualLogic software portfolio is an essential component of the EqualLogic storage solution. This feature-rich software portfolio can help your organization establish reliable, high-performing interactions with your customers while protecting critical business data.
The EqualLogic all-inclusive software model gives you the functionality required for a complete SAN solution at one price, eliminating the need to manage software licenses or multiple support contracts. The full software portfolio, including EqualLogic Array Software, EqualLogic Host Software and EqualLogic SAN Headquarters, is included with the array purchase. Customers with a valid Dell ProSupport* agreement can download future software updates without paying additional license fees.
Dell delivers comprehensive end-to-end solutions to help you store and manage your data so you can efficiently move the right data to the right place at the right time for the right cost. EqualLogic array software and host software are part of these solutions and are included with your EqualLogic array purchase — providing all the tools your organization needs for a complete storage area network (SAN) solution.


EqualLogic Array Software

Each EqualLogic array ships with a powerful set of software features that help you manage, protect and optimize your data. The EqualLogic Group Manager helps streamline storage and data management across both PS Series SAN arrays and FS Series NAS appliances. EqualLogic PS Series Firmware is the foundation of the EqualLogic software family. Integrated across the entire family of EqualLogic PS arrays, the EqualLogic PS Series Firmware is a SAN operating system based on a unique peer storage architecture that:


 

 

Virtualizes SAN resources 

Enables peer scalability of up to 16 arrays 

Provides intelligent data management functionality 

Automatically adjusts system resources 

Optimizes performance 

Reduces manual intervention


Also included in the firmware is the EqualLogic Manual Transfer Utility that provides a non-network replication capability to minimize the time required to transfer large amounts of data between replication partners.

EqualLogic's latest firmware (release 7.0) includes enhanced functions for PS Series arrays such as:



 

 

Robust and scalable Access Control Policies for simplified administration

Newly redesigned GUI with search functionality

RAID policy recommendations to help promote RAID best practices 

New technologies with backward compatibility including a 64-bit kernel firmware version for newer arrays and support for 4K sector volumes and 4K native sector (4Kn) drives

 
EqualLogic Host Integration Tools

This family of host-based software provides tight integration between the EqualLogic array and the host. Dell provides host integration tools for Microsoft®, VMware® and Linux® environments, providing customers with the following benefits:


Comprehensive data protection and availability

Integrated storage management 

Reliable performance 

Streamlined array configuration
EqualLogic SAN Headquarters

Dell EqualLogic SAN Headquarters (SAN HQ) is a centralized monitoring and reporting tool that gathers and provides in-depth information on performance, capacity and alerts across multiple groups of EqualLogic PS arrays, helping improve performance and effective allocation of group resources.

With Dell SupportAssist functionality, SAN HQ 3.0 can automatically create support cases based on system faults, and it allows you to view your open Dell Support cases for EqualLogic arrays monitored by SupportAssist.

Learn more about EqualLogic software

Find out how Dell EqualLogic software can help you design, manage and optimize your storage solution.

Dell Services
Dell believes that a well-planned and maintained storage infrastructure can support growing data requirements without the corresponding increase in cost and complexity. Intelligent data management allows organizations to optimize the value of their storage investment with a better use of resources. Dell Data Management Services can help customers design, implement, manage and maintain storage infrastructures that satisfy data availability, retention and recovery requirements.
Dell™ ProSupport™
—True enterprise-class support for complex environment with complex. More than 80 percent of IT budgets go to infrastructure maintenance costs, leaving little room for innovation. With the right support solution from Dell, you can focus on your core business.
ProSupport Enterprise Suite

ProSupport
Dell ProSupport Plus

Designed for customers who want premium hardware and software support.

Includes: 

• Single point of contact with access to highly trained experts 
• Available 24x7x365 
• 3rd party collaborative assistance 
• Support in 165+ countries and 55 languages


Designed for critical systems in a customer's environment.

Includes:

• Dedicated Technical Account Manager 
• Direct access to elite ProSupport Plus engineers 
• Remote monitoring and automated support with SupportAssist 
• Monthly reporting and performance recommendations

 
 
Dell Enterprise Deployment

Dell Enterprise Deployment Services

ProDeploy Enterprise Suite
*
offers a full range of deployment services and professional certifications to help you get more out of your technology starting on day one. Choose ProDeploy Plus for the most complete deployment offer available in the market, ProDeploy for expert configuration and installations, or Basic Deployment for worry-free hardware installations.
Dell Education Services

Decrease downtime, improve utilization and ensure business continuity with storage training from Dell Education Services. Choose from courses designed to introduce Dell EqualLogic storage and prepare you for more advanced topics to courses that dive into the advanced features included in the storage solution and how to apply best practices.
More information can be found
here
.
Drivers, Manuals & Support


Dell Support
From drivers and manuals to diagnostic tools and replacement parts, Dell Product Support has you covered!